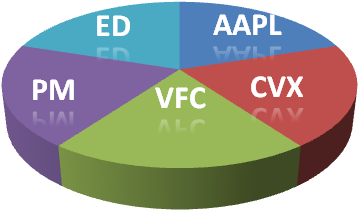 In this extremely volatile economic and financial environment it is of the utmost importance that you have a strong foundation to your portfolio. Your objective is to own well managed companies that will not only weather the downturn but will also be poised for growth after the recovery begins. I have selected five companies (and one more speculative company) that I am confident should serve you well today and for years to come. The companies are from diverse industries with a definite defensive tilt that is not overly reliant on consumer spending. Buy-and-hold may be dead but these are companies that you can sleep easy owning at night.
Apple (AAPL):
Apple is now the largest publicly traded company in the United States for a good reason: the company produces high quality products that sell to a rabidly loyal fan base. If you have not been investing in the company behind the iPhone and iPad you have been doing your portfolio a disservice. I have been trading Apple for years and recommend highly profitable option strategies that you can execute on a weekly basis to generate income. In addition, I have presented my case why I believe Apple will rise to $500 by the end of 2012.
Consolidated Edison (ED):
Con Edison is one of the largest utility companies in the United States and serves the North East US. Utilities pay generous dividends and have their rate increases mandated by law so they are proverbial cash cows. This type of company is great to own in all economic climates but is even more valuable when the economy suffers. Even if consumers are cutting back on other expenses, it is difficult to not turn on your lights or use your air conditioner. This is evidenced by the fact that Con Edison is mere pennies off of its 52 week high, despite the market selloff the past two weeks. The smart money recognizes a safe investment when they see it so you should buy into this strength.
Philip Morris International (PM):
Tobacco is the perfect industry to invest in during an economic downturn. Philip Morris International is the company behind Marlboro, the best selling cigarette, as well as other brands that span all price points. US cigarette volume is declining but tobacco is still a strong worldwide seller. Furthermore, declines in cigarettes are being partially offset by demand for smokeless and other products. As a mature industry there is a great opportunity to return money to shareholders via dividends and share repurchases. UBS went so far as to label Philip Morris as one of its ultras-safe equities. In addition, PMI is still growing at a greater rate than its domestic sister Altria (MO). Both are safe bets but I believe that PMI offers enough growth to make up for the lower dividend payout.
Chevron (CVX):
Chevron lags only Exxon (XOM) as the second largest oil and gas company in the United States. I prefer Chevron over Exxon for two primary reasons: size and growth. Exxon typically faces political pressure for its tremendous profits that can prevent it from achieving its true earnings potential. Additionally, Chevron has more exciting growth prospects with alternative energies that will further its expansion. Again, you cannot go wrong with either company here as they both tend to follow similar patterns and this is more a matter of preference as with PM versus MO.
VF Corp (VFC):

VF Corp is a self-described "$7 billion-plus apparel powerhouse, with an incredibly diverse, international portfolio of brands and products that reach consumers wherever they choose to shop." While you may not have heard of VFC as a consumer, its brands are widely popular: Jansport, Lee, Majestic, Nautica, Wrangler, and The North Face. This portfolio of proven brands makes VFC the largest apparel company in the world. You might be leery of investing in a consumer brand company with weak consumer spending but I like VFC due to its strong product mix that spans all different price points. For example, if the economy weakens then VFC will sell more Lee products; if the economy improves VFC will sell more of its newly acquired Timberland (TBL) brand.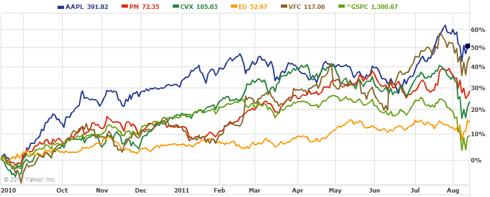 As you can see from the above chart, each of the five stocks discussed has outperformed the S&P 500 over the past year with the gains accelerating in the summer months. Investors are justifiably moving toward these solid plays for the combination of safety and probability of outperforming the market. Even if the S&P drops another ten percent this year you can be relatively confident that .8 portfolio beta will allow you to beat the market.

Before I close, I would like to highlight one additional company that is more risky than the five stalwarts recommended above. JPMorgan Chase (JPM) is one of the largest and most fiscally sound financial companies but you would not know that from its recent trading. Fellow SA contributor "Williams Equity Analysis" writes a great article about JPMorgan which details why JPM is best of breed among the financial companies. When investors realize that JPMorgan is not Bank of America (BAC) I fully expect a rebound to over $40. The downside is limited with a PE below eight and investors are paid a sizeable 2.8% dividend while they wait.

Disclosure: Author is long AAPL, ED, VFC, CVX, PM, MO, JPM; short on various out-of-the-money Aug 20 covered calls against these long positions.