The USD experienced a strong rally during the first major market crash we've experienced in the second half of 2011. 10-year Treasury yields hit rock bottom on August 10th where the rate was 2.10% for a short time. This rate is incredibly low considering that the yield was roughly 3.0% only a week prior to that. Adding to that, Treasury yields have been dropping all the way since April where it yielded 3.4%. Here is a visual depiction of the market crash by a fixed-income perspective.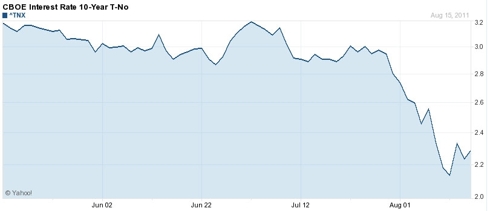 With stability (and rational thought) returning to equity markets, it is likely that the safe haven US dollar will begin to regress to its normal levels. As highlighted in this article, the dollar is favored during periods of weak liquidity (like last week). Since there are two factors working against the greenback (improving liquidity and general stability), commodities will have something to run when the dollar begins crumbling against other currencies.
In addition to this, the Fed's latest announcement should keep loose monetary policy alive - another bearish sign for the dollar. The only real bullish news for the dollar is through negative associations with the euro and the ECB. A way to play an overbought US bond market is through the iPath 10-year Bear ETN (NASDAQ:DTYS) which has positive returns upon increases in 10-year note yields.
Gold (NYSEARCA:GLD), silver (NYSEARCA:SLV), and oil; The United States Oil ETF, LP (NYSEARCA:USO), PowerShares DB Oil ETF (NYSEARCA:DBO), and iPath S&P Crude Oil Total Return Index ETN (NYSEARCA:OIL) had drastically different outcomes during the market crash. Despite this, a declining US dollar should help prop up these commodities at least for the short term disregarding the unchanging fundamentals in the short term.
[Click to enlarge]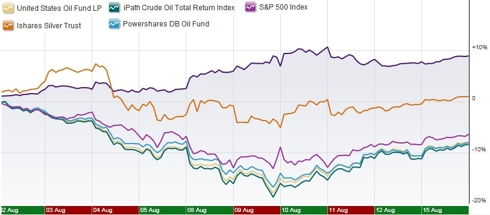 Click to enlarge
Gold has become the front runner in the precious metals market again, outpacing silver by a 10% margin since the crash began. RSI shows this trend going back to July where GLD has experienced waves of investment on significant volume.
Despite this, both of these metals generally go up in bear markets (Silver may have missed out due to its incredible outperformance earlier in the year). Since we are currently in a bull run that may continue for some time, these metals should be experiencing bearish pressure but haven't moved yet. Bearish pressure on the US dollar can very well continue to keep these metals at their current prices for the near-term, unless large bullish moves in equity markets overwhelms this trend.
Since oil (USO, DBO, OIL) has a strong correlation to equity market indices, it has two bullish prospects regarding the current market. If the market continues its run, oil will have a very good week since the dollar will likely add to its gains.
A side note for those interested in oil in particular, there are some differences between the three funds outlined above. This article goes into much more depth, but each fund has some unique traits that make it imperfect relative to oil futures that I'll summarize below:
USO (US Oil Fund) - the most expensive in terms of upkeep fees, but no counterparty risk and great liquidity with tight spreads.
DBO (Powershares Oil Fund) - has active management of futures rolls, least expensive management feeds.
OIL (Barclays iPath Oil Fund) - has counterparty risk due to its management by a financial institution, also seems to have highest tracking error in many cases.
So in conclusion, the current bull market is favorable for oil and bearish for gold, silver, and treasury bonds. Despite this, since forex action and macroeconomic movement is favoring the dollar bears, all commodities may have their prices propped up for the meantime.
Disclosure: I have no positions in any stocks mentioned, but may initiate a long position in USO, DBO over the next 72 hours.