The utility sector tends to be one of the most overlooked sectors in the equity market. Yet it offers significant value and carries a lot less risk than many other sectors. You cannot keep a good sector down.The speed with which a sector bounces back after a sell-off tells one a lot about the fundamental strength of a sector.
Utilities have been very quick to bounce back after the bashing that equities took in the first two weeks of August and with another 3% upside the utilities sector will be back to its recent highs (click to enlarge images):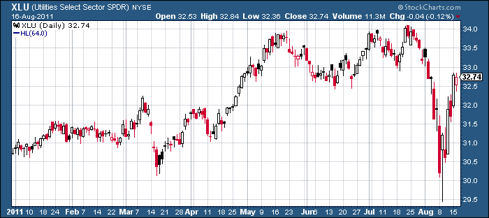 Perhaps the strength should not be surprising given the current fundamental valuations of the utility sector. Fundamental valuations of utilities are not that materially different from levels they were trading at during height of the GFC in late 2008. Below is the P/E and P/Book ratios of the S&P utilities sector from 1995. Apologies for the lack of clarity, but this is as about as good as Bloomberg fundamental charts get. Anyway, you will gain an appreciation as to where valuation metrics are currently trading relative to past levels.
S&P 500 Utilities Sector P/E Ratio

S&P 500 Utilities Sector P/Book Ratio

Yes, the utilities sector has definitely been cheaper in the last 25 years but the point is that it hasn't been significantly cheaper than current levels. For patient long-term investors, I think a significant allocation of capital to utilities stocks will bring a pleasant surprise in the months to come. We have a 10% weighting to the utilities sector in our global macro portfolio.
Disclosure: I am long XLU.