All eyes are on the S&P 500 as it struggles against resistance of the 1200 mark. The markets reflect the conflict felt by most investors as they digest news about the U.S. credit rating, global sovereign debt issues, and the possibility of another recession. Is this a gift-like opportunity for bargain hunters or is it a value-trap?
Some prefer to run to huge stocks that still exhibit growth, such as IBM or Apple (NASDAQ:AAPL). Others go defensive with utility companies, such as Dominion Resources (NYSE:D). Still, others look to stocks that they feel have fallen too far based on value, such as Research In Motion (RIMM) and Cisco (NASDAQ:CSCO). Others will sell puts on stocks, such as these 4, to potentially make money in up or down markets. Still, others buy into gold stocks, such as Aurico Gold (NYSE:AUQ) and Yamana Gold (NYSE:AUY).
In this market scan we will look for those small to medium sized rockets that rise the strongest when markets bounce back, but they often fall faster and farther when markets turn down. These smallish aggressive growth stocks are often the first to be dumped during a correction, which makes them attractive buys if you feel the market is about to rise at this point. I must warn you, if you see more downside to the market (and I am generally a bit hawkish in my view), then you may prefer to use lower risk methods with subsequent lower potential gains.
1. Brigham Exploration Company (BEXP)
This is an independent oil exploration company. 1 year sales growth is 141% and 1 years EPS growth is 122%. Although the trailing price-to-earnings ratio is 42, the forward P/E using projected earnings is much lower at 12.34. When you look at the 5 year expected growth to be 41% per annum, you can understand why investors are buying this stock up, pushing it from 23 to over 30 in little more than a week. 3 quarters ago the earnings were less than half of the recently reported quarter. This is one high-growth stock that is proving it can. A solid buy.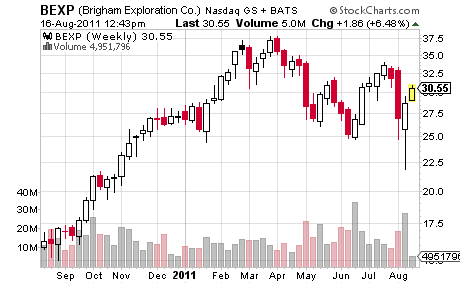 2. Minefinders Corp. Limited (MFN)
Minefinders is into both precious and base metals. One estimate sees the 5 year growth rate as 55% per annum. This seems high, as most analysts are. Still, they have increased sales over the past year by 23.5% and earnings by 82.4% (stats according to AAII.com). The price is currently making a strong stab at new highs. If you think QE3 is on the way and more downward pressure on the dollar is soon to take place, a gold-positioned stock could be a good momentum play. I'm waiting for the breakout on this one.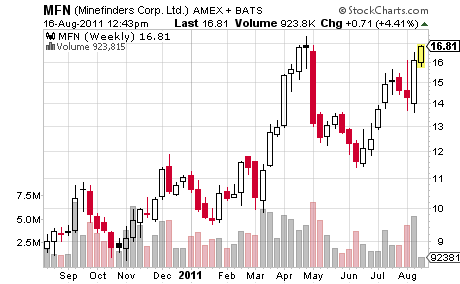 3. InterActiveCorp. (IACI)
A variety of searching and product (and people) matching internet sites are under the umbrella of IACI. Sales have risen over the past year by 21.5% and EPS has risen by 99.4%. The one issue I have with the 38% growth rate over the next 5 years is that only 2 analysts are covering it. One analyst figures on 10% and the other 66% per annum; the two are not even remotely close. The trailing P/E ratio is 21.6% which gives this stock a very low PEG ratio. But again, the 5 year rate is hard to trust. That being said, I do think this has high potential as this year's EPS is expected to grow 141%. Then again, as some top management steps down and as prices retreat towards a $36 support, there are a couple of reasons why some may want to wait first.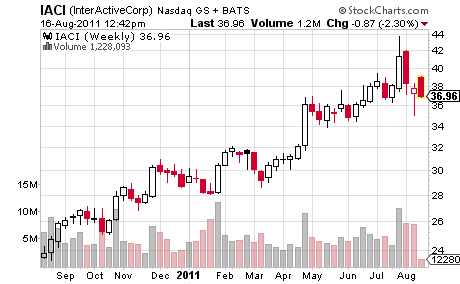 4. Jazz Pharmaceuticals (NASDAQ:JAZZ)
I am generally not a huge fan of pharma-stocks due to the higher risk associated with the FDA, fierce competition from generics, and high cost of research. Still, Jazz sticks out as one of those high growth stocks with strong price performance that is worth another look. The trailing P/E is 19.52, but when you put this into context of a 5 year expected growth rate of 18.55% per annum, with this year anticipated at 111% earnings growth and next year at 38%, the P/E doesn't see quite as high. Sales have steadily risen from 21.4 million in 2005 to 213.6 million for the trailing 12 months. Support lies at $35 and the share price is channeling upwards. While I put this stock on the higher end of the speculative risk (compared to some of the above stocks), it still has good growth and price momentum in these turbulent markets. If you like pharma-stocks, JAZZ is worth a second look.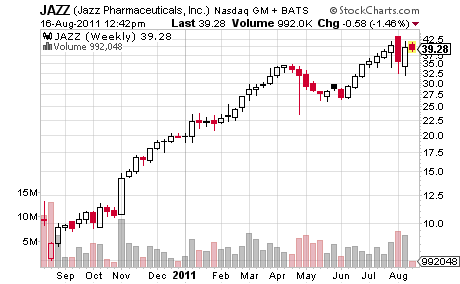 Timing the Market
Knowing when to go long in the market is tough. When you buy in an extended bull market, you are more likely closer to a top with large downside risk. When you buy during down markets, you run the risk of buying too early and losing much of your capital in a panic drop. While I tend to error on the side of caution, when it comes to confirming a new bull market, these few picks might be timely buys due to the high growth and strong price strength when looking at the past 6-12 months of trading. As always though, do your own due diligence.
Disclosure: I have no positions in any stocks mentioned, and no plans to initiate any positions within the next 72 hours.