It is always an exciting time when mergers and acquisitions are announced. I talked about this recently; the company that is being acquired gets an immediate facelift and the shareholders of that company get rewarded with instant premiums that they may otherwise from which would have had to wait longer periods. It's called instant gratification; who in the market would frown on such indulgence.
We all want it! But the excitement does not end on just the two parties involved. The news often extends out to the broader market as well and those in close proximity (if they are lucky) sometimes benefit for no other reason other than the "wonderers of the market"; that is to say, investors who love to "wonder who's next?"
In Google's (GOOG) announcement on Monday that it was acquiring Motorola Mobility (MMI) for $12.5 billion dollars, one company in particular applauded the news: Research In Motion (RIMM). Actually, the correct description would be, investors of RIM applauded the news, because many (myself included) have always speculated that RIM was indeed "next".
The reality is, investors a hard pressed these days to find any management team who deserves more criticism than those at RIM. Unlike many other giant technology names such as Apple (AAPL) and Oracle (ORCL), who have been able to make a successful shift from one product to another either by strategic acquisition or innovation, RIM (through its own fault) have been unable to do that. The company continues to be in a malaise of sorts and has shown that it can't avoid the fate that became the reality of companies such as Palm and Novell (NOVL).
If you have been following my articles over the past several months, you will see that I have been a long time bear of the company. I have called it the market's falling knife as well as suggesting that its management come out with their hands up after holding the stock price hostage for most of the year. But last week something happened and if you blinked you likely missed it; the stock suddenly became cheap and was just arms length away from my $20 target at a price of $21.60.
I called the bottom and decided it was time to re-assess my position and placed a $30 price target on the stock. But I felt I needed to clarify my point: I remain a bear on the company and its management, but I am now a bull on the valuation; it is likely that one may catch up to the other, but presently that is not the case. Take a look at the image below (click to enlarge image):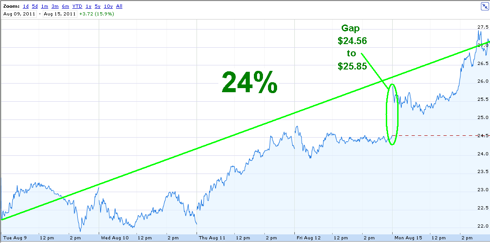 Click to enlarge
I think that picture is worth a thousand words; or at the very least, a thousand shares of the company. In the last 5 days, RIM has been playing "above the rim" as the stock has gained 24% during that span. The question is, can it continue?
If one has as little confidence as I do about its management, then that answer is pretty easy - the other solution is via an acquisition and one that I suspect will happen sooner rather than later. But at what price? I can't help but to think that RIM's resurgence might it its own worst enemy. Will the stock price become too expensive for a potential suitor?
The names that continue to be at the top of my list of suitors are Microsoft (MSFT), Hewlett-Packard (HPQ) and DELL. Microsoft is the obvious choice here because for quite some time it has been trying to become relevant in the mobile phones market. Its recent partnership with Nokia (NOK) (see announcement from February) will be limited and not likely to result in much of the same realm as where Apple and Google currently rank. A RIM acquisition would immediately make it a player in that market and strengthen its dominance in the enterprise environment by establishing its own version of the now popular term "ecosystem".
HP and Dell may not have the cash on hand to make such an acquisition, but the type of capital that it will require can easily be raised with minimal effort. The question is, do they want to take on RIM and the many issues that it has - many of which have caused the stock to be bloodied form most of the year?
Summary
I once asked RIM's management to come out with its hands up, suggesting that it should release the hostage known as its stock price and let it run. With the stock's recent 24% climb in the past week, perhaps that is what has happened - or has an "escape" taken place, implying that the rise in share price has been without its own doing? I tend to think it's the latter. But so what? This time, in suggesting that it raises its hand, I'm asking that it grabs a mallet for the other hand and host an auction for its sale. Microsoft, HP and Dell should start the bidding. Do I hear $20 billion? Going once….