An exchange traded fund tracking Germany fell 2.4% on Tuesday on disappointing economic numbers while a meeting between Chancellor Angela Merkel and France's President Nicholas Sarkozy produced little to ease concerns over the credit upheaval in Europe.
However, some analysts think the move was overdone and that investors should step up and buy Germany, Europe's largest economy.

News that Germany's economy expanded a mere 0.1% pushed stocks lower on Tuesday. The Stoxx Europe 600 dropped about 1% on the news, as costs to insure the Eurozone debt went up, reports Scott Redler for TheStreet.
"The disappointing GDP number is responsible for the bulk of the sell-off we've seen today," said Phil Flynn, vice president of research at PFGBest in Chicago, on SMH.com. "Germany was expected to carry the entire Eurozone and now its economy appears to be faltering."
Yet with the downbeat news priced in, investors should use the weakness to buy iShares MSCI Germany (NYSEARCA:EWG), said Tarquin Coe, technical analyst at Investors Intelligence. "On a relative basis against the U.S. the fund is at lateral support as well as rising trendline support off the 2002 low," he wrote in a newsletter.
The meeting between Merkel and Sarkozy announced a few new measures, such as constitutional amendments requiring balanced budgets, with a definite pass on the "Eurobond" plan, reports John McDermott for Financial Times.

"The real question in the market is: Are we going to have another recession or not?" said John Burke, head of Burke Financial Services. "Today, the answer is maybe yes, because it doesn't look like Europe has figured out a solution to its debt."
click to enlarge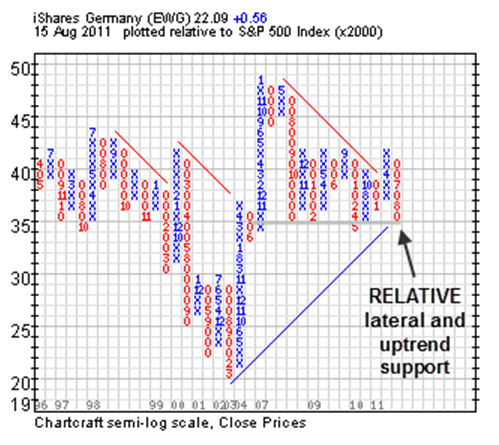 iShares MSCI Germany
Tisha Guerrero contributed to this article.
Disclosure: None