Traders and investors concerned about the prospects of an impeding recession got some more bad news Tuesday morning: Eurozone economic growth is slowing-down. According to Eurostat, economic growth in the 17 European countries that use euro slowed to 0.2 percent—below 0.8 analysts expected. Germany's economic growth dropped to 0.10 percent from 1.3 percent in the previous quarter. The US picture wasn't better either: Housing starts and building permits dropped across the board, dimming the prospects of a housing rebound any time soon. So what should investors do?
In a previous piece, we recommended five trades that investors may want to consider for a recession. Here, we focus on five low-end retailers that can thrive in a recession, as consumers shop around for bargains for basic necessities: Wal-Mart (NYSE:WMT), Target (NYSE:TGT), Dollar General (NYSE:DG), Dollar Tree (NASDAQ:DLTR), and Costco (NASDAQ:COST)--all beating the S&P 500 by a wide margin.
click to enlarge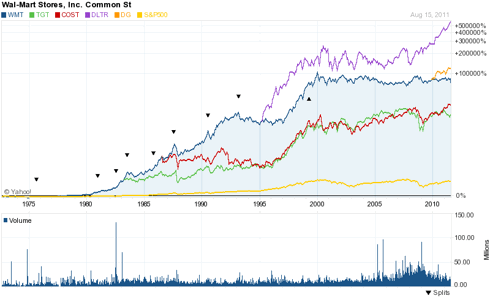 Click to enlarge
Wal-Mart. After beating Sears (SHLD) in the 1970s, Wal-Mart became the king of retail, dominating rural America, and eventually expanding to urban areas and overseas, trashing other retailers on the way. Wal-Mart's advantage is scale, and the rising market shares, and bargaining power with supplies that comes with it. That translated into lower costs and lower prices that re-enforced further dominance and rising profitability—Wal-Mart reported earnings results that beat analysts' estimates both on the top and the bottom line.
Target. Target cannot match Wal-Mart in size, but it beats Wal-Mart in terms of product variety and quality, as it sells its own private-label products and exclusive licensed designer brands—beating Wal-Mart in operating margins (7.79 percent versus 6.03 percent). Target's recent addition of groceries further offers consumers one-stop shopping, shaving on time and gas.

Dollar Tree has a two-fold strategy, too. First, it carries products from multi-brand companies like P&G at a discount. Second, it caters to the lower end of Wal-Mart's customers--who are most sensitive to price discounts. Nevertheless, the company enjoys the highest operating margins (11.36 percent) in the discount retailing industry.
Dollar General—Warren's Buffet's favorite has a similar strategy with Dollar Tree, but focuses on smaller communities of 20,000 or less, too small for both Wal-Mart and Target, offering customers both convenience and deep bargain low prices. Nevertheless, the company enjoys the second highest operating profit margins in the industry (9.87 percent).
Costco Costco has a five-fold strategy. First, it caters to the middle and upper class of consumers who can afford to pay an annual membership fee. Second, it offers brand name products like Cartier watches and Godiva chocolates at deep discounts. Third, it offers a broad selection of products, including bakery and grocery items. Fourth, it packages products in bulk to entice re-sale vendors. Fifth, it uses extra help to expedite checkout time.
Disclosure: I am long COST.