In the eighth article in our series in building a model income portfolio by sector, we turn to information technology. Included in this sector are chemicals, paper, steel, aluminum, gold and industrial gases. Though this sector includes many different industries it does not comprise a major portion of the economy or the sector weightings in the S&P 500 (NYSEARCA:SPY). The sector weightings are below:


S&P 500 Sector Weights
Consumer

Discretionary

10.7

%

Consumer

Staples

10.7

%

Energy

12.6

%

Financial

15.0

%

Heath

Care

11.9

%

Industrials

11.2

%

Information

Technology

17.7

%

Materials

3.6

%

Utilities

3.4

%

Telecom

Services

3.1

%
Over the previous twenty years the materials sector has returned 7.7% with a 12- month rolling range from -53% to a high of 64%. The S&P 500 returned 8.1% with a range from -45% to +50%. The materials sector is the first market sector in this series that has lagged the performance of the general market.

In screening for this sector we used our usual standards for building our income portfolio. A current yield greater than 2.5%, a dividend payout ratio less than 60%, a five-year dividend growth greater than 4%, and a dividend increase in each of the previous five years. In fact, all three of our final stocks have increased the dividends for each of the previous 25 years
Company

Current

Yield

Dividend

Growth

Rate

Previous

5

Years

Payout

Ratio

P/E

Est

.

Current

Year

Est

.

Long

Term

Growth

Rate

Air Products
2.8%
9%
38%
14.3
12%
Bemis
3.2%
4%
47%
13.9
7%
RPM Inc.
4.3%
5%
58%
12
10%
Air Products and Chemicals Inc. (NYSE:APD) produces process and specialty gases, equipment, atmospheric gases, process and specialty gases, and services worldwide.
(Click charts to enlarge)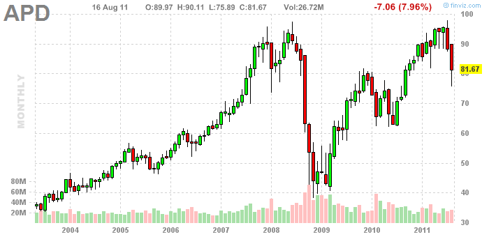 Bemis Company Inc. (NYSE:BMS) is a manufacturer of flexible packaging products and pressure sensitive materials. The company's two units are Flexible Packaging and Pressure Sensitive Materials.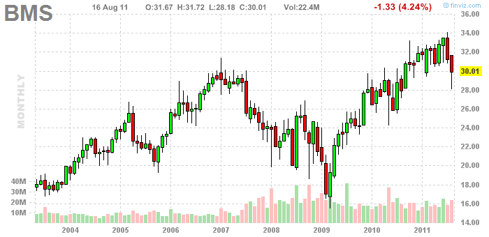 RPM International Inc. (NYSE:RPM) manufactures, and sells specialty chemical product lines, including specialty paints, protective coatings, roofing systems, sealants and adhesives. The company's brand names, include DAP, Flowcrete, Universal Sealants, and Rust-Oleum.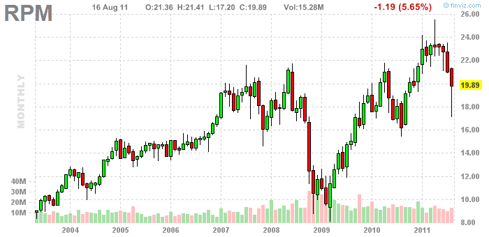 .

Any one or all of these companies should be the backbone of the materials sector in one's income portfolio. The valuation range of the three companies measured by their price earnings ratio and yield levels place them in the center of long-term measures. All three should be purchased on further market corrections.



Disclosure: I am long RPM.