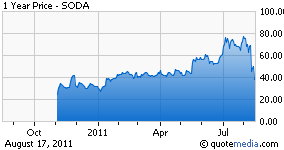 In the past few days I've watched SodaStream's (NASDAQ:SODA) image fizzle from long term momentum growth story, to overhyped trend on its way out. In the past five days SodaStream is down 45%, dropping from over $70 per share to around $38. All this is right after they reported excellent second quarter earnings of 0.29 Euro's per share versus the analyst consensus of 0.22. The reason for the drop after the above average earnings was confusing guidance and speculation about slowed growth internationally. Paired with a volatile market and bigger headlines, SodaStream has been lost in a sell off that should be leaving long term players hungry for shares.
SodaStream is a very unique company in many ways, they don't really fit into any established sector, they have created their own niche market. SodaStream sells materials that enable consumers to make their own soda, in a fully customizable manner. It's obvious why the idea was such a big hit, along with the stock, it's genius. The global soft drink market is around $500,000,000,000, yes that's $500 billion. SodaStream's potential is huge, and with no real competing or established home soft drink company, growth almost looks like it will come naturally. In fact, it has been, sales in 2011 are projected to be 33% higher than in 2010, and in 2012 that number is projected to be an additional 20% higher.
A more in depth look at SodaStream's second quarter financials gives us even more reasons to get excited. Revenue was up 38% on the quarter year over year, American soda maker sales increased 224% and American consumables increased over 203%. These were all blow away numbers, so why did the stock collapse?
That's simple, if sales were growing 200%+ in America, but revenue was only growing 38%, that means international growth was seriously stalling. Bears have been saying that if international growth continues to slow then so will overall revenue growth. But why not think about it the other way around, instead of lagging international growth, SodaStream has experienced monumental growth in the American market. This is a huge deal, if SodaStream can continue to penetrate into more American households then why not let that drive their bottom line?
As of this moment SodaStream estimates that they currently have penetrated about 0.3% of American households. Because SodaStream is so small they could go through 200% annual growth for 5-10 years and still not even come close to maxing out their appropriate target market. SodaStreams management is projecting a profit of about $1.60 per share in 2011, with their current 30% growth rate we could easily be looking at $2.10 in 2012 earnings, especially if American sales continue to grow at their current rate.
For a small cap with a great business model, excellent growth rates and a solid earnings history, paying 18x (assuming they make $2.10 per share) what they will earn in 2012 is a bargain. SodaStream could easily be priced at $70 per share again if 2011-2012 unfolds correctly.
Disclosure: I have no positions in any stocks mentioned, but may initiate a long position in SODA over the next 72 hours.