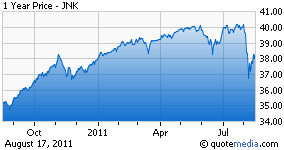 With 10 year Treasuries sitting at a record lows, an 8% yield looks like a waterfall in the desert. Obviously with great reward comes great risk. I would like to address a few superficial and in depth points before you dive into the rich yields.
1. JNK is a passive high yield fixed income ETF ("JNK" stands for "junk" as in a junk bond). The advantage to this is a low expense ratio of 0.4% and exposure to the credit markets. However, a disadvantage to having a passive junk bond is that the fund managers are less likely to sell a falling position. Essentially, you get what you pay for.
2. JNK is made to benchmark the Barclays Capital High Yield Very Liquid Index. According to the prospectus, JNK must only invest 80% of their funds in positions that comprise the underlying index. The fund must give investors 60 days notice to deviate from this clause. A huge disadvantage to this is the fund cannot liquidate into cash if it feels the corporate high yield fixed income sector will underperform. For example, the fund's hands were tied when it lost 18.59% in 4Q 2008. However, it later recovered 22.44% in Q2 2009.
The above risks apply to many new ETFs. The following items to examine are specific to JNK:
1. JNK will only purchase debt from an issue that is greater than $600 million. This makes it lose out on small yet strong companies with lower than investment grade ratings. The fund cannot own any complicated securities such as swaps, futures, options and other derivatives.
2. According to the prospectus, "Only the largest issue of each issuer with a maximum age of three years can be included in the Index." This is a hidden yet crucial part of investing with JNK. Especially in high yield, there are many companies that have outstanding bonds which offer many different types of opportunities. For example, First Data has many issues of debt however, JNK can only purchase the largest one (12.625% due in 2021) and must forgo all other First Data issues.
Now that you know the risks of JNK, let us look at the rewards. At $37.50, the fund is yielding an impressive 8%. JNK is impressively well diversified even though SDPR reports the breakdown as three sectors: Industrial (84.5%), Utility (6.49%) and Finance (8.36%). This is probably done to similar allocation to Barclays Capital High Yield Very Liquid Index. For more information, take a look at JNK's N-Q report.
JNK has 223 holdings and its top 10 holdings consist of only 13.11% of the entire ETF. In the last twelve months, it distributed anywhere between 25 to 40 cents per share a month at an average of 28 cents.
Conclusion: This ETF is great for those seeking a top dividend security. While inconsistent, it provides a significant opportunity for income investors. I suggest buying this ETF in dips. There were some who purchased JNK in March of 2009 at under $27 and have an impressive yield to cost. While that's probably far off, I would say anywhere under $37 is a great entry point.
Disclosure: I have no positions in any stocks mentioned, and no plans to initiate any positions within the next 72 hours.