Our end goal is to live off our investments. I believe most investors focus upon creating independent wealth to live on. Living requires paying one's monthly bills, both necessary and discretionary. In that mindset, here are 8 stocks that provide a reliable monthly income stream. U.S. investors purchasing Canadian dividend stocks should be aware of their unique tax circumstances.
Student Transportation Inc. (STUXF.PK)
The company has a significant catalyst on September 6. Student Transportation (STUXF.PK) will begin, on September 6, to trade on the NASDAQ. The company will retain dual listings: on the Toronto Stock Exchange and the NASDAQ.
U.S. shareholders represent 15% of the company's shareholders. Many U.S. investors are not comfortable buying a non-ADR foreign equity. Student Transportation does provide school buses in the U.S. as well as Canada.
I have recommended STUXF.PK to friends and associates. In return I have received a glossy-eyed look. They react as if I am Mark Mobius recommending an undiscovered stock based in a secret cavern on the top of the Himalayas. The U.S. symbol will make U.S. income investors flock to the name. Purchasing the position should benefit from the September 6, NASDAQ listing.
I prefer an equity that has a pending catalyst. The U.S. investor base is a significant factor in assuming a desire for a strong stock available on a U.S. exchange.
Stock Price: $6.64
Monthly Dividend: .046-cents
Yield: 8.3%
Enerplus Corporation (NYSE:ERF)
I have followed this company for quite a few years. Although the shares traded to $25 in the recent market sell-off, the stock is one to buy and reinvest dividends.
I'll be blunt. I have followed ERF management year-in and year-out. They deliver results. You won't become a millionaire overnight, but you have solid management and a solid employee base working on your behalf. If the world uses oil, then ERF is a monthly income stock you must own. This is just my opinion, of course, but it makes life a little bit easier.
The June 30, 2011, quarter data (pdf) confirms my expectations. The debt-to-equity ratio was reduced with the significant asset sale. Energy prices remain solid and can be hedged accordingly to mean cash flow demands. Quarter in and quarter out, ERF is there for me.
I am a big fan of old-time radio programs. ERF, to those of an older generation, represents Boston Blackie: "a friend to those who have no friends." When it's a tough market, ERF is working for you and providing a monthly check. Let's work together and add this name, reinvest the dividends, follow the company, and pick the less obvious names very carefully.
Stock Price: $29.34
Monthly Dividend: .183-cents
Yield: 7.6%
Baytex Energy Corp. (NYSE:BTE)
Baytex is a growth play on energy prices. The company is clearly and adamantly focused upon increasing dividends and net income. The BTE dividend may be less than other high-yield names. The future, however, offers a significant probability of higher monthly dividends from Baytex.
In laymen terms, Baytex represents "hope" to me. The Canadian Loonie currency is solid. The Canadian government has control over expenditures and a balanced budget. Leaders make tough decisions when such decisions are needed. How can an investor not respect such fiscal discipline? BTE offers strength in its Canadian foundation, but significant growth prospects with its dividend.
Baytex has 51% Canadian institutional ownership per its (page 4 - pdf) August 11, 2011, presentation. The stock is in strong hands. The balance sheet, the growth prospects, the 92% oil focus, and organic growth rate goals all point to a bright future.
Stock Price: $50.93
Monthly Dividend: .212-cents
Yield: 5%
Brent oil, WTI oil prices will fluctuate. BTE management has provided a 26.5% total annualized rate of return over the past 6-years. In comparison, the SP500 (NYSEARCA:SPY) provided a .5% rate of return over the same time frame. This is an attractive stock that I am adding to each and every month. The goals continue to be achieved on a year-over-year basis. This is one for the growing income needs.
(Click chart to expand)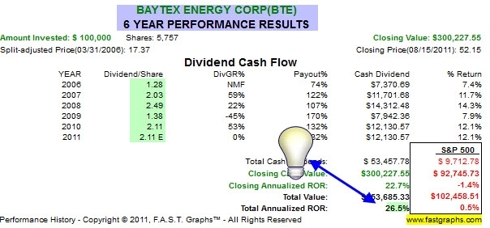 Atlantic Power Corporation (NYSE:AT)
This monthly income provider is a must own. The June 30, 2011, financial results came in line as expected. Investors need a reliable source of income. Utilities provide such a source.
This equity offers a 7.9% yield based upon utilities to customers. This is a necessary expense. I like the name, I like the yield, and continue to add to it.
Stock Price: $14.98
Monthly Dividend: .0912-cents
Yield: 7.9%
Eaton Vance Enhanced Equity Income Fund (NYSE:EOI)
This is an attractive closed end fund. Eaton Vance is known as a top-notch CEF provider. The NAV for EOI is $12.02, so the CEF is offering about a 10% discount to NAV.
The monthly dividend of 9.2-cents per share offers an annual 10.3% dividend payout. The fund's focus is upon current income and capital appreciation secondary.
Stock Price: $10.73
Monthly Dividend: 9.2-cents
Yield: 10.3%
Provident Energy Ltd. (PVX)
The company provides steady midstream returns on natural gas pipelines. Midstream properties are less focused upon the commodity prices and more so on the fixed contract terms with the exploration and production providers. The June 30, data (pdf) confirmed the continued success of PVX and its focus upon dividend returns.
Stock Price: $8.49
Monthly Dividend: 4.6-cents
Yield: 6.5%
Gabelli Global Gold, Natural Resources & Income Trust (NYSEMKT:GGN)
Knowing the craziness of the markets, it is comforting to know GGN is paying its monthly 14-cents per share. It owns real assets (eg. gold stocks, oil stocks) and sells covered calls against the positions.
As you know, you can check the net asset value (NYSE:NAV) by the symbol "XGGNX". The NAV is $16.49 as of the August 16th close. GGN is trading at a 2% premium to NAV. The time to buy is now. You will receive an annual dividend of 9.9%. The U.S. burden of U.S. debt markets is $14.6-trillion.
If you want to add in entitlements (social security, military and Federal employee retirement, Medicare, etc), well the figure is off the charts. Rest assured, a company prospers when revenue meets expenditures. This is simple Checking Account 101. Since it is not working, GGN is part of our Plan B. Gold, natural resources will do well if a currency suffers in future years.
CEF Price: $16.97
Monthly Dividend: 14-cents
Yield: 9.9%
Extendicare REIT (OTCPK:EXETF)
Extendicare Real Estate Investment Trust is a leader in the post-acute and long-term senior care services. The REIT owns healthcare centers and operates healthcare centers. The company's mission is to help citizens live a quality life with high-quality nursing, physician, and specialist care.
Surely there will give-and-take between how much insurance companies will pay. At the end of the day, the elderly need care and Extendicare is positioned to profit handsomely. 75% of revenue is based upon operations in the U.S. The politicians can argue back and forth on what is acceptable coverage, but nurses and doctors are needed to treat patients.
I expect this company to go the route of Student Transportation and seek a NASDAQ listing as well. This should only entice further U.S. investors to enter the shareholder picture.
Stock Price: $7.49
Monthly Dividend: 7-cents (pdf)
Yield: 11.21%

Disclosure: I am long STUXF.PK, ERF, AT, BTE, GGN, EOI, PVX, OTCPK:EXETF.