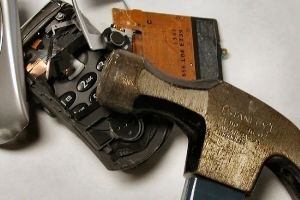 Last fall, I discussed Verizon's (NYSE:VZ) investment prospects in "Verizon Communications: Income Plus Potential Growth." The next six months produced good results, with Verizon outdistancing its key competitor, AT&T (NYSE:T).
Then came a stall, followed by what looked like a breakout in early July, then – surprise! Just as Ivan Seidenberg, Verizon's long-time, strategically-focused CEO stepped down, the company dropped a bombshell: Capital expenditures were being cut 15% (see the well-titled article, "Verizon Darkens Tech Spending Picture.") This coincident (but probably not coincidental) announcement meant meaningful growth was now off the table. Likely, this confirms the company's growth weakness: It (like AT&T) "spends" a large proportion of its cash flow and earnings on dividends, reminiscent of the old telephone utilities, leaving too little for capital investment.
(Click charts to enlarge)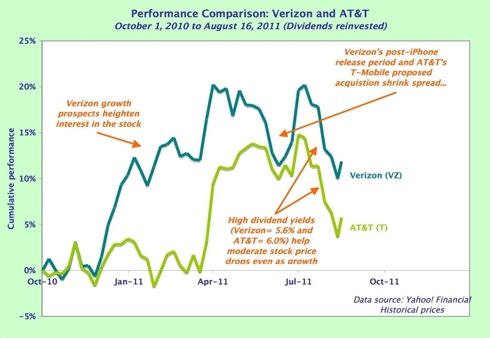 Therefore, I felt it was time to move on. However, with the stock market having fits, simply selling without buying a replacement holding ran too high a risk from being out of the market.
Enter Home Depot
Home Depot (NYSE:
HD
) and Lowe's (NYSE:
LOW
) have been interesting stocks, driven by the market, consumer confidence and housing reports. They had also performed well, similarly to Verizon, from last October to April. Then, as they both started down with the market, Lowe's began to underperform Home Depot.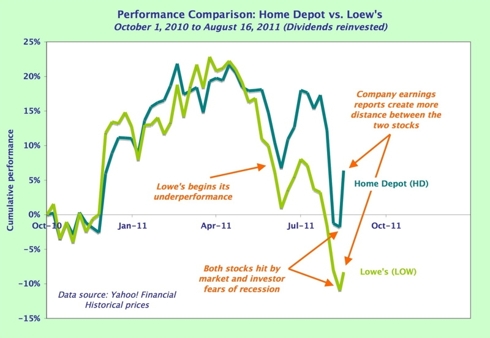 The real enticement to initiate the trade to sell Verizon and buy Home Depot occurred over the past two weeks as stock market pessimism built, rocking companies viewed as economically sensitive. By last week, Home Depot had given up all its post-October gains (including dividends), even though it was yet to report its quarterly earnings. Hence, the company became both an attractive investment in its own right and relative to Verizon (whose high dividend yield helped it hold onto its 10% post-October gain). This week's earnings reports support this move ("
Lowe's Takes Hit on Closings
" and "
Home Depot 2Q Profit Up 14%, Boosts Year Earnings View
") in two ways. First, the obvious comparison shows Home Depot currently is winning the competitive battle. Second, Home Depot's positive results and outlook fly in the face of the "sky is falling" visions offered by economists and others.
Verizon and Home Depot by the numbers
Want some factual basis for considering such a move? Here are the two companies' current key measures: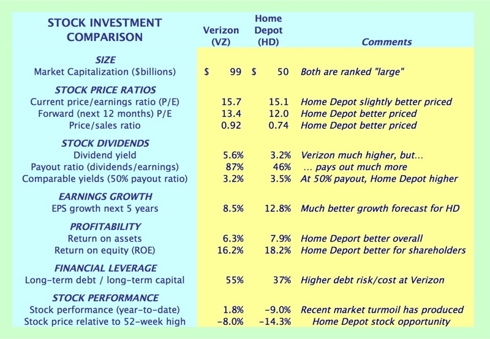 Clearly, the sell-off has helped make Home Depot an especially attractive investment, both absolutely and relative to Verizon.
The bottom line
Home Depot looks like a good replacement for Verizon, offering a good dividend yield while providing a better financial picture and higher growth prospects. Worried about those predictions of a global recession and its adverse effects on the US economy? See "
The 3 C's Needed for Investment Success – Now More Than Ever
." The best investment opportunities only occur when investors are hesitant to buy, and this is clearly one of those times. When investors return to focusing on fundamentals, companies like Home Depot will become properly valued and courageous investors will be the beneficiaries. Home Depot's recent move on its earnings report and outlook could be the indication that the move is starting.
Disclosure:
I am long
HD
. Long U.S. stocks and U.S. stock funds