By Adam Fleck, CFA
It's no secret that many weather forecasters have terrible reputations. From predicting sunshine during a rained-out ball game to issuing a dire warning for what turns out to be a beautiful day, many meteorologists simply get it wrong from time to time. Stock-picking can sometimes be a similarly challenging endeavor, as investors must weigh myriad probabilities of uncertain future events. Combining these two uncertain projections--weather forecasting and stock-picking--seems like a match made for the foolish, yet that's what many try to do when predicting short-term movements in the share prices of farm equipment manufacturers such as AGCO (NYSE:AGCO), CNH Global (NYSE:CNH), and Deere (NYSE:DE).
Last year, terrible global weather conditions led to reduced U.S. corn yields, challenged Russian wheat production, and limited South American soybean growth. Although demand increased only in the low- to mid-single-digit range for these commodities, prices climbed dramatically on the back of limited supply. U.S. farmers benefited immensely, with cash receipts from crops (about 55% of all receipts) climbing 4.4% after declining 7.4% in the year prior.
Historically, when farmers have money, they spend it to improve their operations by buying new equipment such as tractors, sprayers, and combine harvesters. It shouldn't be a surprise, then, that North American customers purchased 5% more tractors in 2010 versus the prior year, when sales declined 21%. We expect the industry to see short-term, quarter-to-quarter movements due to changes in bonus depreciation rules, borrowing costs, and EPA-driven engine upgrades, but farmers' cash receipts will drive agricultural equipment purchases over the long run.
Of course, we don't know whether the world will see droughts or floods in the next quarter, or good or bad conditions for crop plantings this year even. The USDA currently foresees an even more massive 14% increase in cash receipts from crops for 2011, but we think it's unlikely that the worldwide supply limitations of the last year will continue in the long run. Chinese demand for soybeans and U.S. corn-based ethanol production will elevate crop values above pre-2008 levels, but rebounding supply and limited demand growth will eventually lead to softer pricing and farm income. As a result, we recommend investing in only the farm machinery manufacturers that possess a suitable margin of safety.
The Year in Farming: Better, But Still Challenged
The 2011 U.S. planting season got off to a rocky start, as poor weather conditions led to late plantings for the three major crops: corn, wheat, and soybeans. Texas drought conditions, southern flooding, and Midwestern heat have further challenged crops, but according to USDA estimates, conditions have remained relatively decent since.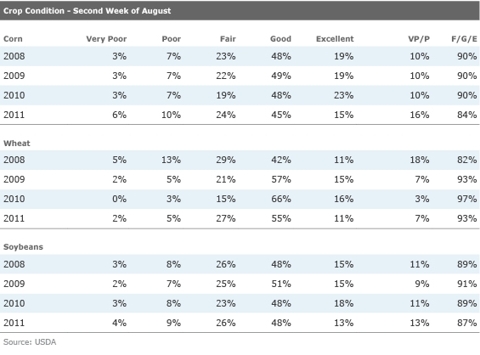 The agency recently reduced its yield outlook for corn, but still believes increased U.S. plantings and rebounding yields will help prevent a decline in ending stocks as sharp as last year's. Similarly, improved Russian wheat production looks to prevent the global issues seen last year. Only soybeans are forecast to be in a worse position for 2011-12 than last year.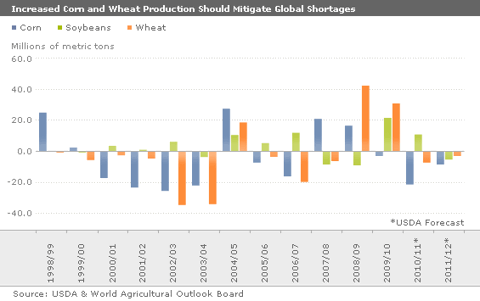 We obviously don't know if the remainder of the year will continue to offer favorable conditions, but this type of relatively equal supply and demand is closer to the long-run norm rather than last year's supply-challenged exception. In all, this data suggests that ending stocks of corn and soybeans will remain tight, but the year may not turn out as bad as some had feared. If this situation continues, we expect crop prices could remain stagnant, limiting future farm income growth and hampering potential tractor and combine harvester sales gains for manufacturers.
North American Farm Equipment Sales Declining
Still, even if poor weather conditions and commodity price spikes return, North American row-crop farm equipment sales could see full-year declines versus 2010. Crop prices, though down from their highs, remain at generally lofty levels, but high-horsepower tractor and combine harvester sales in the U.S. and Canada have declined year over year through the first seven months due to difficult comparison figures from last year's robust conditions.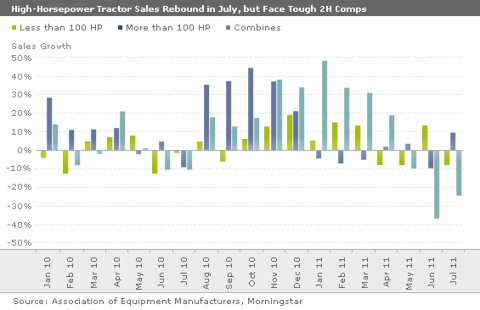 We expect further difficulty for the remainder of the year; EPA-driven emissions-standard changes likely led to a pre-buy of prior-year models in late 2010, making back-half comps even tougher. South American sales also have suffered recently, as many customers already had taken advantage of the Brazilian government's long-standing financing programs. Moreover, Western Europe, a recent bright spot for growth, may see worsening credit conditions that could lead to headwinds in this region as well. However, again we stress that these shorter-term movements are fluid. We recommend investors use such weak periods as buying opportunities when the stocks of manufacturers offer sizeable margins of safety.
Near-Term Weakness, Long-Term Opportunities
A few months ago, we thought the market was overly optimistic regarding the longer-term prospects for AGCO, CNH, and Deere, focusing on early 2011's strong tractor sales growth, high crop prices, and cheap available credit. As more normalized weather patterns, difficult year-over-year comparisons, and general global economic concerns have emerged, the market has punished these stocks; AGCO has fallen some 30% from its high in May, CNH 32%, and Deere 20%. Although these manufacturers will face some weaker near-term results than many had expected, the market is now extrapolating these potential negative results over the long run. We don't believe our long-term thesis has broken down.
We expect periods of strong growth and sharp declines to continue for agricultural equipment manufacturers. Still, we recommend buying when others are fearful, and the recent sell-off in the market could offer a good opportunity to take a look at narrow-moat rated Deere. We think the company's strong balance sheet, lean operations, and formidable North American distribution network have carved sustainable competitive advantages for Deere, and share gains in foreign markets (due primarily to recent product launches) should help it outperform peers through the cycle.
That said, we continue to recommend watching the weather; lower crop prices typically diminish near-term opportunities for farm equipment manufacturers, but often don't impact longer-run performance. In all, we think rainy days (and the bumper crops that result) could offer sunny opportunities for patient investors.
Disclosure: Morningstar licenses its indexes to certain ETF and ETN providers, including Barclays Global Investors, First Trust, and ELEMENTS, for use in exchange-traded funds and notes. These ETFs and ETNs are not sponsored, issued, or sold by Morningstar. Morningstar does not make any representation regarding the advisability of investing in ETFs or ETNs that are based on Morningstar indexes.