This article summarizes a momentum trading strategy called "Hot Hands" by Courtney Smith. Courtney is not the blonde screen actress but a trader, author, money manager, educator, and speaker. He is the only person in history to have a high ranked mutual fund, stock picking newsletter, futures newsletter, and hedge fund. Courtney is the author of seven books and has appeared on over 1000 TV shows and spoken at over 100 events.
Hot Hands aims to select and invest in the strongest performing exchange traded funds (ETFs) and is traded monthly. Momentum traders seek to enter the market ahead of or simultaneous with the start of large market moves to the upside. The Hot Hands trading method can be accomplished in three steps.
Hot Hands in Three Steps
Step One
Select exchange traded funds (ETFs) for purchase by going here. There in the "Performance" sector (found in the upper right of the front page of ETF Screen main page) you will find a list of ETFs.
Use filters at the top of the ETF Performance listings to include short funds and if you so choose, leveraged funds. Leveraged funds are optional if you want to be able to multiply the potential rewards and risks in a fund by two or three times. Use the volume filter to choose funds trading in volumes over one million or over five hundred thousand shares. Be sure to click to update the page after you adjust the filters.
Click the downward pointing arrow on the column labeled Rtn-1mo at the top of the Performance list of ETFs and ETNs. This action will find the strongest performing exchange traded funds ranked from high to low by last month's returns. After generating the list, cull VIX funds, unintelligible titles, and funds with similar assets to create a well diversified list. The VIX Index is a measure of expected market volatility and since its underlying assets are not tangible is not appropriate for momentum trading. If you don't understand the title of the fund, discard it along with funds with underlying assets identical to a fund already chosen. The last cull is to discard all entries with a relative strength factor (RSf) less than 90%. The list below is an example of a chart of 10 ETFs from here, sorted by one month returns as of 6/28/11 ranked high to low.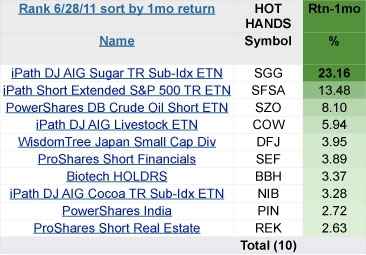 Step Two
Determine how much to invest and how many selected ETFs to buy. Using a conservative $5,000 to invest, the example below reports results from buying an even number of shares costing closest to $500 for each of the ten selected exchange traded funds (ETFs). Remember the broker with a commission of $10 per trade deducted from every transaction to reveal net income in the scenarios below.
Step Three
Wait one month before selling the selected ETF funds in favor of a newly selected incoming group of 10 strongest performing funds as ranked by monthly returns reported on the ETF Screen website. In less volatile markets the funds can linger in the top ten for several months. SEF is the only example of a carryover trade in the charts below.
Conclusion
The preferred trading frequency is monthly. However when one ETF is running strong it doesn't hurt to let profits run. The following chart shows price gains for the top ten at three intervals after July 1, namely on July 22, August 1, and August 12. This group of ten ETFs would have not gained enough to cover the brokerage fee selling out July 22 or August 1, but gained a net 3.27% in six weeks by holding the trade until last Friday's close 8/12/11.

Click to enlarge
(Click to enlarge)
As of Monday 8/15/11 five new ETFs are in place as high performers until September 9 from the following list of 10 culled as instructed from the ETF Screen website. For risk protection sell stops were placed at 20 day lows for each. After September 9 gains or losses from these selections will be reviewed and new Hot Hands ETF selections for September will be reported.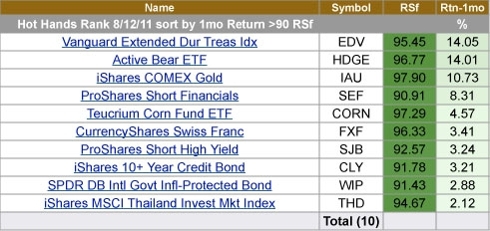 Click to enlarge
(Click to enlarge)
Disclaimer: This article is for informational and educational purposes only and shall not be construed to constitute investment advice. Nothing contained herein shall constitute a solicitation, recommendation or endorsement to buy or sell any security.
Disclosure: I have no positions in any stocks mentioned, and no plans to initiate any positions within the next 72 hours.