As evidenced by the recent downgrade of U.S. debt by S&P, consumers remain fearful of most all economic indicators. At the top of the list for many consumers is employment and household spending. Accordingly, the chances of the U.S. economy slipping into another recession has risen significantly, and forecasts for economic growth and job gains over the next year have been substantially downsized. Many economists predict the jobless rate will fall painfully slowly, dipping to 8.8% in 12 months, not much below today's 9.1%. According to Thomson Reuters/University of Michigan survey, the U.S. consumer confidence in early August sank to its lowest since 1980.
So with relatively modest economic growth, consumer-generated growth is becoming increasingly defensive. Because employment is a primary driver of consumer confidence, many consumers remain cautious as folks forgo luxury items and instead seek out value-oriented purchases. This sluggish consumer confidence behavior has prompted a "perfect storm" for the leading discount category known as the "dollar stores."
With over 20,677 stores, the top three U.S.-based dollar chains are among the most visible retailers in the U.S. There highly-visible retailers stock a variety of merchandise ranging from consumables, household chemicals, paper products, candy and snack products, health and beauty aids, hardware, pet foods, house-wares, giftware and home décor products. The "everything for $1 or less" business model has been around for decades; however, the concept has evolved into a highly competitive retail category. These bargain discounters are benefiting from increasingly cost-conscious consumers focused on buying everyday necessities and seeking out lower-priced goods.
Dollar Tree (NASDAQ:DLTR)
With around 4,177 stores in the U.S. (48 states) and Canada, Dollar Tree is the third largest U.S. based dollar chain. Founded in 1986 and headquartered in Chesapeake, VA, Dollar Tree also controls around 36 million sf. of retail selling space. Although the dollar retailer does not maintain the largest quantity of stores, it makes up by providing for some exceptional operational results.
On May 19, 2011, Dollar Tree reported its first quarter results. Included was a net sales increase of 14.3% to $1.55 billion (compared with $1.35 billion for Q1-10). In addition, comp sales increased 7.1% (on top of 6.5% for Q1-10) – a good indicator of higher customer traffic. Dollar Tree's sales have grown by double digits in all of the last nine periods and the chain also recorded double digit earning growth for thirteen quarters straight. As echoed by Dollar Tree President and CEO, Bob Sasser, "Our business momentum was strong throughout the first quarter. Seasonal performance was outstanding from Valentine's through Easter. Both traffic and ticket increased as more customers continue to rely on Dollar Tree for great merchandise values and a fun, convenient shopping experience".
Occupying between 8,000 to 10,000 square feet, Dollar Tree's optimal new store square footage is a little higher than the peer group. As the stores have evolved over the years, Dollar Tree has gained size by bulking up its freezer & cooler capabilities. As of January 29, 2011, Dollar Tree had over 1,840 freezer and cooler stores with plans to add another 225 such stores in 2011. Here is a snap shot of the company's stores with freezers.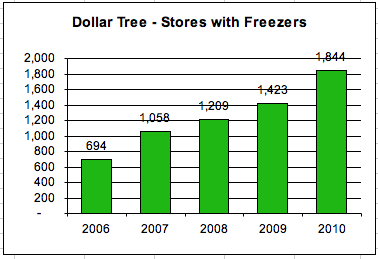 Clearly the merchandise mix has also evolved into a "mini-grocery store" model as the dominating discounter has increased its operating platform and its average selling space: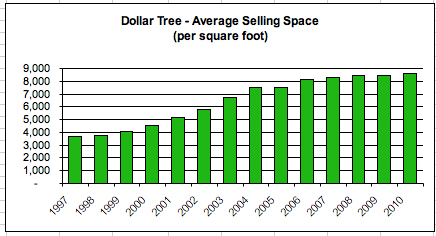 Of course, the most dramatic growth has occurred with the number of stores operating. In November 2010, Dollar Tree expanded into Canada with the 86-store acquisition of Dollar Giant. With a current store count of around 4,177, Dollar Tree should top $6.5 billion - $6.63 billion at fiscal year-end (source: Q1-11 guidance). With evolving, strategically merchandized store layouts and heightened store expansion (and acquisition) plans, Dollar Tree should be well positioned to grow market share within its convenience and necessity-oriented revenue model. Here is a snapshot of the company's 3-year revenue history: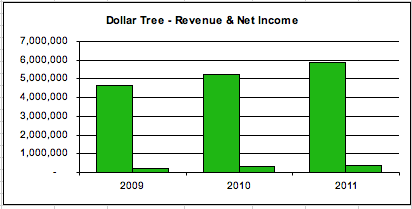 Family Dollar (NYSE:FDO)
Last week (8-11-11), Family Dollar announced its 7,000th store location that opened in Memphis, TN. This historic announcement was another milestone in a long list of achievements by the 52-year old retailer. Founded in 1959 in Charlotte, NC, Family Dollar operates its dollar concept in 44 states and it announced recently that the company plans to enter California by Christmas 2011.
Like Dollar Tree, Family Dollar tends to lease a majority of its stores (509 are company owned) and the Fortune 300 retailer plans to open around 300 new stores this year. Also, like Dollar Tree, Family Dollar recorded some extraordinary results: For the latest quarter (Q3-2011) reported June 29, 2011, Family Dollar sales increased 7.8% to $2.153 billion (compared to $1.997 billion in Q3-10). In addition, net income grew 6.5% to $111.1 million compared to net income of $104.4 million for Q3-10. During the first three quarters of 2011, Family Dollar opened 206 net new stores and closed 48 stores compared to 125 net new store openings and 56 closings in the first three quarters of fiscal 2010. In addition, Family Dollar grew further to its planned 900 store annual renovation schedule by completing 680 store renovations during the first three quarters of 2011. Capital expenditures for the first three quarters of 2011 were $330.3 million (compared to $136.4 million for the first three quarters of 2010). Here is a snapshot of the company's 3-year revenue history: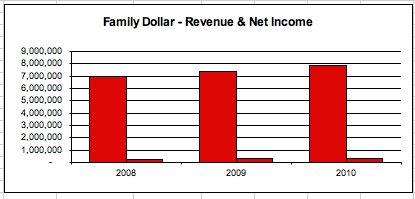 Although operating with a little bit smaller optimal footprint of 7,500-9,500 square feet (compared to Dollar Tree), Family Dollar provides strategic sales growth by effectively locating in free-standing urban-type markets where there is a close proximity to a bus transit route. With an average customer transaction of around $9.91, Family Dollar tends to shy away from the other category retailers like Wal-Mart (NYSE:WMT), Target (NYSE:TGT), or Costco (NASDAQ:COST). Instead, the consumer driven chain likes to locate in trade areas where necessities are within a walking distance to the consumer's residence.
In reflecting on Family Dollar's recent results, Howard Levine, Chairman and CEO, commented, "We accomplished much this quarter to position us to capture market share and execute long-term vision for Family Dollar." Here is a snapshot of the growth in store count (and market share) that Mr. Levine has alluded to: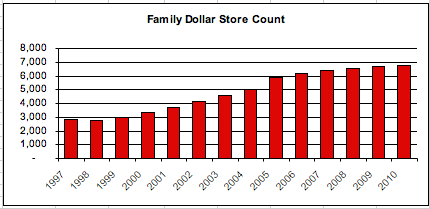 Dollar General (NYSE:DG)
With over 9,500 stores in 35 states (as of 5-25-11), Dollar General has more retail locations than any other retailer in America. Also, with over 70 years in business (founded in 1939), the prolific retailer is adding a net new 650 stores this year. With plans to enter three (3) new states in 2011 (CN, NH, NV), Dollar General appears to be well on its way to dominating the dollar wars.
With a majority of stores operating as free-standing (58%), Dollar General tends to cluster its stores in trade areas similar to Family Dollar. And much like the real estate site criteria with Family Dollar, Dollar General also has provided some impressive results. For Q1-11 (June 1, 2011), Dollar General reported revenue increase of 11% to $3.45 billion (beating Wall Street's estimate of $3.42 billion). In addition, the growing chain reported a 15% earnings increase as net income grew from $136 million ($.39/share) in 2010 to $157 million ($.45/share) in Q1-11. Guidance for the company's fiscal year 2011 revenue forecast suggests a range at $14.47 billion to $14.736 billion (an increase of 11% to 13%) or $2.20 to $2.30 per share. Since 2007, total sales for Dollar General have increased 37% to over 13 billion in fiscal 2010. With a 22% increase over the last three years, Dollar General has proven the resiliency of the "dollar platform" with average sales increase of $165/sf in 2007 to $201/sf in 2010. This important store-level metric is somewhat higher than Family Dollar's average store volume of around $ 170/sf.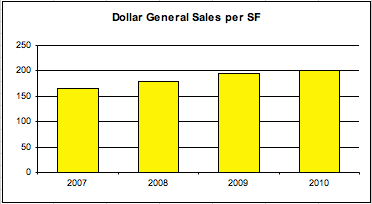 As mentioned, Dollar General's fiscal 2011 revenues should hit around $14.5 billion commanding a dominating market share in the convenience branded sector. Here is a snapshot of the company's historical 3-year revenue and net income performance: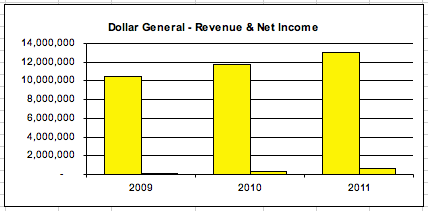 With a dominating presence of over 9,372 stores and new store growth of 650 stores per year (in 35 states), Dollar General has mushroomed into a significant necessity-driven machine: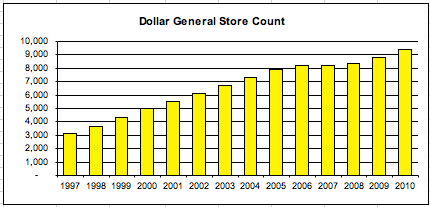 The Stars Aligned
Clearly all three (3) dollar store chains have matured into extraordinary cash generating all stars. All with highly visible "dollar" branding components, these chains are continuing to saturate the landscape with necessity-driven strategies. In addition, the distribution investments continue to grow rapidly as evidenced by Dollar General's recently opened Bessemer, Alabama distribution center. This $100 million facility, planned to open in early 2012, will eventually support over 1,000 stores and this facility is Dollar General's 10th distribution facility to date.
As the dollar stores have evolved over time, so have the consumers. With more frequent necessity-based needs, consumers have gravitated to more conveniently located free-standing locations. Many of the frequent customers are "weekly-driven" consumers with paychecks cashed weekly to provide for food, and other non-consumable necessity items. These cash strapped consumers seek out the highest degree of value with a mindset of making every dollar count. Here is a comparative revenue snapshot of the three leading dollar chains.

Conclusion – The Perfect Storm
In the 1997 creative nonfiction book, "The Perfect Storm," Sebastian Junger wrote about a 1991 Perfect Storm that hit North America. The crew of mostly sword fisherman and the boat (Andrea Gail) were lost at sea during severe weather conditions. Although the perfect storm brought pain and loss to many, the three-person rescue crew aboard the sailboat Satori became courageous to the end.
In today's turbulent financial storms, many retailers have been lost at sea. Overleveraged balance sheets, poor business fundamentals, and outdated technology have been deadly culprits for many struggling retailers. Out of the financial chaos a silver lining has evolved with debt constrained consumers that have become creatures of habit by purchasing only necessity products with a keen eye on convenience and value. As evidenced by the significant number of growing sites, the dollar stores have ballooned into of the largest specialty sectors (based on store count) in the U.S. and Canada. With around 20,677 combined stores (top 3 chains), this convenient and necessity-branded retail sector has evolved into a strategic growth oriented investment sector. With market share characteristics that overlap the conglomerate "convenience necessity-based category", the dollar stores have surpassed the drug stores in total store count (based upon the top 3 chains with dollar stores in blue and drug stores in red):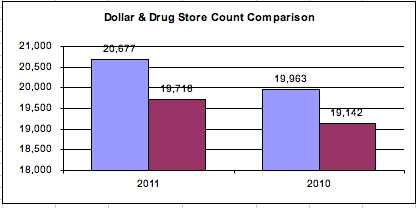 The surging success of the dollar sector has created some excellent investment opportunities. Family Dollar's institutional ownership investors hold a significant stake in the company. Three out of five of the top institutional holders are private hedge fund investors with a combined stake of around 20%, Recently Bill Ackman's company, Pershing Square (managing around $5.7 billion) increased his company's position to a weighted portfolio allocation of around 10% (increased to 11.1 million shares from 10.9 million shares). Ackman's continued interest in the Charlotte based retailers in an indication of the strong growth potential of the $6.5 billion (market cap) chain with a projected (by Pershing Square) build-out of around 20,000 domestic stores (currently 7,000). Other large hedge fund positions in Family Dollar include Trian Fund (Nelson Peltz) and Lone Pine Capital (Stephen Mandel). In addition, Berkshire Hathaway (NYSE:BRK.A)(NYSE:BRK.B) recently added a stake in Dollar General by purchasing 1.5 million shares in the $ 11 billion (market cap) dollar king, Mr. Buffett's company will control around .44% of the stock while a subsidiary of KKR maintains around 71% control. It is likely that Buffett pulled the trigger on the investment as he was drawn to the 17.12 PE as well as the recent decline in share prices (declined by around 8%) as Dollar General barely missed the most recent earnings expectations.
Also, from a debt rating perspective, all three chains are comparable. Dollar General's credit (S&P) was recently upgraded to BB+ (S&P's highest speculative grade rating) and Family Dollar's rating was recently rated by S&P as BBB- (investment grade). Dollar Tree has minimal long term debt thus a rating is not applicable. These improved ratings are further evidence of the increased cash flow from store operations and the increased strength of the dollar store category. As low retailer dividends (1.5% at Family Dollar) and high stock market volatility prove uninteresting, some investors may be more compelled to pursue real estate allocations with the dollar store sector. After all, a rent check is guaranteed by the same credit as a stock certificate and the rent check is less likely to decrease (where dividends are subject to increase or decrease with a vote by the board of directors). And with well over 1,000 new dollar stores being built a year, there are considerable opportunities for real estate investments in this growing and stable sector.
As explained by Andrew Fallon, Investment Advisor at Calkain Companies (www.calkain.com) , "The discount retail or "dollar store" segment remains a bright spot of the retail industry. Dollar store retailers, including Family Dollar and Dollar General, continue to open new stores and add jobs in this uncertain and stagnant economy. Many experts and articles published post-recession, have offered the idea that there will be a generational impact on individual's saving habits, and consumer spending and shopping choices. Positioned to take advantage of the generational impact, the dollar stores have been attracting new shoppers and capturing market share."
Several publicly-traded and non-traded REITS have acquired dollar stores. For example, National Retail (NNN) has diversified the company's portfolio with some dollar store tenants. National Retail is currently paying a 6.4% dividend as the 37-year old REIT has a stable and diverse investment portfolio, including dollar store tenants. In addition, many family offices and high-net worth investors have become more confident with acquiring dollar stores. As Andrew Fallon explains "Even with a lower credit rating, net lease real estate investors are currently paying lower cap rates for Dollar Generals than Family Dollar assets. On average, new Dollar General stores are trading at 8% - 8.50% cap rates, while Family Dollars are often 25 – 50 basis points higher. Both Family Dollar and Dollar General operate with net leases, which provide long-term and stable income streams for passive property owners. Given that Dollar General's credit rating is improving and both companies operate out of similar locations, the difference in value is predominantly driven by slight variations in the corporate leases."
In conclusion, the dollar stores represent a ray of sunshine shadowed by turbulent economic headwinds. Driven by a wave of economic distress and redefined consumer behavior patterns, the dollar stores have evolved into "cash cows" with conveniently located facilities projected to reach up to 50,000 stores. With near infinite site (location) capacity, the dollar stores represent significant growth fundamentals with highly competitive operational metrics. The necessity-branded dollar stores have survived multiple recessions and the growing sector should gain considerable market share dominance as consumers gain confidence in the convenience and value associated with the category. The resiliency in the sector is exceptionally strong and the dominating players are well prepared for The Perfect Storm!
Family Dollar closed today (August 16th) at $51.30 and is trading just under the summer high of $56.92 a share. Dollar General closed today at $33.79 and is close to its 52 week high of $35.09. Dollar Tree closed today at $69.50 and is trading close to its 52 week high of $70.54.
Disclosure: I have no positions in any stocks mentioned, and no plans to initiate any positions within the next 72 hours.