In the aftermath of the August market drop, the dust is beginning to settle and a number of more measured opinions are gaining traction:
Growth in the US economy has slowed but, with oil prices at the pump easing, the economic picture is unlikely to deteriorate materially.

There is a significant difference between the performance of the US economy and the performance of US companies in the S&P 500 (NYSEARCA:SPY) index. Companies make an increasing portion of profits internationally.

Analysts needed to reduce S&P500 earnings estimates to take account of the lower US growth – but not by much. Leading forecasters have already completed this task.
The Dow Jones index has probably put in a bottom for this year and any softness toward the 11,000 level will serve as a buying opportunity.
Oil prices are determined by global supply-demand metrics and the US economy no longer plays such a big role in this process.
Oil has also probably put in a bottom and further softness toward the $80 level will also be supported by buying.
Currently, the Dow Jones (NYSEARCA:
DIA
) is trading near the 11,400 level. This is seen as buying territory, and market weakness is indeed being met by buying. As the market drifts upward through 12,000, this support may be reduced. Perhaps, in the short-term markets may enter a trading range between 11,000 and 12,000. In due course the market is expected to move higher on the back of somewhat improved economics and on valuation grounds. Virtually all market sages are predicting substantially higher markets by year-end, not least because investing in bonds is so much less attractive.
Separately,
Barrons
ran an article August 12, discussing a new Deutsche Bank report about startling reductions in oil output by 20 oil majors during Q2 2011;
BP
,
Enersis S.A. (
ENI), Statoil (NYSE:
STO
), Lukoil (
OTC:LUKOF
), ConocoPhillips (NYSE:
COP
), Total (NYSE:
TOT
), Repsol (
REPYF.PK
)
, Chevron (NYSE:
CVX
), Sinopec (NYSE:
SHI
). The problem is that global consumption of oil is running at 30 billion barrels annually. This is not being offset by new discoveries, and the supply-demand equation is becoming ever more constrained. The report concluded that, even in a low growth environment, we are set for firmer oil prices, and ultimately periods of further volatility after oil prices push well beyond $100 again.
The combination of markets in buying mode plus oil having definitive upside potential makes the prospect of investing in the oil sector attractive, especially when investors uncover pockets of value as a result of the recent market rout.
Within the oil sector itself, there are segments such as oil shale with excellent multi-year growth prospects. And now that US oil shale stocks have been beaten up in the August sell-off this has created a rare buying opportunity with strong gains all but assured. Here are five favorites:
(Click chart to expand)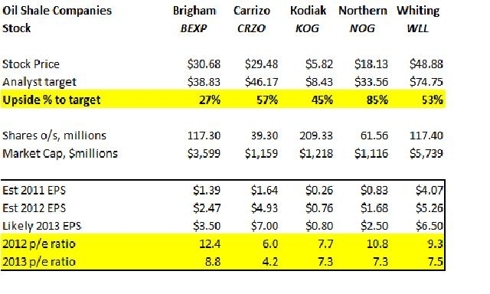 Brigham Exploration Company (BEXP)
is considered to be the best pure-play Bakken oil stock. The company has 378,000 net acres and leading drilling expertise – this combination makes it an attractive acquisition target. Besides, on a stand-alone basis, at $30.68 the stock trades on a next year p/e 12.4, which itself is good value for a growth company.
Carrizo Oil & Gas Inc. (NASDAQ:CRZO)
is at the inflection point of transitioning from a gas to an oil producer. This switch is driving strong sales and EPS growth for the remainder of 2011 and into 2012. It owns land leases in Eagle Ford (the company's main focus), Niobrara, Barnett and Marcellus. The stock is under the radar and currently trades at $29.48 down from $44 in July. The current price equates to a forward p/e of just 6 and gives 57% upside to analysts' mean target of $46. Click here for a
Seeking Alpha
article on the company. Also, listen in for information about further progress when it presents at the
EnerCom conference on August 18.
Kodiak Oil & Gas Corp (NYSE:KOG)
is a pure-play Bakken player with 95,000 net acres. Having recently completed a share offering, which strengthens the balance sheet, it is likely that, during the next few months, the company will further boost liquidity by negotiating improved borrowing lines. All this will support a strong capex budget for 2012 and future EPS growth. At the current price $5.82, KOG is on a next year p/e of 7.7, with 45% potential upside to analysts' mean target of $8.43.
Northern Oil & Gas Inc (NYSEMKT:NOG)
is again a pure-play Bakken oil company with 150,000 net acres. Whilst NOG does indeed appear cheap on many measures, one of first things that investors see is that there is a noticeably big gap between the stock price of $18.13 and analysts' mean target price of $33. For the most part this is because NOG has been the subject of some short attacks in early 2011. In part, this has to do with executives being involved in related party transactions. These issues appear to have blown over, but there is a residual aftertaste that leaves investors wary. Still, NOG is certainly worth a look. For the risk-averse one way to play it may be via short-term trades into events such as earnings.
Whiting Petroleum Corp (NYSE:WLL)
is also a player in the Bakken. It has very large acreage - 678,000 net acres – thus giving it scope for many years of production. The stock trades at $48.88 putting it on a 2012 p/e of 7.5. The analysts' mean target is $74.75, giving 53% upside potential from the current share price.
Bottom line: In due course market confidence will recover and share prices of the above five companies will ride high. Most probably stock prices will be strong over year-end and into spring 2012, which is now just 6 months away. Between now and then gains of 50% or more should be possible. In order to lock-in those strong gains, investors would be advised to sell everything in spring 2012 with the intention of repeating this buying exercise again in mid-2012, when the next market wobble is likely to throw up another great buying opportunity.