ConocoPhillips (NYSE:COP), the Houston-based energy company maintaining interests worldwide, has recently announced that it will split into two separate publicly traded companies. The restructuring strategic goals, per page 4, include for "increased distributions" through:
annual dividend increases,
shareholder repurchases
The two companies consist of its exploration and production (E&P) business and its refining and marketing (R&M) business. The spin-off is in motion in an effort to create a more differentiated value to its shareholders. The enhanced shareholder value will be by increased collective dividend income and capital appreciation.
As both companies operate independently, the synergies will be clear. Management teams can focus upon their unique business models. Both companies will focus upon increasing dividend streams to shareholders along with capital appreciation. As a dividend investor, I am optimistic of this breakup into two companies.
The split is expected to take place some time during the first half of 2012. ConocoPhillips (COP) split into two companies is likely to create two valuable investment opportunities. The split will make ConocoPhillips become the leading E&P pure play company.
ConocoPhillips is a blue chip energy company which has provided shareholders a solid 10.6% total annualized rate of return over the past 10-years. This beats the S&P 500 2% return over the same time frame.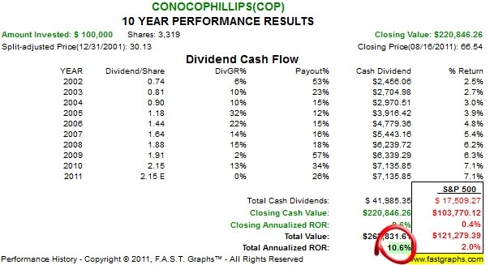 The company, currently the third largest oil company in the United States due to the original merger of Conoco and Phillips Petroleum in 2002, remains strong, reporting second quarter 2011 adjusted earnings of $3.4 billion as compared to $2.5 billion for the same quarter of last year.
Moving Forward: Favorable Opportunities for Investors
According to ConocoPhillips CEO Jim Mulva, the two newly separated companies will be uniquely positioned in their respective industries, giving each the ability to better focus on and invest in more profitable projects that are specific to each niche. The split will also help in freeing up capital for additional exploration of oil, as well as to increase the returns to investors.
ConocoPhillips' divisions, Exploration and Production (E&P) and Refining and Marketing (R&M), will be split into two separate, stand-alone companies. Each will be publicly traded as its own corporation. The split will be completed via a tax-free spin-off of the R&M business to the company's shareholders.
The company spin-off will essentially create the largest independent Exploration and Refining company, with a daily output of approximately 1.7 million barrels of oil per day, as well as the world's largest oil refinery having a capacity of just under 2.5 million barrels of oil per day.
Currently, ConocoPhillips controls roughly 10 percent of United States oil processing capacity, as well as owns five plants that are located outside of the United States. Major competitors of ConocoPhillips include other vertically major oil companies such as Chevron (NYSE:CVX), Exxon Mobil (NYSE:XOM), British Petroleum (NYSE:BP), and Royal Dutch Shell. These types of companies engage in operations that combine oil drilling and transportation as well as functions such as refining oil and marketing the product to consumers and other end buyers.
The split did not require a vote by ConocoPhillips shareholders. However, prior to moving forward, it will be subject to market conditions as well as approval from the appropriate regulatory agencies and a positive ruling by the Internal Revenue Service (NYSE:IRS). In addition, final approval by ConocoPhillips' Board of Directors must also be obtained before the separation can be finalized.
Prior to the company split, it is expected that ConocoPhillips may sell some of its assets, including two U.S. refineries located in New Jersey and Pennsylvania, as well as its marginal refinery located in Germany.
Similar Situations
ConocoPhillips is following in the footsteps of another Houston-based oil company, Marathon, that split its operations in July of this year. Investors saw Marathon's stock price jump over 30 percent after the split was announced early this year and at one point in July, Marathon's investors saw an over 100 percent increase in share price increase since its split was announced this past January.
Just prior to Marathon's split, investors were exposed to a greatly discounted valuation of the company's shares, allowing them to take advantage of a positive short-term growth opportunity. Marathon Oil (NYSE:MRO) and Marathon Petroleum (NYSE:MPC) now trade independently.
As ConocoPhillips approaches its split – expected to take place in early 2012 – investors may be in a position to jump in on a similar situation – especially since ConocoPhillips' refining assets are more geographically diversified.
Although the spin-off has been a positive move for Marathon – and is expected to be similarly positive for ConocoPhillips – some of the other oil company giants such as Chevron (CVX) and Exxon Mobil (XOM) have, at least for now, maintained that they will remain as single companies, keeping their downstream operations a major part of their overall company structure.
Upstream: E&P Positioned for Profitable Growth
COP's analyst day presentation identified the domestic E&P peer group in solid blue columns. The domestic peer group, on page 11, indicates COP is number six globally in exploration and development.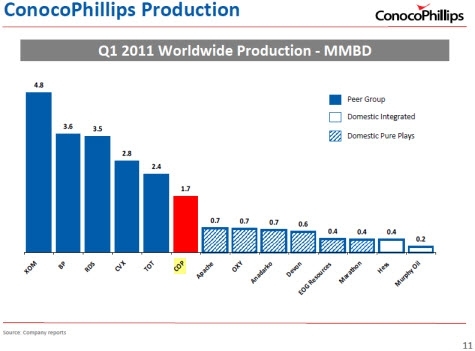 Because the two separate entities are driven by different factors, there will still be an obvious relationship between the two. For instance, higher oil prices will tend to increase business in the area of exploration. Yet, at the same time, these increased prices could make it more of a challenge for oil companies to sell to the end consumer.
Therefore, the split of the two entities will help each to better focus on their respective strengths, such as better capital allocation for its exploration and production activities. The end result is that each component, post split, could actually generate higher returns independently of the other. Once the split is complete, the Exploration and Production (E&P) business will be the largest United States pure-play E&P business.
Downstream: Refining Maintains Competitive and Diverse Across the Value Chain
COP's analyst day presentation identified the domestic refining and marketing pure plays in the striped columns. The domestic pure play peer group, on page 15, indicates COP is number two at the present time. Only Valero Energy Corp. (NYSE:VLO) has a higher refining capacity.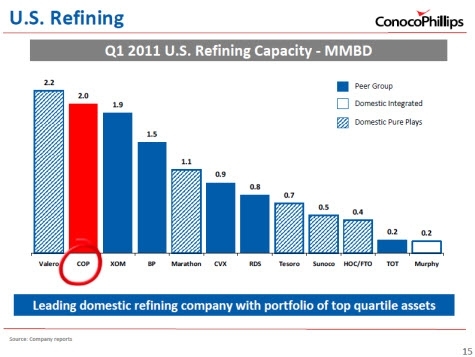 The earnings breakdown can be further displayed in the below table. The significant percentage of earnings, at present time, is derived from the E&P division.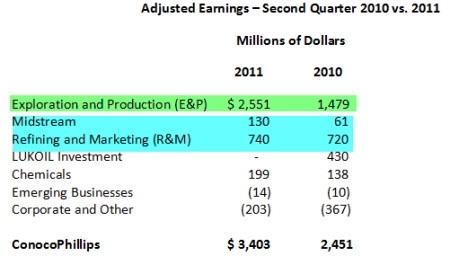 Post split, ConocoPhillips' Refining and Marketing (R&M) business will be positioned to maintain its low-cost and integrated refining. It is also expected to maintain its investment grade credit rating, keeping it as a valuable asset to investors.
As its own separate entity, the R&M business will become a major worldwide independent refiner. And, this new entity is expected to attract a better class of investors who are much better adept at riding out the traditional ups and downs of the oil industry.
Exploration & Production (E&P) vs. Refining & Marketing (R&M) Peer Groups
Company Name
Symbol
Peer Group
Apache
APA
E&P, R&M
British Petroleum
BP
E&P, R&M
Chevron
CVX
E&P,
R&M
ExxonMobil
XOM
E&P, R&M
Marathon Oil
MRO
E&P
Marathon Petroleum
MPC
R&M
Occidental
OXY
E&P, R&M
Tesoro
TSO
R&M
Valero
VLO
R&M