BYD (OTCPK:BYDDY), which stands for "Build Your Dreams", has seen a lot of press after an investment was made by Warren Buffett in December 2008 for 10% of the company. Everyone knows Buffett as a "value" investor and student of legendary investor Benjamin Graham. Yet Buffett has also mentioned the influence of Philip Fisher and consistently buys companies whose growth outshines competitors in their respective industries. This influence is from Fisher (and I suspect heavily influenced by his partner Charlie Munger as well).
Fisher's strategy in its most boiled down form is to use his famous 15 Points to find companies with superior growth possibilities and to hold these for the long term, indeed, to hold almost indefinitely. One of Philip Fisher's most famed and longest held investments was in Motorola (NYSE:MMI), which he bought shares of in 1955 and held until his death. During this time he is said to have earned more than twenty-fold in returns while the S&P managed a meager seven-fold by comparison. I believe that Buffett has found his Motorola in BYD.
BYD's growth has been tremendous in the past decade.
BYD was founded by Wang Chuanfu with help from friends and family to invest in his business. He wanted to create rechargeable batteries to compete with the Japanese imports into China. In less than 10 years, BYD was able to capture over 50% of the international market for rechargeable batteries.
This innovation is driven (pun intended) by BYD's founder Wang Chuanfu, who is described by Charlie Munger in Fortune Magazine as
a combination of Thomas Edison and Jack Welch - something like Edison in solving technical problems, and something like Welch in getting done what he needs to do.
BYD has recently expanded into related fields.
BYD has begun moving into industries in which its strength in battery manufacturing can be exploited: solar panels and electric cars. Many companies get tremendous growth and expand into other areas where they have little to no expertise. BYD has avoided this trap. In electric cars the most crucial aspect is how light, efficient and affordable the electric engine can be made. For solar one of the largest problems is where to store and utilize energy once the sun has gone down. BYD brings battery expertise and a competitive advantage to both of these industries.
The e6:
BYD has had tremendous growth in its two other industries, but this is where many investors think BYD will really explode onto the international scene. Electric cars are becoming more of a reality, and with the introduction of the e6 it could become an affordable one as well. BYD has been on record saying they plan to sell the e6 for around $35,000 in the US (pre-government incentives).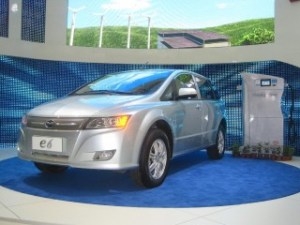 BYD's initial claims for the e6 in 2009 included:
Acceleration: 0-60 mph (97 km/h) in < 8 seconds
Top speed: 100 mph (160 km/h)
Normal charge: 220V/10A household electric power socket
Quick charge: 50% capacity in 10 minutes
Full charge: 1 hour
Range: 249 miles (400 km)
(BYD Showroom)
Currently, the 40 taxi vehicles being used in China can go only 186 miles with a top speed of 87 mph. BYD Auto knows the American market well enough that they plan to increase the top speed as well as the acceleration before bringing the e6 to the U.S. market.
Some analysts estimate the electric car car market will grow to as much as 10 million per year, or 12% of the total car market worldwide. BYD will certainly not be the only competitor here. Yet, looking back on its ability to grow market share in industries, it is entirely plausible that it continue to dominate in this industry as well. This, combined with the rise in oil prices, could help BYD grow immensely in the EV market.
Rare Earth Metals
China currently produces about 97% of rare earth metals while possessing about 37% of the world's reserves. BYD has been opening factories in areas which are high in rare earth metals in order to take advantage of this unique geographical advantage. There is no doubt that this, combined with the likely regulation of rare earth metals to outside countries by the Chinese government, can give them a huge competitive advantage over competitors.
Warren Buffett rarely invests in companies that are still trying to establish themselves. He prefers heavyweights with clear competitive "moats" which can thwart off competition for years to come. Yet, with BYD, he saw such an opportunity that he shrugged off such concerns and decided to own 10% of the company. With the price almost near 52 week lows, I would be very interested to see if he takes a larger stake in the company.
It is interesting to note that Motorola made its start in the car market creating one of the first car radios used commercially. Does history repeat itself? No, but it does often rhyme.
Buffett has made his move, and it's beginning to look a lot like Motorola.
Disclosure: I am long OTCPK:BYDDY, OTCPK:BYDDF.