U.S. bond yields keep moving lower. Gold prices keep moving higher. Even the 3-month LIBOR rate is climbing, now up to 0.30% from 0.25%.
These aren't signs that fear has abated. On the contrary! It seems that the euro-zone sovereign debt crisis is very much alive.
And yet, the media are almost giddy. Not only are they highlighting the recovery of losses since the S&P downgrade, but they are describing the Fed's 2-year commitment to low rates as being more powerful than QE1 or QE2. (Have they forgotten that intermediate-term rates might rise on their own, forcing the Fed to employ some type of QE3?)
Perhaps the most overlooked factor is Europe's 15-day short-selling ban on financial institutions. Without a more comprehensive strategy in place prior to the ban's expiration, the bears will hit the banks… hard. That could make things pretty volatile on the initial trading day of September.
The vast majority of my clients are conservative investors. It follows that I do not typically discuss speculative trading ideas.
That said, I've received a number of inquiries about how an ETF advocate might short Europe. When would I do it? How would I do it?
For starters, I would only allocate a small portion of my overall portfolio, possibly 5% and certainly no more than 10%. In essence, this would be cash that I could afford to lose. (Note: Even then, I'd employ stop-limit orders to keep any loss to a negligible amount.)
Next, I'd take a look at using ProShares UltraShort MSCI Europe (NYSEARCA:EPV). The volume has been somewhat elevated in August, understandably. And a great many investors got burned at the top.
However, EPV has since fallen -20% from its August perch;, it currently rests on its 200-day trendline. Traders might look for an entry around the 50-day moving average, if they expect pre-emptive policy efforts by European authorities to falter.
In other words, if the European Central Bank doesn't step in with something far more convincing than what has been proposed thus far, EPV may become a trader's delight. (Note: Don't neglect to take profits! EPV is a daily compounding tool of traders, not a buy-n-hold vehicle.)
click to enlarge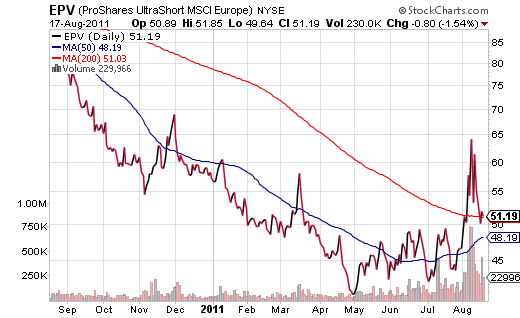 Disclosure: Gary Gordon, MS, CFP is the president of Pacific Park Financial, Inc., a Registered Investment Adviser with the SEC. Gary Gordon, Pacific Park Financial, Inc, and/or its clients may hold positions in the ETFs, mutual funds, and/or any investment asset mentioned above. The commentary does not constitute individualized investment advice. The opinions offered herein are not personalized recommendations to buy, sell or hold securities. At times, issuers of exchange-traded products compensate Pacific Park Financial, Inc. or its subsidiaries for advertising at the ETF Expert web site. ETF Expert content is created independently of any advertising relationships.