While everyone seems to be focused on the impact of the US credit ratings adjustment, from the perspective of the consumer, I am keeping my eye on the price of crude oil. Energy prices have a direct and derivative impact upon the consumer. Directly, the price at the pump that consumers pay for gasoline or the price that they pay to heat their homes is certain to come down.
By derivative, I mean the input costs for manufactured items, extractive items and prepared or restaurant food costs which are then passed onto the consumer. All in all, lower crude prices will help food producers, agricultural firms and restaurants. Let's not forget the fact that natural gas prices are low and I expect them to remain so. Any demand increases are likely to be offset by more supply coming to market for natural gas.
Furthermore, the price of food input commodities have also come down from peak levels. We could see a cessation of price increases which many food and restaurant companies have made or plan to make. This will help to expand margins in the future rather than contract them as some traders fear.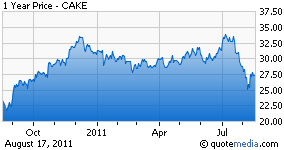 The recent market volatility and worries (which I believe are overblown) for a Great Recession Part II or a "double dip" recession have put huge dents into the price of casual dining chains. The one that I have added to my portfolios and want to highlight today is Cheesecake Factory (NASDAQ:CAKE). I spend a fair amount of time performing store visits and channel checks. There are two companies that always having waiting times at their stores: Apple (NASDAQ:AAPL) and Cheesecake Factory. This commentary is about Cheesecake Factory. I will save Apple for another time, although Apple is a major holding for my clients at LakeView Asset Management, LLC, and for me personally.
Fundamentally, Cheesecake Factory is not only sound but continues to grow. Second quarter same store sales rose 2.1%, despite surging prices at the gas pump and inconsistent weather patterns across the country. After feeling some of the effects of the Great Recession, earnings rebounded to $1.42 per share in 2010 from $1.07 in 2009. I am currently estimating that 2011 full year earnings will grow 18.3% to $1.68.
As it currently stands, Cheesecake Factory sells as 16.3 times 2011 earnings estimates. That implies a Price to Earnings to Growth (PEG) ratio of less than 1.0 which, I always see as a buying opportunity. It is still early to forecast what forward earnings will be for 2012. On a preliminary basis, I am conservatively expecting earnings growth of 13 to 15% to a range of $1.90 to $1.93.
The company owes no long term debt and holds about $1 per share in cash on the balance sheet. The company recently bumped up its share repurchase target to a range of $125 - $150 million after repurchasing $95 million in the first half of the year. That could take out about 10% of shares off the market, something that has to be factored into forward earnings growth.
The stock's 52 week range is a low of $21.56 and a high of $34.07. I am willing to value Cheesecake Factory at 18 times earnings equating to a 2011 year end price target of $30.25, an 11% increase from recent price and a preliminary 2012 year end price target of $35.00.