China makes all sorts of things these days, including Internet and Dot.com companies which have ridden the easy money around the globe pouring into all things Internet- and social media-based. Some of these companies have made their way onto the US exchanges, including Tudou (NASDAQ:TUDO), which made its debut today. Here is a list of the most active Chinese web companies:
| | | | |
| --- | --- | --- | --- |
| Company* | Business | Forward PE (Dec. 2012 | Operating Margins |
| Baidu, Inc. (NASDAQ:BIDU) | Internet search engine | 30.88 | 52.18 (%) |
| Sina Corp (NASDAQ:SINA) | Media and mobile value-added services | 51.54 | 22.30 |
| E-Commerce China Dangdang Inc. (NYSE:DANG) | Business –to-Consumer e-Commerce | 121.57 | 0.32 |
| Renren Inc (NYSE:RENN) | Social Networking | 187.50 | 5.42 |
| Youku (NYSE:YOKU) | Internet TV | 1,312 | -20.41 |
| Sohu.com Inc. (NASDAQ:SOHU) | Brand advertising, on-line gaming | 13.29 | 37.50 |
*These statistics should be interpreted with caution, as Chinese accounting standards are different than those of the US--so they aren't comprable with those of their US counterparts like Amazon.com (NASDAQ:AMZN) and Google (NASDAQ:GOOG).
Source: Yahoo.finance.com
As can be seen from the table, some of these stocks trade at reasonable PEs with hefty operating margins, while others trade at high or even astronomically high PEs with thin or even negative profit margins. Sohu Inc. and Baidu, for instance, trade at reasonable PEs with hefty profit margins, while E-Commerce China Dangdang Inc. and Youku trade at thin or even negative profit margins. What should investors do? Should they buy into this revolution or stay away altogether?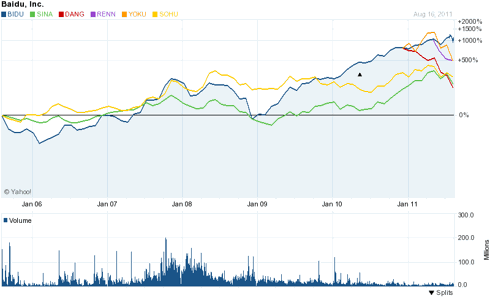 The answer, of course, depends on investor objectives and tolerance of risk, as well as, on the assessment regarding the stage of China's Dot.com revolution. Aggressive investors may want to consider buying Baidu and Sohu.com on pullbacks, as the two companies enjoy economies of networking as "first-movers" in their industries. Conservative investors may want to stay away altogether, as all these stocks are vulnerable to a momentum shift that can leave investors with hefty losses.
Disclosure: I have no positions in any stocks mentioned, and no plans to initiate any positions within the next 72 hours.