The price of gold is widely expected to correct – this expectation is based on the fact that it looks rather overbought at the moment, see below - (click charts to enlarge):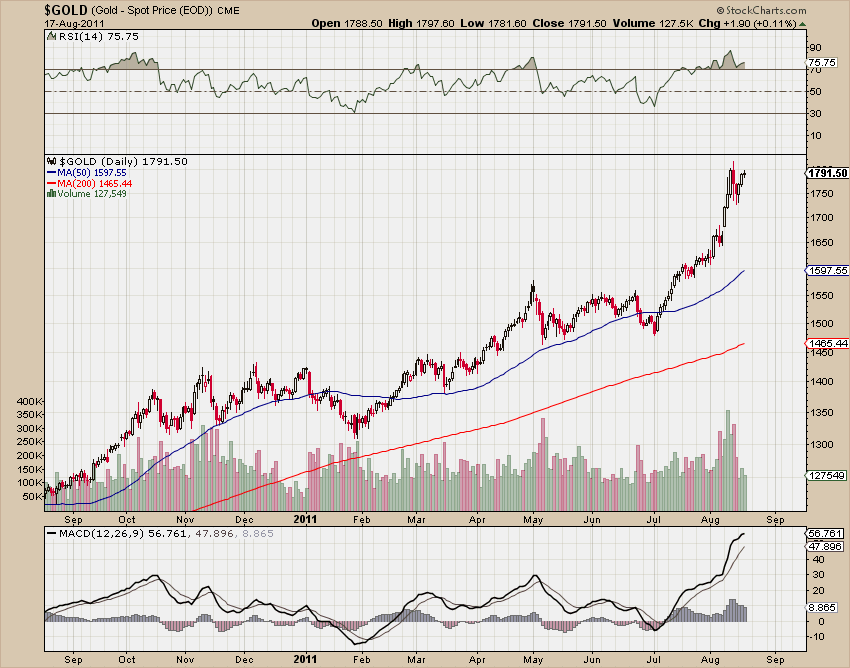 The price of gold in dollar terms – it certainly looks short term overbought
Some gold bears, like analyst Dean Junkans from Wells Fargo, once again believe that they have spotted a 'bubble' destined to burst at any moment, see this Reuters article.
As far as we can tell, he uses the same old tired argument we have heard a thousand times on the way up, namely a spiel on the 'crowded trade' idea and the equally misguided idea that gold can only rise if 'the end of the world' is here. This probably shouldn't even be dignified with a response, but let us just say that if you were to ask a room full of investment professionals who has an investment in gold, it wouldn't take you much longer than five seconds to count the hands that go up.
Gold bulls generally also expect a correction in the near to medium term (as far as we can tell from anecdotal evidence), on account of the large and uninterrupted rally from the previous consolidation area.
We have a different observation here that we would like to share – and mind, this is not a forecast, we are merely sharing something that is a matter of experience. Gold and commodities work in the exact opposite manner to stocks. They bottom gradually and make spike tops, whereas stocks tend to make spike lows and usually top out gradually. The reason for this difference in behavior is that the same emotion that drives rising commodity prices also drives falling stock prices: fear.
In stocks we often observe that when the market is very oversold but fails to bounce in spite of that condition, a crash or a mini-crash can happen – as was in fact recently demonstrated. The opposite can happen in gold and commodities - an overbought condition can lead to an upside blow-off.
We note that the gold market has been overbought for quite some time, but so far has refused to correct. Of course a short-term correction remains the higher probability bet, however, one must be alive to the possibility that the recent persistent overbought state could also be the precursor to a blow-off move.
Recall for instance what happened with silver late last year and early this year – from the point where it exhibited a strong and persistent overbought condition for the first time, it proceeded to almost double in price following a very brief, but hefty shake-out. Again, we are not predicting that the same will happen with gold here and now. We can not know that, and it is the lower probability outcome as mentioned above, but the fact that gold has remained persistently overbought for over three weeks now is a hint that something unexpected could happen.
The Charts
Below is our usual collection of charts of CDS, bond yields, euro basis swaps and a few others. While there are many spreads and yields that have come in a bit, there is still plenty of evidence of financial stress. Prices in basis points, color-coded where applicable. Here one can see where the potential trigger for a blow-off move in gold could originate.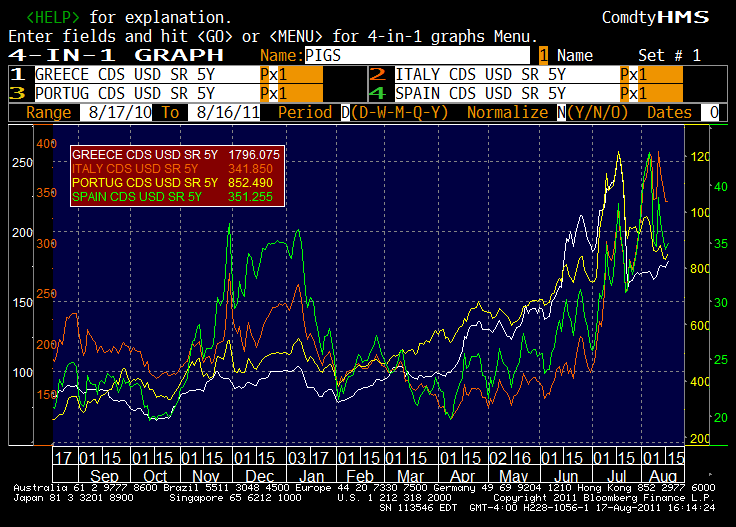 5 year CDS on Portugal, Italy, Greece and Spain – a slight bounce is in train.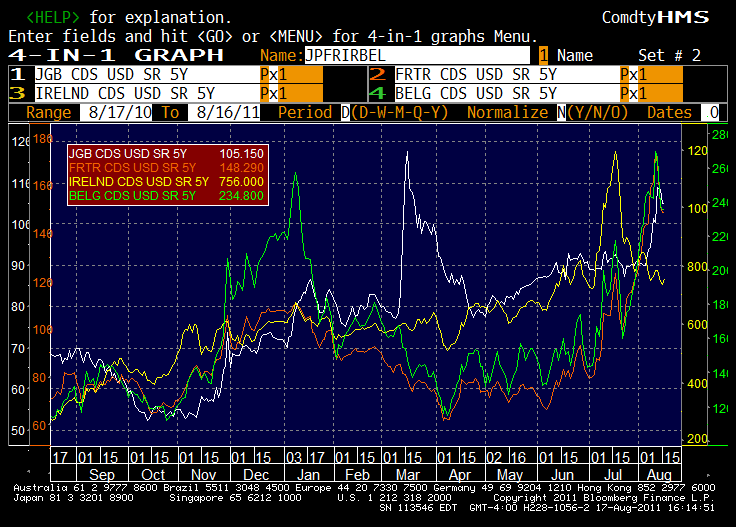 5 year CDS on Ireland, France, Belgium and Japan.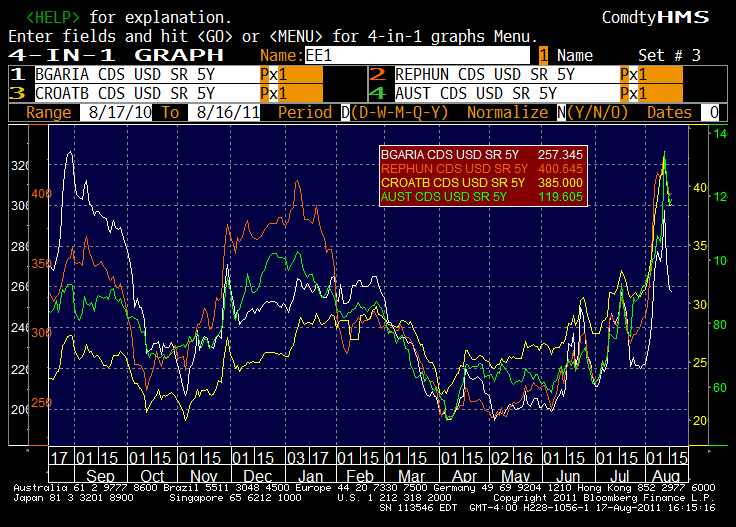 5 year CDS on Bulgaria, Croatia, Hungary and Austria.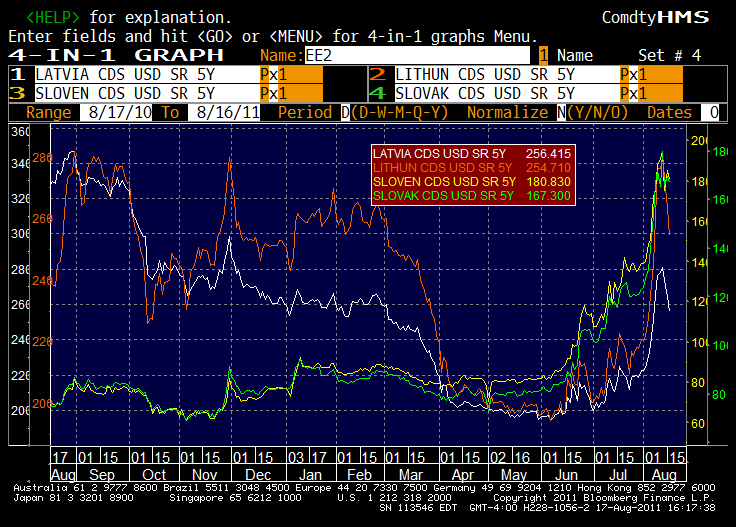 5 year CDS on Latvia, Lithuania, Slovenia and Slovakia.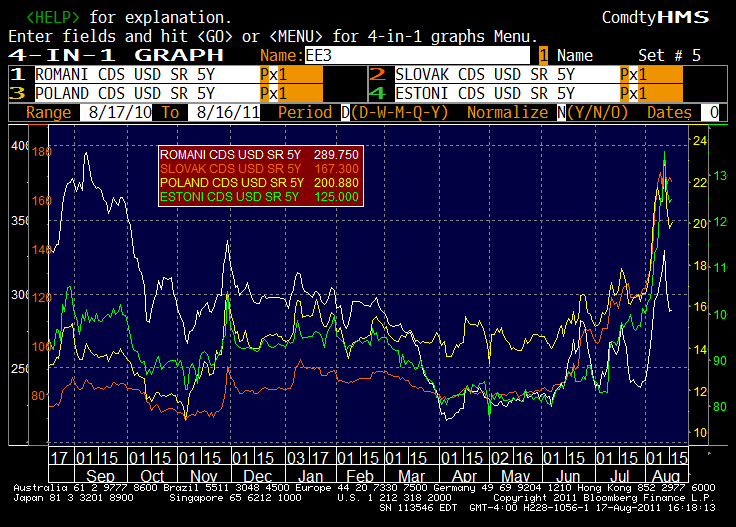 5 year CDS on Romania, Poland, Slovakia and Estonia.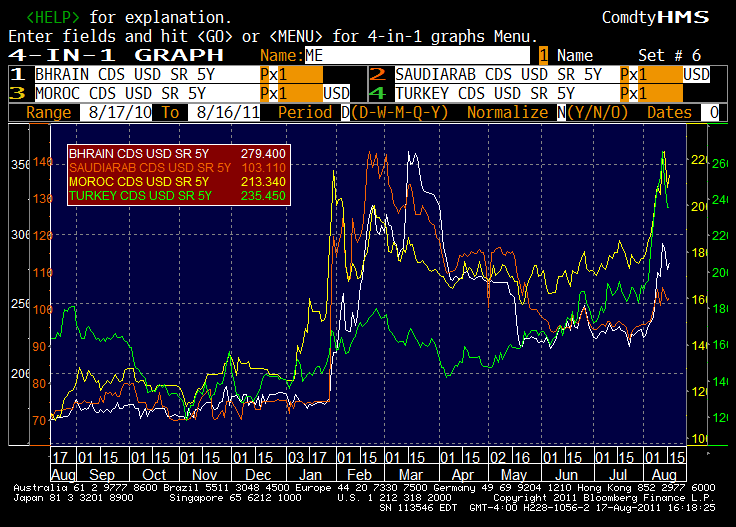 5 year CDS on Saudi Arabia, Bahrain, Morocco and Turkey.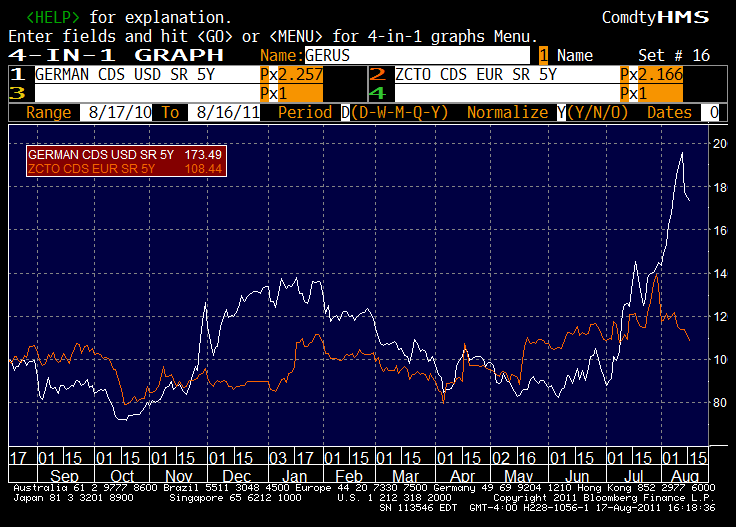 5 year CDS on Germany and the US (the scale has been adjusted so they have the same starting point – see the price multipliers indicated in the legend).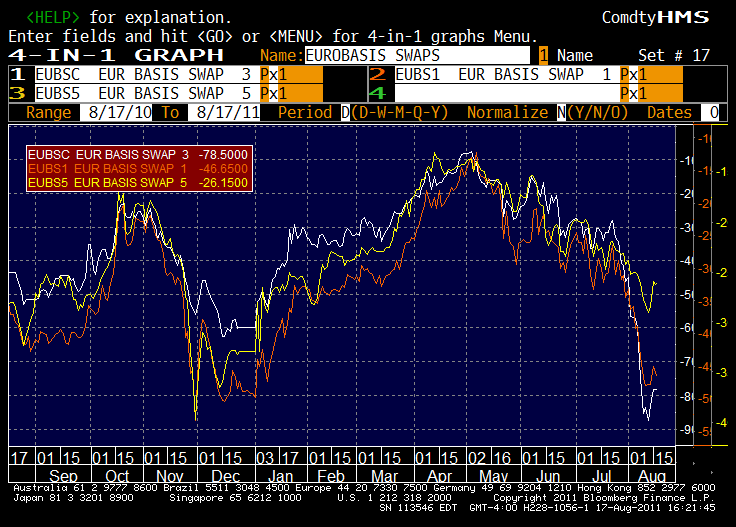 Euro basis swaps (3 months, one year, five years) – bouncing, but not by much.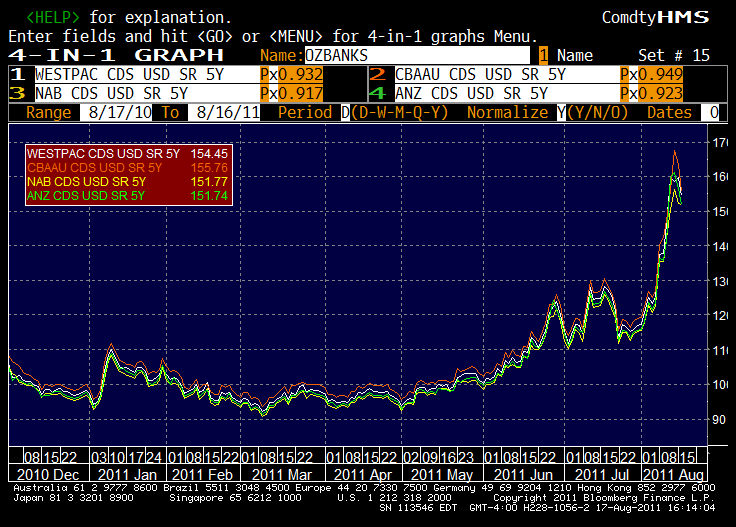 5 year CDS on the 'Big Four' Australian banks – a pullback is in train, but it's not much of one yet.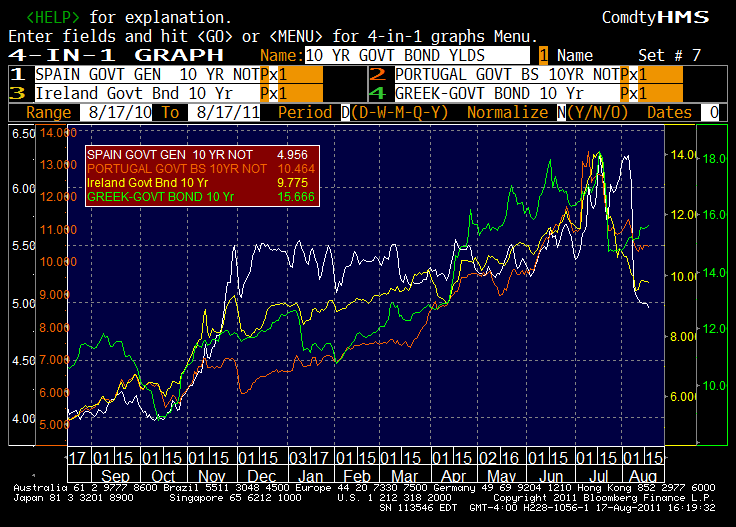 10 year government bond yields of Ireland, Greece, Portugal and Spain – everything except Spain is in bounce mode (as the ECB is currently primarily intervening in Spanish and Italian bonds).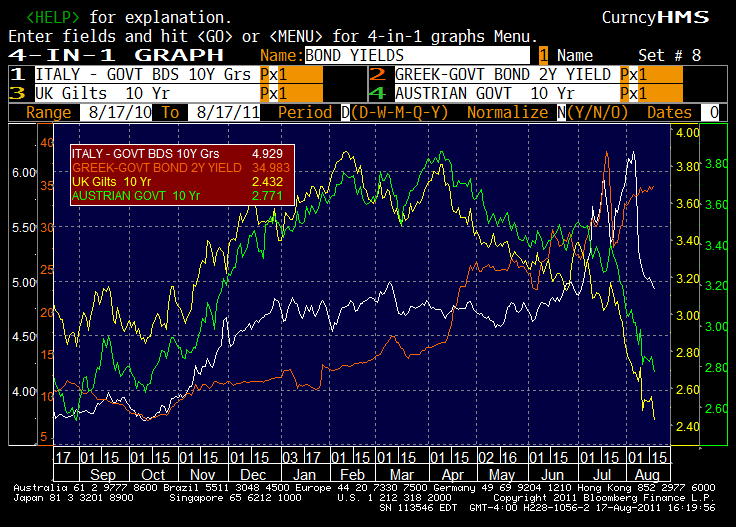 10 year government bond yields of Italy and Austria, UK gilts and the Greek 2 year note – the 'safe haven' yields continue to collapse to new lows, while Italian bonds are supported by the ECB. Unsupported Greek debt is selling off again.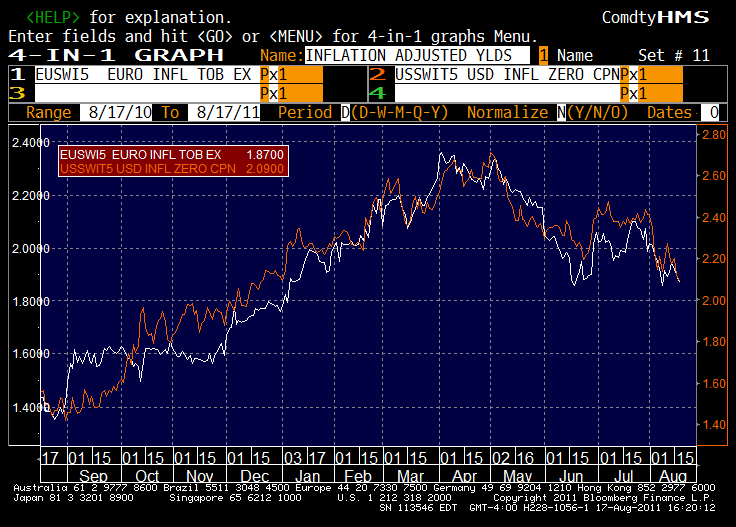 Inflation-adjusted yields keep heading down (inflation expectations are falling).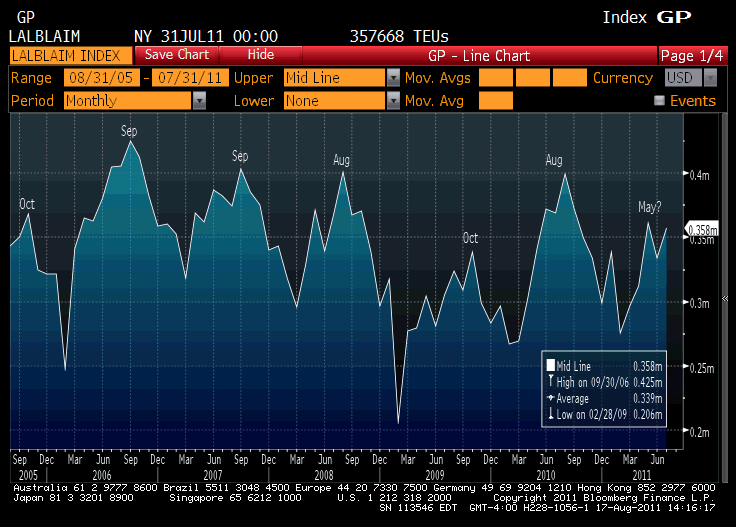 L.A. inbound containers – this is a very weak reading for this time of the year.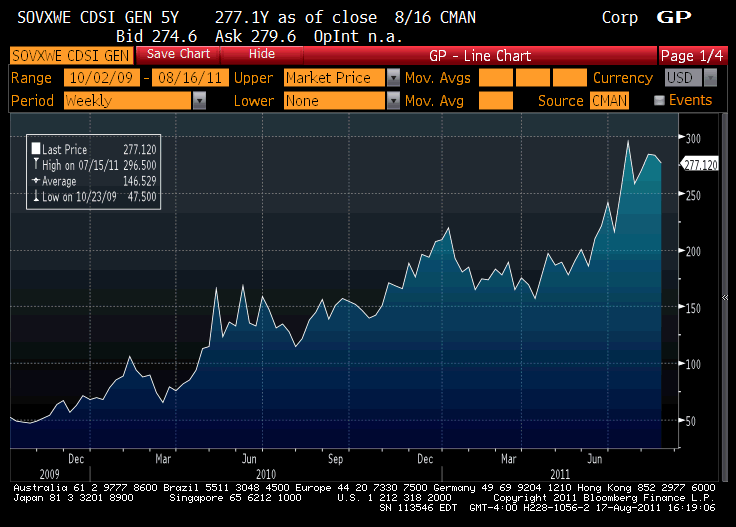 The Markit SovX index of CDS on 19 Western European sovereigns – pulling back a bit, but this remains a bullish chart in our opinion. We ergo expect the crisis to soon flare up again.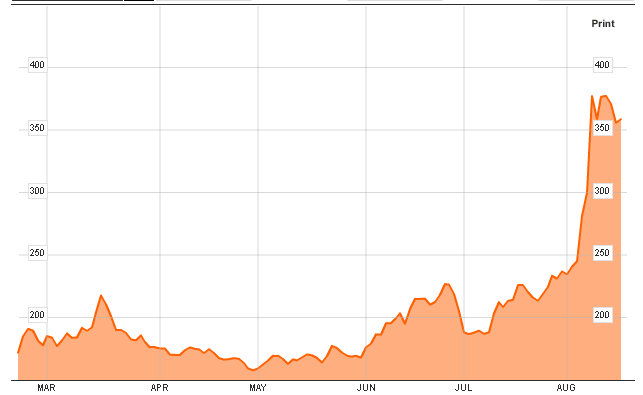 The HSBC 'Financial Clog Index' – the TED Spread, LIBOR-OIS, Financial CDS Spreads, Agency Mortgage Credit Spreads and the VIX, all equal weighted in one index.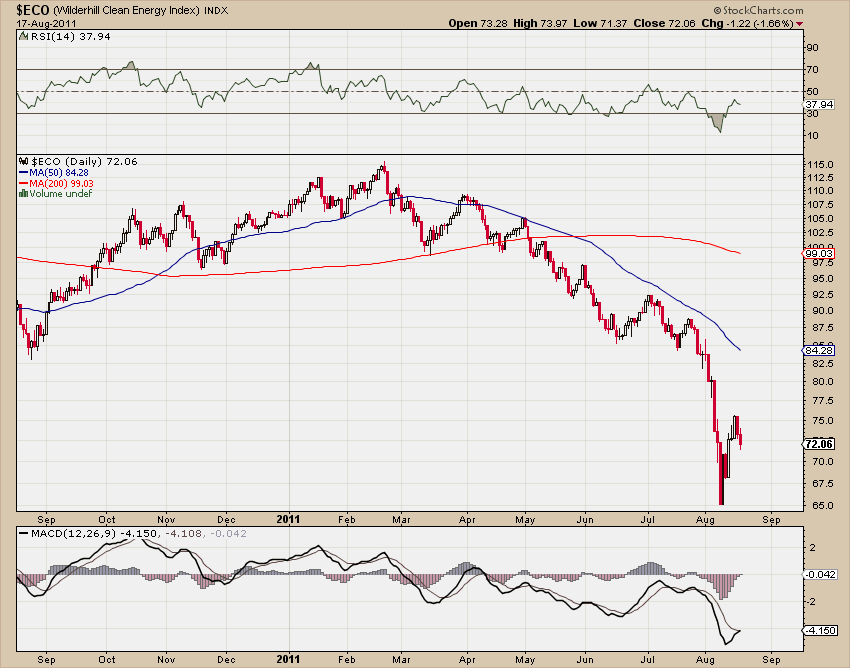 Lastly, the Wilderhill Clean Energy Index – as our friend B.C. remarked today: "leaving investors clean out of money with the least amount of energy expended."

Charts by: Bloomberg, StockCharts.com