Often times investors can turn big profits by adding to current positions after stocks make big falls. However timing must be correct or investors may end up having to wait much longer to reap the benefits. Two companies that have recently fallen to buy levels are Dendreon (NASDAQ:DNDN) and Abercrombie & Fitch (NYSE:ANF). Both companies slid more than the general stock market for more or less the same reasons.
As aforementioned, both companies slid based upon outlooks given in their earnings conference calls. Dendreon's stock fell an incredible 67% on August 4, as the company lowered annual revenue guidance for its "blockbuster" drug Provenge to be between $500 million and $1.2 billion; which is a 66% decrease from the previous lower limit and a 40% decrease from the previous upper limit.
One of the biggest hurdles Provenge faces is the hefty price. Provenge currently costs about $93,000. Even though the drug is covered by Medicare, doctors are not prescribing the treatment as Dendreon expected. One reason for this, it's speculated that Medicare may be influencing doctors to prescribe other drugs that are not as costly as Provenge that also control advanced prostate cancer.
On the other hand Abercrombie beat expectations in terms of earnings per share as the company reported 35 cents while analysts were expecting 30 cents. Also, net income rose 64% and the company is expecting higher growth in Europe and the United States. However the majority of the company's growth is coming from Europe as year-over-year revenue rose 74% in Europe. Abercrombie is hoping to take advantage of this growth as the company stated it will open roughly 40 Hollister stores in Europe, while closing 60-65 Hollister stores in the United States. Of course this means Americans will be losing jobs in the back half of 2011. Nevertheless in the conference call the company discussed how commodity prices could affect the rest of 2011. Because of this the stock fell about 8.5%.
This leads us to the question of whether each stock is a buy investors should take advantage of? I believe both companies may be speculative short-term buying opportunities. Dendreon may be a buy because the company has the opportunity to fix the wrongs with Provenge. While Provenge may be costly, the company can easily lower the price. Of course this would assume insurance companies are avoiding the drug solely based on the pricing. Therefore if this is not the case, Dendreon cannot afford to lower the price of Provenge.
Another reason Dendreon may be a buy is the initial estimates for Provenge may have been a typical case of excitement, with estimates given that were too high too soon. The drug may eventually reach $2.5-$4 billion in a few years as the it catches on with healthcare professionals and patients, but for now Dendreon needs to market the drug and inform doctors about the benefits of Provenge. If the company can do this the stock can easily make up the losses and reach new highs. Even if Dendreon does not follow this course of action, the stock will gradually rise back to the 20 level as the stock is currently way oversold.
An added twist investors should keep an eye out for with regards to Dendreon is M&A. While the stock once towered near the 40 level, after the weak outlook for Provenge any major healthcare company, such as Pfizer (NYSE:PFE) and Johnson and Johnson (NYSE:JNJ), could easily make a bid around the 18-20 level. Even this price range is a speculative gamble because Provenge is far from proving the treatment can be a blockbuster drug.
With regards to Abercrombie, the company should produce stellar earnings next quarter as well. I believe the new store openings in Europe will increase margins, especially since the company will be cutting 60 stores in the United States. Not to mention the company reported earnings that surpassed expectations by about 16% and I do not consider these earnings a fluke. The company may have decided to give the cautious outlook just in case the upcoming "back to school" quarter is not as strong as hoped for. However the company should see continued growth as shoppers begin to flow back into major retail clothing lines.
One early sign of Abercrombie's next quarter will be Lululemon's (NASDAQ:LULU) earnings September 8. Because of Lululemon's earnings report in a few weeks, I feel Abercrombie's stock is a good speculative buy right now as the stock is down quite a bit. We should see continued selling for a few sessions before the stock reaches a steady bottom. Abercrombie's stock may not eclipse a new high, but the share price should raise back above $70 into the $72-$74 range on a consistent basis.
As you can see these stocks are speculative buys. This means setting tight stop losses to keep from losing too much as either company could make a big downward move at any time. However both stocks fall into the "not to shy away from" category because both have consistent profit-producing products and are not headed for constant bottoming such as Citigroup (NYSE:C), Bank of America (NYSE:BAC), and General Motors (NYSE:GM).
(Click charts to enlarge)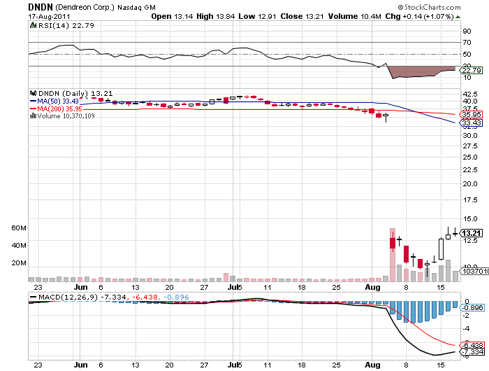 (Dendreon's stock over the most recent three months)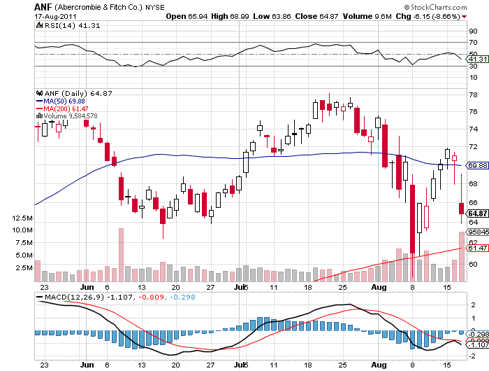 (Abercrombie & Fitch's stock over the most recent three months)


Disclosure: I am long PFE.