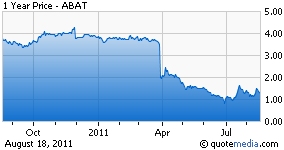 Advanced Battery Technologies (OTCPK:ABAT) is building credibility one quarter at a time. They just released their June quarter numbers, showing revenues at $31.3 mln, up 37% for the quarter compared to 2010.
The company's financials again knock the ball out of the park. In addition to the revenue growth number, the company delivered stellar net profits: 32 percent net profit after tax. How often do you see a company that does that?
As we mentioned in our previous article, the company has been under attack by short-selling writers making allegations against the company. We don't think much of the short seller's view, but the stock price has been hurt. ABAT could be doing a much better job of public relations, and marketing of their image, however they seem to be fighting the allegations in their own way, which is by racking up consecutive quarters with solid financial reports.
Breaking down the revenue number
Although the company reported revenue growth of 37% year over year, we are particularly interested in "organic growth", that is growth that comes from growing the existing business.
ABAT acquired the assets of Shenzhen ZQ in January, 2011. According to the most recent SEC filing, the three month revenue for the periods ended June 30, 2011 attributable to the new Shenzhen operations was $5,253,910.
To come up with an estimate of organic growth of the "operating" parts of the business (without the help of acquisition), we backed out the $5,253,910 contributed by Shenzhen, and we also zero out the effects of the Miner's Lamp business, which is rapidly shrinking away, and the company does not expect to replace it. The resulting organic growth estimate year over year would be 23 percent.
Segments
The company states that even though they acquired small battery capability with the Shenzhen production facility, they expect large capacity batteries to lead the growth of their battery segment. The large battery segment grew by 74% from the first six months of 2010 to the first six months of 2011, however most of that battery growth in the most recent quarter came from the medium capacity battery segment.
The Electric Vehicle (mostly e-bikes and e-scooters) segment was the largest segment of the company's business in the quarter at 42% of total revenue. Growth in EV sales was fairly slow this quarter compared to the battery business. EV revenue grew from $12.6 mln in 2010 to $13.2 mln in 2011.
Cost Control
Accounts receivable reduced from 70% of sales in the 2010 quarter to 62% of sales in the 2011 quarter.
Operating expenses were reduced from 8.5 to 7.6% of sales.

As part of that the company did break out their R&D expenses separately (thank you ABAT).

R&D spending jumped from almost nothing last year to $298k this quarter.

Cost of goods sold was increased from 52.6% of sales to 57.2% of sales.

The disproportionate increase on cost of goods sold primarily occurred because the $9,602,091 in sales of small capacity batteries generated from our new Shenzhen facility yielded a low margin relative to our other revenue.

This will likely remain a factor for the future quarters.
Cash
The company has $74 mln in cash. They added $12.8 mln in cash from operations, but spent almost $52 mln in investing activities (mostly for property, plant and equipment) in the quarter.
Transparency
We would like to see a detailed quarterly breakout of product gross margin and profit – plus identification of major clients. A clear identification of profits by product category would be helpful. The company should provide a quarterly conference call and participate in a few investor's conferences. The English language website shows poorly, and does not adequate information to investors.
Risks: Speculative
On the negative side, the company is a small player in a highly competitive market. The company could be more transparent about sources of revenue and profit. Long term growth in the various battery segments, particular large batteries are hard to project. At this point we are being a little cautious about the accusations by shorts about the company's filings.
On the positive side this company has a long track record of highly profitable growth, they are fairly diversified over small to large batteries plus EV's, and has virtually unlimited room to take more market share, both as a supplier of batteries and as manufacturer of e-bikes. They are not as dependent on a contract from one or two OEM's as are some battery makers.
Overall we rate the risk level as speculative.
Valuing the Investment
VineSecurityJournal.com uses a proprietary method to value technology growth stocks. The core of the technique is a projection of future revenues and net earnings, and we discount earnings according to the risk level.
Our long term revenue growth assumption for ABAT is 10-15% per annum. Recent growth has been higher, but unless a company has a really unique and defensible product, we tend to base our long term growth assumptions more on the sector rather than the company itself. We assume that long term net income percentage will decrease over the long term from the current 33% to the 10-15% range.
For ABAT, our model predicts a target stock price of $ 4.25.
Conclusion – Speculative Buy
The focus of this company seems to be on growth through efficient and profitable operations, plus acquisitions. This contrasts with some competitors that are trying to be "the next big thing in batteries" by investing heavily in R&D and looking for a big OEM EV deal. ABAT has a strategy reduces the potential for a huge revenue upside, but is generating consistent revenue growth and some awesome net profits.
ABAT needs to work on its public relations and investor relations, and clear up any doubt about the accuracy and completeness of their filings. They should consider an audit by a well-recognized audit firm, presentations by the company at investment conferences, have an open conference call at the quarterly report, and publish a much more polished and informative English language web site. We may not see full realization of their target price until most of these things happen.
As mentioned above, in spite of the risks, we are long on the stock and intend to buy more stock in stages.
Disclosure: I am long ABAT, XIDE.