By Abe Raymond
On Monday morning, Google (NASDAQ:GOOG) acquired Motorola Mobility (NYSE:MMI) in a blockbuster deal valued at over $12.5 billion.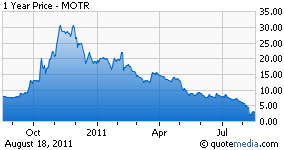 One company that benefitted tremendously was Motricity (MOTR). Motricity operates within the sector and may have been rallying on take-over speculation. Welcoming the recent uptrend in its equity, Motricity has been trading lower in recent months. Since November of 2010, Motricity has declined from a share price of near $30 to its recent single-digit status.
Interestingly, several law firms announced class action law suits against Motricity on Friday and Monday. The prosecutors allege that the firm gave investors materially false information, inflating stock price for a period of time. Apparently, the market did not care about the firm's potential legal problems.
On a more positive note, Motricity announced a new agreement with Supportcomm, a Latin American data provider attempting to expand its user base by over 200 million subscribers. Motricity will be providing technology and managerial support for Supportcomm. As expected, Motricity stock moved upward on Tuesday, gaining over 3%.
Benzinga spoke to IPO Financial's David Menlow about Motricity's recent price movement. IPO Financial has had a Sell rating on Motricity since it was near its highs, and maintains a bearish outlook.
"We cannot comment on why the stock was moving specifically," Menlow explained. "We consider it to be market noise. We have had a Sell rating on Motricity since it was in the $20s and we maintain that rating today."
Fundamentally, Motricity may be attractive to some investors at the current levels. Motricity has been able to expand its balance sheet over the last three years. Its cash position has increased from $14 million in 2008 to $79 million in 2010. Motricity's PP&E actually decreased from 2009 to 2010. This may have occurred for a couple reasons; the company may have sold some property to alleviate costs or it may have had to write down the assets as a result of its financial restructuring.
Motricity does not hold any short or long-term debt. Its payables have increased from 2009 to 2010, but its current liabilities are fairly stagnant ($31 million in 2009 to $32 million in 2010).
Perhaps its most important feature is that its other long-term liabilities—including redeemable preferred stock—decreased from $432 million to $56 million. The large charge to long-term liabilities is a result of Motricity financing its acquisition of InfoSpace Mobile in 2008 with preferred stock. Shareholders' equity also increased from 2009 to 2010; this was a result of an increase in paid-in capital, however, and not because of retained earnings. In fact, retained earnings decreased from 2009 to 2010.
Motricity has been able to boost its top-line over the last three years. Its operating costs are still high, and have been resulting in operating losses. SG&A charges are have the largest effect on operating costs, so Motricity's move to downsize its workforce may be beneficial in the future. Regardless, its net loss has been decreasing every year.
While the improvement in net loss is reflected in its physical cash flows, cash flow from operations decreased from 2009 to 2010. Interestingly, the amount of stock based compensation increased cash flows from $2 million to $23 million, but receivables and other working capital significantly decreased cash. The negative cash charge due to working capital is not necessarily a bad thing, as that means current assets surpass current liabilities.
The stock trades below competitors' average price/book and price/sales multiples. Motricity is cheaper on that basis, even though revenue growth over the past three years has been 55.9%, while competitors' growth was -14.5%.
On the other hand, Motricity's operating and net margins are negative, when comparable companies typically have positive margins. The company's return on equity is also -13.7%, while competitors' average ROE is 13.2%. Considering all the metrics, Motricity may or may not be a good value for investors.
Investors have to be wary of companies like Motricity. There is a fair amount of negative press on the company, and its financials offer limited clarity. Investors who still want to play Motricity as a takeover target may want to consider a non-directional option spread, such as a straddle or strangle spread.
Shares of the company continued to rally on Tuesday, trading up over 4% at one point in the session.
Disclosure: I have no positions in any stocks mentioned, and no plans to initiate any positions within the next 72 hours.