Income investors keep looking for stable prices and steady income, and look for Altria Group (NYSE:MO) to give them both. The stock is beginning to recover from its recent dip, so income investors might put it on their watch lists -- but growth investors should look elsewhere.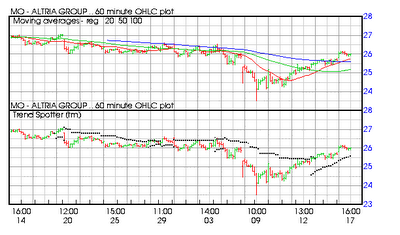 Chart provided with permission from Barchart.
Altria Group, through its subsidiaries, engages in the manufacture and sale of cigarettes, smokeless tobacco products, and wine in the United States and internationally. It offers cigarettes under the Marlboro, Virginia Slims, Parliament, Benson & Hedges, Basic, and L&M brands; smokeless tobacco products under the Copenhagen, Skoal, Red Seal, Husky brands, and Marlboro snus brands; and machine-made large cigars and pipe tobacco.
The company also produces and sells blended table wines under the Chateau Ste. Michelle and Columbia Crest names; and distributes Antinori and Villa Maria Estate wines and Champagne Nicolas Feuillatte in the United States.
In addition, it maintains a portfolio of leveraged and direct finance leases in rail and surface transport, aircraft, electric power, real estate and manufacturing. The company sells its tobacco products to wholesalers, including distributors; large retail organizations, such as chain stores; and the armed services. Altria Group markets its wine products to restaurants, wholesale clubs, supermarkets, wine shops, and mass merchandisers. The company was founded in 1919 and is headquartered in Richmond, Va. (Yahoo Finance profile)
Barchart technical indicators:
Barchart hold/neutral based on recent price recovery
Price just crossed its 20-day moving average
5 new highs and up 6.73% in the last week
Relative Strength Index 51.09% and rising
Barchart computes a support level at 25.61
Recently traded at 26.00, which is slightly below its 50-day moving average of 26.41
Fundamental factors to consider:
The numbers on this stock are extremely stable to the point of being the proverbial cash cow
The company is in the middle of a billion-dollar share buyback
The generous dividend of 5.91% is expected to rise to around 7.5, which at that rate will be about 88% of projected earnings
The stock has a 100 out of 100 stock price stability score
This is a core income holding for Wall Street brokerage model income portfolios
Brokerage analysts have issued 1 strong buy, 2 buy and 9 hold recommendations for income investors with no negative reports issued
Sales are expected to increase slowly, by 1.30% this year and 2.40% next year
Earnings growth estimates are for an increase of 7.40% this year, 6.09% next year and a steady 6.23% annually for the next 5 years
General investor sentiment:
The individual investor as measured on Motley Fool predict income stocks will outperform growth stocks in the near future
Of the 8,809 readers giving an opinion, 97% vote that this stock's total return will outperform the market
The more experienced All Stars are slightly more positive, with a 98% vote for the same result
Summary: Only income investors should look to acquire Altria Group. The generous dividend looks very secure, and the large stock buyback should increase its P/E ratio. Writing covered calls could raise your income, but since price growth is limited, cover calls will only raise your income marginally. As always, I advise younger and more aggressive investors to look for stocks with double-digit projects for growth of sales and income, and this stock is not it.
Disclosure: I have no positions in any stocks mentioned, and no plans to initiate any positions within the next 72 hours.