It feels like it's all caving in today even with the Dow off its lows. This action (or inaction) is clearly a vote of no-confidence, and not about valuation. But, we must sharpen our pencils on the macro view. There is no doubt with everyone in a foxhole numbers change, but current valuations are pricing in Armageddon. There is massive pain for banks, here and in Europe, but our future could be great with a small amount of pain now. Consumers might actually fool many if gas prices begin to drift a little more. Then there's the issue of expectations, which continue to decrease. But the notion of an official double-dip gained credence with today's Philly Fed report that hit stocks harder than European woes.
The reading on manufacturing in the Philly Fed region was jaw-dropping stuff that took us directly back to March 2009. This is the August reading, and it makes S&P look smarter about their rating downgrade. (Did you see where the Justice Department has stepped up its investigation into S&P and how it's handling credit ratings during the housing crisis?)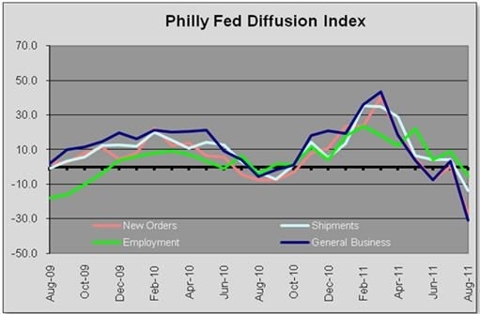 Mr. Market Hit with Cold Water, Again
by: Brian Sozzi, Equity Research Analyst
Today's topsy turvy session is not a function of Morgan Stanley's downgraded viewpoint on FY11 GDP growth (I still think the revised numbers in the report are too lofty). Rather, it's the market being sucked back into realty, a reality dominated by continued souring economic data and stronger cautionary tones on earnings calls. The market is in adjustment mode, trying to find its happy medium of properly discounting future negative outcomes to the point that makes stocks too attractively valued to ignore.
Key Number to Watch:
S&P 500 11 month low of 1,119.46 hit on August 8.
Techs Take a Dive
by: Carlos Guillen, Research Analyst
So far during this trading session, shares of technology stocks continue deep in the red as the nonstop flow of poor macroeconomic data pushes investors more and more into the sidelines. Even before the market was up and rolling, news from the European Union about a new tax on financial transactions and concerns over the Greek bailout was already sending the market lower. As the morning progressed, there was a slew of macroeconomic data on initial claims, inflation, existing home sales, and the Philadelphia Fed that all landed below the Street's expectations, sending the market deeper in the red. All of these negative events are putting pressure on the market in general, in particular tech stocks, and as a result the Philadelphia Semiconductor Index (SOX) is currently down close to 5%.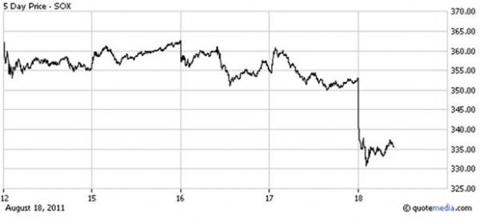 Reemerging fears about a plunging economy in Europe began pushing the market lower earlier today. The possibility for a new tax on foreign exchange and on share transactions has been proposed as a source of money to pay for bank bailouts; however, this would significantly reduce trading volumes, which are a key source of revenue for many European banks. While this idea had been floating around for some time, now it is much closer to coming to fruition, and it sent European stocks sharply lower, also affecting American stocks.
On top of this discouraging news, according to the Labor Department, initial claims during the week-ended August 13 totaled 408K, which increased from the 399K revised figure reported for the prior week, and landed higher than the Street's estimate of 400K.

Also according to the Labor Department, the Consumer Price Index (CPI-U) increased 0.5% in July, landing higher than the Street's estimate of a 0.2% increase. Excluding the food and energy contributions to inflation, core CPI was 0.2%, in line with the Street's estimate of 0.2%. The combination of increasing prices and still dragging initial claims figures is certainly a cause for concern to say the least.
Adding fuel to the fire, manufacturing activities in the Philadelphia region crashed in August as the Philly Fed Business Outlook declined from 3.2 in July to -30.7 presently. This result was well under the Street's estimate of 1.0, and it was the lowest level since reaching -30.8 in March 2009.
Lastly, existing home sales fell from an upwardly revised 4.84 million (from 4.77 million) in June to 4.67 million in July. This result was below the Street's estimate of 4.87 million. For the second consecutive month, the National Association of Realtors blamed contract cancelations as the main source for the weak sales levels.
Home Bleak Home
by: David Urani, Research Analyst
Existing home sales for July ran at an annualized rate of 4.67 million units, decreasing by 3.5% month to month and coming in below the 4.92 million consensus. Sales were up 21.6% year over year, but are cycling over the brutal 25.3% month to month drop in July 2010 when the federal home buyer tax credit ended. Sequentially, slight gains in the Northeast and Midwest were offset by decreases in the South and West. Honestly, the market I think became desensitized to bad housing news long ago, so rough results like this don't resonate quite so much. Nevertheless, the way I see it, this is an alarming result that confirms that both the seasonal spring strength has diminished, and that consumers became increasingly cautious during the month as debt ceiling negotiations went on.
Prices also softened, and months supply went to 9.4 from 9.2. Total inventory did decrease by 1.7% to 3.6 million, but inventory levels are still a worry, as mass amounts of foreclosures are still being held up by various paperwork issues.