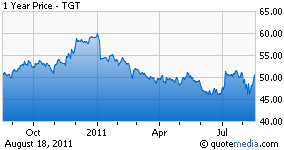 Target is an upscale discounter with about 1,750 stores in 49 states. They have 250 super target locations which include a grocery shopping experience. Target has made a push to include fresh meat and produce within their stores as well.
Breaking down Target's latest earnings numbers show there are many promising things going on within Target which investors may look to take advantage of:
Better than expected earnings - Target earned $1.03 per share in the latest quarter which was up 11.5% compared to second quarter last year. These are strong numbers for a large retailer, especially in a time where the economy is expected to be slowing.
Same store sales up - Target recorded same store sales increases of 3.9% which were some of the strongest numbers Target has seen in the last four years. This number further supports that Target is benefiting from initiatives that are being implemented in their stores. Same store sales growth show the health of the business which can often be masked by retail store growth. That was the problem that plagued Krispy Kreme (KKD). Their fast growth hid their declining same store sales which ultimately caused KKD to shutter many locations.
Redcard Rewards - This program where Target customers get 5% discounts from purchases has seen great success. Not only does the program keep customers loyal but it has customers using their Target credit card as well.
Credit Card Portfolio - Target is looking to unlock value by selling their credit card portfolio. Target should be able to get favorable terms on this based off improvement in their risk management. One key statement from Target here is that they are looking to maintain the 5% rewards program even if the receivables were to be sold.
Store Growth - Target has a great store growth plan. Target plans to launch smaller locations in dense urban markets under the City Target program in 2012. This is in response to Wal-Mart's (NYSE:WMT) initiative to open smaller locations as well to further spur their growth. This is going to prove very fruitful for Target. These locations will be more demographic specific with product selection that targets that market.
International Growth - Target is planning to launch their Canada growth in 2013. The Canadian market should be able to turn out a big success for Target with many potential customers already familiar with the Target brand.
Target is a strong brand that's executing their plan. The market just doesn't like retail at the moment and Target is getting hit with everyone else. There are a lot of prospects that the market is discounting and that gives investors an opportunity to take advantage of that. The City Target and Canadian market initiative will be a strong driver of earnings once they start to get into high gear. I will keep a close eye on Target and will look to buy pullbacks with an expectation that when this economy turns Target will be a leader in the retail sector.
Disclosure: I have no positions in any stocks mentioned, and no plans to initiate any positions within the next 72 hours.