During the second quarter, farmland values in the 7th Federal Reserve District rose 17% over the last twelve months, according to the Federal Reserve Bank of Chicago's second quarter survey of Farmland Values and Agricultural Credit Conditions Report Across the District, the value of "good" farmland increased 4% in the second quarter compared with the first quarter of 2011. Among the District states, only Wisconsin, had a smaller year-over-year increase in farmland values in the second quarter of 2011 than in the first quarter of 2011. Year-over-year, land values in Indiana, and Iowa, climbed 21% and 20%, respectively, while values in Wisconsin, climbed a modest 8%.
(Click chart to enlarge)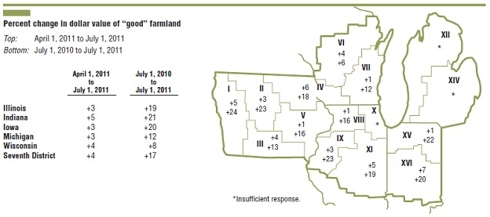 Click to enlarge
Of the 226 agricultural bankers surveyed within the 7th District, some expressed concerns about the risks facing farmland markets, especially with regards to declining commodity prices. However, these views were expressed by the minority, as less than 2% of responders expected farmland values to decline in the third quarter of 2011. 36% of respondents are forecasting higher farmland values in the third quarter, while 62% expect no change. Bankers commented on the unseasonably high number of summer auctions this year and noted that demand for farmland continues to remain strong from both farmers and investors.
District Production
Based on data from the U.S. Department of Agriculture (USDA), 2010 crop revenue for producers in the District increased 34% above 2009 levels, despite below-trend corn yields. In 2010, the value of corn for grain produced within the District was $31.8 billion, and the value of soybeans was $16.6 billion.
Current USDA estimates for the 2011 corn for grain crop are 3.8% larger than the 2010 crop. However, estimates for the five District states in 2011 are forecasting a 7.0% larger crop compared with 2010. Production of soybeans in the U.S. for 2011 is estimated to decline 8.2%, while District production is forecasted to be 8.1% lower than 2010.
In addition, livestock prices in 2011 have outpaced 2010 levels. This year prices in July, for hogs, cattle, and milk were 23%, 20%, and 39% higher compared with 2010 prices, respectively. These higher prices have led to record levels of revenue for livestock producers, but higher feed costs have compressed net margins. The combination of higher revenue for crop and livestock producers coupled with growing investor demand has provided the momentum for significant increases in farmland values across the 7th District in 2011.
Farm Loan Performance
Higher on-farm revenues also supported agricultural credit conditions during the second quarter within the 7th District. Agricultural loans with "major" or "severe" repayment problems decreased to 2% of District loan volume. In the District's major corn and soybean producing states, between 1% and 2% of farm loan volume was problematic, but in Michigan, and Wisconsin, upwards of 4% of loan volume was classified as troubled.
Repayment rates for non-real estate farm loans also improved during the second quarter of 2011 compared with 2010. During the second quarter of 2011, of those surveyed, 36% reported higher rates of loan repayment, while only 3% reported lower rates, compared with the previous year.
Renewals and extensions of non-real estate agricultural loans in the second quarter of 2011 were lower than in the same quarter of 2010, as 4% of respondents saw increases, while 27% saw decreases. This is explained by the elevated income levels most producers saw in 2010, which allowed them to either deleverage their balances sheets or stockpile cash reserves thus not requiring financing going into 2011.
Loan Demand
Non-real estate agricultural loan demand fell to its lowest level since 1987, during the second quarter of 2010. The 7th District reported only 16% of respondents were observing higher loan demand, 37% reporting lower demand, and 47% reporting no change in demand.
At 70.3%, the District's average loan-to-deposit ratio remains near the previous quarter's post-1997 low. The ratio desired by bankers is 78.7%, only 24% of banks are at or above this level. Fund availability continues to bolster strength, with 49% of the banks having more funds available, while only 4% reported having less.
Banks tightened their collateral requirements for loans in the second quarter of 2011 relative to the second quarter of the prior year. Of those surveyed, 16% of banks are requiring more collateral, while only 1% are requiring less collateral.
Record low interest rates have also contributed to the increase in District farmland values. During the second quarter of 2011, interest rates for farm loans reached their lowest point in the survey's history. As of July 1, 2011, the 7th District's average interest rate on new operating loans was 5.75%, over 300 basis points below the most recent peak, in 2006. Agricultural mortgage rates averaged 5.62%, about 220 basis points lower than five years earlier.
3rd Quarter Outlook

Of those who responded, bankers expect non-real estate agricultural loan volumes to decrease during the third quarter, compared with the same period in 2010. However, compared with 2010, volumes for farm machinery and grain storage construction loans are forecasted to rise during the next quarter. Finally, compared with 2010, 21% of respondents are also forecasting farm real estate loan volumes to increase in the third quarter, while only 13% anticipate lower volumes.
The Federal Reserve Bank of Chicago's second quarter survey of Farmland Values and Agricultural Credit Conditions Report is a summary of the 7th District's value of farmland, farm loan portfolio performance, and on-farm income. The 7th District consists of the entire state of Iowa, and portions of Illinois, Indiana, Wisconsin, and Michigan.

Disclosure: I have no positions in any stocks mentioned, and no plans to initiate any positions within the next 72 hours.