Vietnam, once a high-flier, has seen all their air let out. Vietnam was once favored as the next China, and saw a large amount of hot money come into the country, which made their economy and currency sky rocket.
Vietnam has since seen their VN Index drop 24% and inflation rise up to 14.6%, expected to go up as high as 18-20%. Having a export-focused economy is definitely putting pressure on Vietnam by having high CPI coupled with slow growth. The main driver of inflation is food prices, which contributed 71% of the rise. Electricity and gasoline were the other main drivers.
Vietnam's stock exchanges have since lost a significant amount trading volume as well. In July Vietnam's exchanges traded 685 million shares which were about 54% less than the previous month. Liquidity has fallen to their lowest levels in over a year.
There has been some speculation that Vietnam may be over its head, and may be put in a situation which could cause it to default. At this point it's still too early to tell. Yes, Vietnam is definitely in trouble and is going through some very tough times, but so is the rest of the world.
Vietnam's real estate market was its crown jewel -- just like China's. That was what drove a lot of the growth in the speculation segment. That speculation has since left the market with high interest rates on loans in the mid- to high-double-digits.
Vietnam is a long-term play for me, where I'm betting that once the world economic outlook improves, Vietnam could once again be a hot mover. I don't short stocks after big drops, but instead look for opportunities where the selling may be overdone.
You could play the Vietnam market through the exchange-traded fund Market Vectors Vietnam (NYSEARCA:VNM) or the closed-end fund Vinacapital Vietnam (OTCPK:VCVOF). I do recommend you be careful, because they have a lot less liquidity than most other instruments.
I prefer to use VCVOF, because the NAV discount is now at a point which is much wider than normal, which provides me with more of a cushion when buying in. The current NAV is $2.34, and it's trading at $1.24 at time of this writing, giving us a 50% discount to net asset value.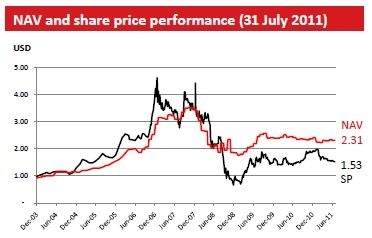 The selling in Vietnam may not be done yet, but could be close. This is definitely one for me to watch for a long-term play.
Disclosure: I have no positions in any stocks mentioned, and no plans to initiate any positions within the next 72 hours.