Stocks have been sold off sharply nearly across the board during the latest market correction. But a very select group of high-quality stocks is continuing to hold strong in the face of this massive downside pressure.
The following are four high-quality stocks that have held strong on the following measures:
They maintained their upward price trend during the stock market correction in the summer of 2010 following the end of QE1.
They have also maintained their upward price trend during the recent sharp stock market decline since the end of QE2 starting in mid July 2011
They are also reasonably valued on an absolute basis with trailing price-to-earnings ratios below 20.
McDonald's (NYSE:MCD)
Market Cap: $88.7 billion
P/E Ratio: 17.4
Dividend Yield: 2.8%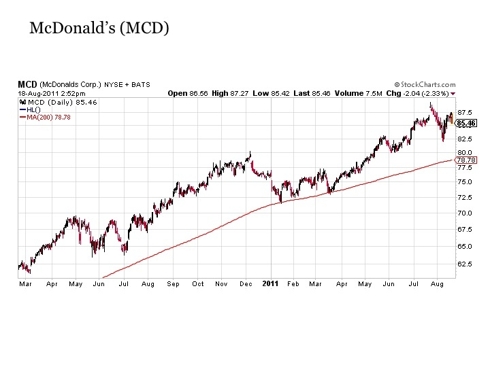 McDonald's remains an exemplary market performer, and is a name that I have written about in several past articles. Although it operates in the Consumer Discretionary sector as a restaurant, it has strong inferior goods characteristics. Basically, consumers that are inclined to eat out but are increasingly mindful of their budgets due to the soft economy may forgo a higher-priced restaurant and instead chose to visit McDonald's for its value and low cost.
McDonald's stock has been among the best technical performers in the market. It has shown strong past support at its 200-day moving average, and the stock has not even come close to this level during the current market correction. This is a testament to the strength and quality associated with the name. Adding to the appeal is the fact that McDonald's is currently trading at a 10% discount to its historical average valuation. I continue to watch this name closely, and will likely be a buyer on any pullback to the 200-day moving average, which is currently at $78.78.
TJ Maxx (NYSE:TJX)
Market Cap: $20.2 billion
P/E Ratio: 16.4
Dividend Yield: 1.4%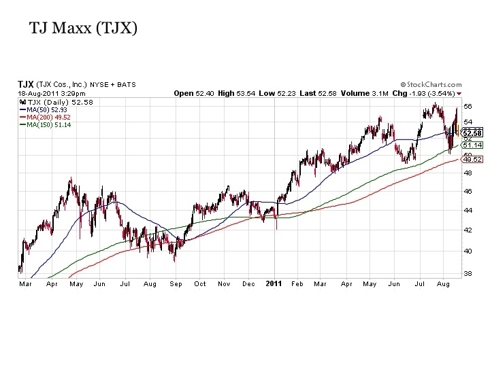 TJ Maxx is another inferior goods provider that is benefiting handsomely from the current economic environment. The company is the largest off-price apparel and home fashions retailer in the U.S., so as economically struggling consumers seek high-quality brand names at value prices, they are steadily visiting the company's TJ Maxx and Marshalls stores. This strength continues to be reflected in the stock price, which has been in a steady uptrend since late 2008, several months before the March 2009 market bottom.
The fact that the stock trades at a 12% premium to its historical average valuation is also an indication of current economic tailwinds behind TJ Maxx's business. Over the past several years, the stock has found support at varying times at its 50-day, 150-day and 200-day moving averages. The stock is currently trading just below its 50-day MA, and any pullbacks to the 150-day or 200-day MAs may present particularly attractive entry points.
AutoZone (NYSE:AZO)
Market Cap: $12.0 billion
P/E Ratio: 15.9
Dividend Yield: 0.0%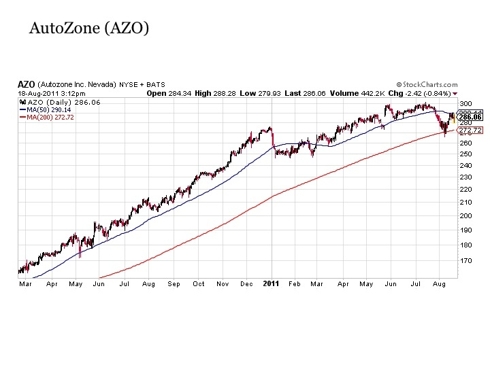 AutoZone is another inferior goods name that benefits during a weakening economy. Basically, during times of economic uncertainty, people will put off buying a new car. Instead, they will spend money to keep their current cars running, even if they're years past their warranties. As a result, they'll travel over to an auto parts store, including AutoZone, to buy the things they need to keep their cars on the road. AutoZone is particularly well positioned in this regard as the largest retailer in an otherwise fragmented industry.
Two potential drawbacks with AutoZone should be noted, however. First, the stock currently trades at a 10% premium to its historical valuation, although this could be defended by the fact that the company continues to operate in a prime operating environment for its business. Second, AutoZone does not offer a dividend, which may limit the appeal for income-focused investors.
The stock has been in a remarkably steady uptrend since late 2009. Although it has shown some weakness recently, it recently found support at its 200-day moving average. Another pullback to the 200-day MA or a break above the 50-day MA would present potential opportunities to add the name.
Apple (NASDAQ:AAPL)
Market Cap: $336.0 billion
P/E Ratio: 14.3
Dividend Yield: 0.0%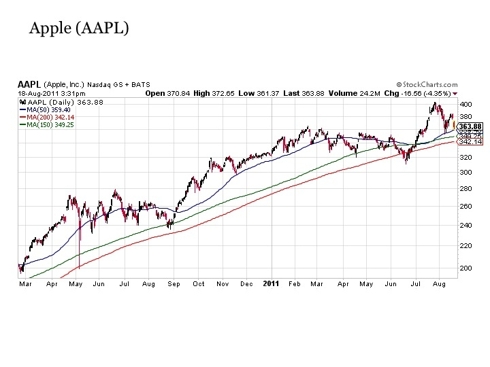 Apple is probably the most covered and talked about stock in the universe, so there's not much for me to add here. But given its price performance, it warrants recognition among the most resilient during the recent correction. It has enjoyed brief moments in recent days as the largest company in the U.S., as measured by market cap, and it is currently sitting on a sizable mountain of cash totaling $76 billion. (To put this into context, Apple could go out and buy all of Hewlett-Packard (NYSE:HPQ) and still have $15 billion in cash left over.) That's a lot of cash. But unlike the three stocks that accompany Apple in this article, Apple is not an inferior goods producer. Instead, they are one of a rare breed of pure major growth companies whose product demand remains robust regardless of the economic environment.
While the stock will likely not be attractive to income investors due to its 0% dividend, it does have appeal from a value perspective, as it is currently trading at a discounted multiple to its historical valuation, and is not that far above the valuation of the broader market. And Apple's stock continues to set up well from a technical perspective. It has found past support at its 50-day, 150-day and 200-day moving averages. At present, it is resting at its 50-day MA and is trading above its 150-day and 200-day MA support levels. As a result, an argument could be made to add Apple at any of these levels.
Disclosure: I have no positions in any stocks mentioned, but may initiate a long position in MCD, TJX, AZO, or AAPL over the next 72 hours.
Disclaimer: This post is for information purposes only. There are risks involved with investing, including loss of principal. Gerring Wealth Management makes no explicit or implicit guarantee with respect to performance or the outcome of any investment or projections made by GWM. There is no guarantee that the goals of the strategies discussed by GWM will be met.