The stock market appears ready to break decisively lower. That's not to say that it hasn't done a good job of it already to this point. After all, it's certainly been a precipitous drop these last few weeks. But the long overdue bounce over the last few days has been both short lived and weak. And the duration of crisis cycles seem to be getting shorter and shorter. If the market can't hang on to these final glimmers of hope, things could soon start to get really ugly for stocks.
A troubling sign is that financials continue to lead the market lower. As discussed in several previous articles, the fact that financials have been disconnected to the downside from the broader market for months has been an ominous sign for stocks. And in recent weeks, the worst case scenario has been playing out, with financials accelerating to the downside amid global crisis concerns which has been helping dragging the entire market down as well.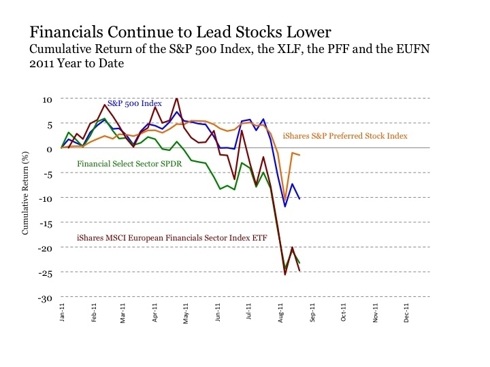 Click to enlarge
click to enlarge
The fact that global financials have rolled back over isn't necessarily a surprise. Once the short sale ban on bank stocks was put into place late last week in France, Italy, Spain and Belgium, a bounce in financials was inevitable as short sellers were forced to close out positions. But no sooner was this short covering exodus complete than these financials once again moved sharply to the downside. Leading the decline on Thursday were the usual suspects, including France's Societe Generale (GLE.EU, -12.34%), Belgium's Dexia (DEXB.EU, -13.96%) and Italy's Intesa Sanpaolo (ISP.MI, -9.26%)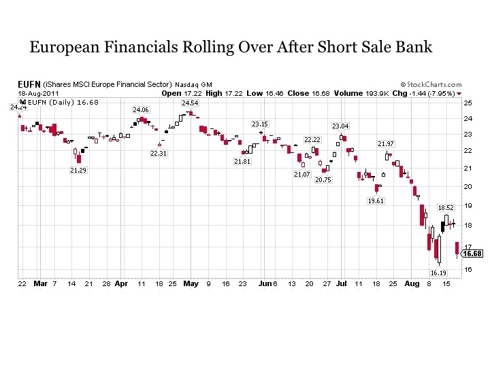 Click to enlarge
Despite these weighty risks, a few glimmers of hope still remain to keep investors hoping that we may not go over the brink and begin a sprint toward 950 or lower on the S&P 500 just yet.
The first has been the performance of preferred stocks in recent days. As discussed in previous posts, roughly 85% of the entire preferred stock market is made up of financials, with 24% coming from Europe. Thus, a sharp decline of the preferred stock market is an indicator that solvency concerns are building about global financial institutions, which would likely lead to a full blown financial contagion.
During the sharp sell off early last week, the preferred stock market dropped precipitously, falling -10% in a single day on August 8 as measured by the iShares S&P U.S. Preferred Stock Index (NYSEARCA:PFF). But since that time, the preferred stock market has recovered to near normal levels. That is, until Thursday, when the PFF rolled back over and dropped by -1.58%. This is an indicator that must be watched closely in the coming days. If the PFF continues to trade lower, this would indicate that solvency and contagion risks are persisting in the system. But for now, the preferred stock market is still in much better shape than it was early last week.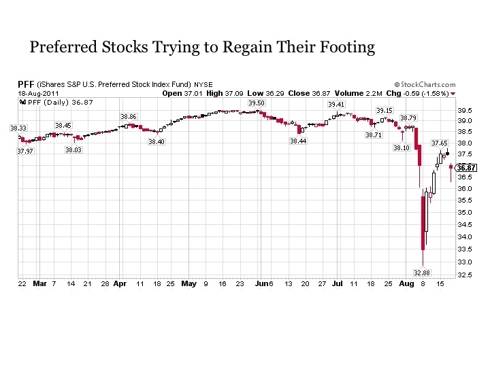 Click to enlarge
The second glimmer has been the stabilization of government bond yields in Italy and Spain. Ever since the European Central Bank (ECB) recently began throwing billions of euros into buying the debt of these two countries, we have seen yields fall from critical levels. For example, the 10-year government yields in both Italy and Spain have sharply declined from above the critical 6% level and have since stabilized at roughly 5%.
But the big question is how long we will see rates hold at these levels. If the reason for this decline in yields has been investors standing back to wait out the ECB (and even selling bonds to the ECB for a nice short-term premium along the way), these yields could be quickly on the rise once the ECB has deployed its support. As a result, both Italy and Spain could end up being at even more risk under this eventual outcome, as the ECB would be all the more stretched and its inability to effectively contain the problem would be exposed.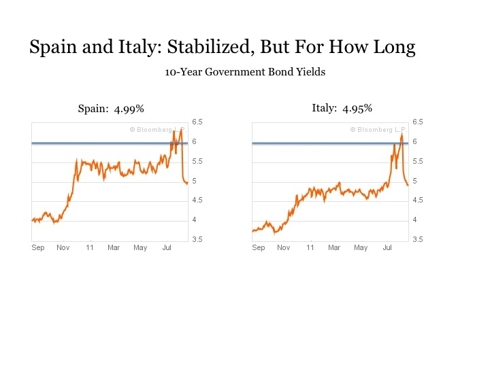 Click to enlarge
Looking ahead to the coming days, the preferred stock market and the government bond yields in Italy and Spain will be two critical indicators to watch. If either of these readings break down, the risks to the stock market could become severe.
Fortunately, a variety of asset classes continue to perform well in the current environment. Gold (NYSEARCA:GLD) continues to touch new highs and silver (NYSEARCA:SLV) has solidly regained its footing following the spring sell off. And despite historically low yields, U.S. Treasuries (IEI, IEF, TLT, TIP) continue to perform well across the curve as investors seek safety from the recent stock market turbulence. While each of these positions also merit close attention in the days ahead, they all continue to shine in what has been a difficult time for stocks.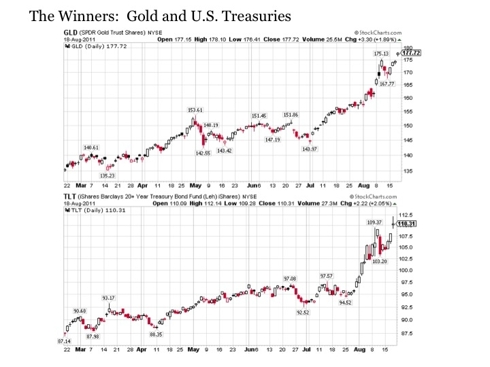 Click to enlarge
Disclosure: I am long GLD, SLV, IEI, IEF, TLT, TIP.
Disclaimer: This post is for information purposes only. There are risks involved with investing including loss of principal. Gerring Wealth Management (GWM) makes no explicit or implicit guarantee with respect to performance or the outcome of any investment or projections made by GWM. There is no guarantee that the goals of the strategies discussed by GWM will be met.