When making major investment decisions it becomes critical to be aware where the economy is in the current business cycle. This is true for corporations, investment funds, and individual investors because it can help them position themselves to profit from larger degree moves in the economy. Timing the cycle can dramatically lower investment risk and in rough economic times this becomes vital. First let us start by taking a look at the characteristics of the standard four year business cycle.
To start our analysis we need to analyze three different areas. First, we need to do sector analysis to find out which sectors are outperforming the broader market and which sectors are under performing. Once we have done this we need to analyze short term interest rates, stock prices, commodity prices, GDP, and other relevant information to determine where GDP is heading in the near future.
Let's start with some sector analysis. I believe that the four year business cycle has topped and we are beginning to enter the early contraction stage. We need to look for bottoming patterns and reversals toward a new uptrend in relative strength of defensive sectors such as utilities, consumer staples, food and beverages, and health care. As the cycle is topping, smart money starts moving from higher beta sectors to the defensive sectors with more predictable cash flows. This shows up on the relative as consolidations and reversals with huge increases in buying volume. Let's take a look at the utilities sector.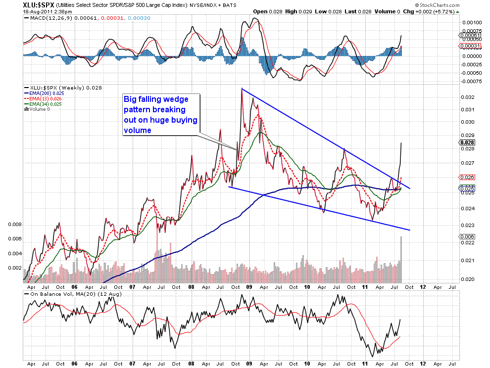 As you can see in the utilities ratio chart, we have a large bullish falling wedge with a powerful breakout to the upside. These consolidation patterns usually signal continuation of the previous trend. Utilities and other defensive sectors began to outperform the broader market in 2008 when the financial crisis broke out. Now they are resuming the lead as our economy enters another recessionary period. Let's also take a look at consumer staples, food and beverages, and health care.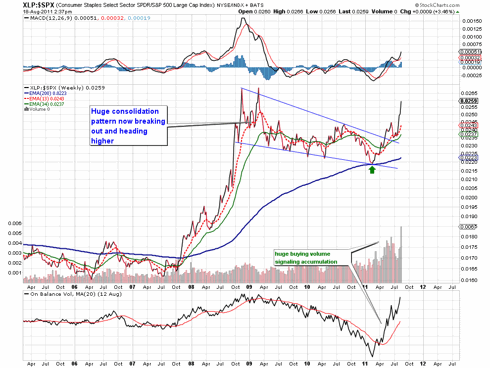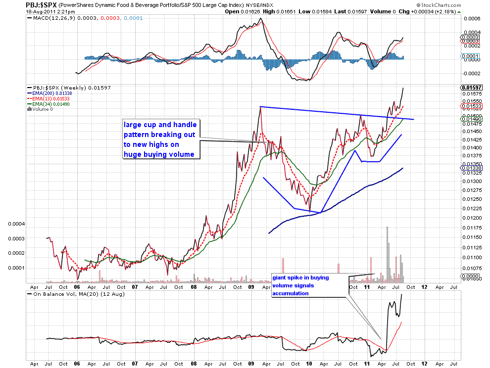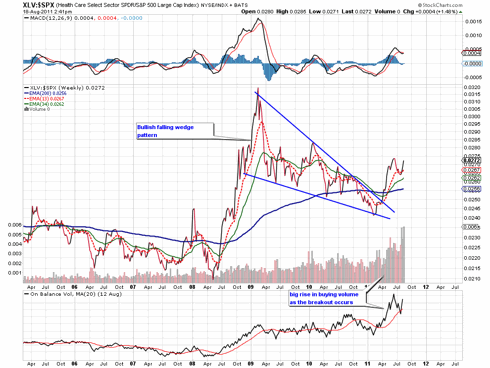 As you can see, each of these defensive sectors looks extremely bullish when comparing them to the S&P 500. These ratio charts do not necessarily mean that these sectors will produce great gains in the future. It simply means that they are outperforming the S&P 500 so in the event of another bear market they will fall less that the broader market.

This is why the smart money that has to stay invested is transferring their assets into these defensive sectors.

These charts prove that money is flowing into these sectors and in a big way. This supports my conclusion that we are now in the early contraction phase of the business cycle. Next we will check short-term interest rates. I prefer to use the London Interbank Offered Rate (LIBOR). LIBOR tends to be less manipulated by central banks, therefore it is a better predictor of market interest rates than treasury bills.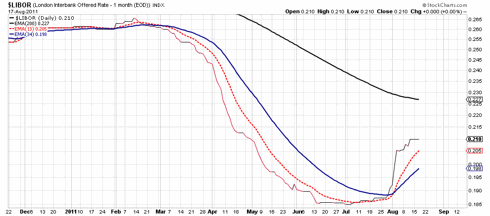 The LIBOR rate has jumped drastically since early June, moving from 0.185 basis points to 0.210 basis points. The 13/34 MA cross is also supporting a further rise in the LIBOR rate. Another important point to remember is that Europe is clinging to the edge of a cliff at the moment. They are a small shock away from a full-fledged banking crisis and if this scenario becomes reality, LIBOR will spike higher, freezing the inter-bank lending market like it did in 2008 and the whole system could freeze up.
Now we need to check stock and commodity prices. Below you will see the S&P 500 and a commodities ETF (NYSEARCA:DBC) that represents a basket of important commodities.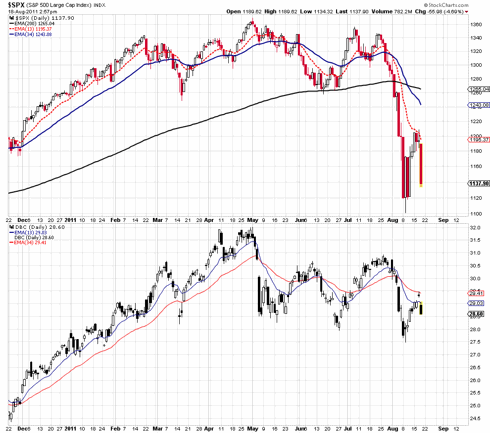 Both stocks and commodities have clearly started to fall. Both have seen bearish 13/34 MA crosses and both are now trading below their 50 and 200 day moving averages after spending nearly a year trading above them. The S&P 500 looks sickly and commodities do not look much better. The last piece of the puzzle we need to find is GDP. The definition of a recession is a fall in GDP for two consecutive quarters. Could this happen in the near future?
The main driver of GDP in the United States is consumer demand. Consumer demand has tanked because there has been a drastic decline in disposable household income since the crisis started in 2008. The average American has faced a loss of purchasing power, job stability, portfolio security, and home savings not encountered since the Great Depression.
Recognizing this, it's not hard to understand why consumer confidence is nearly at all-time lows (seen in the chart below), falling dramatically in July to a level not seen since the recession of 1982. Without a sustained rise in consumer confidence, we will not see the demand needed to spur corporations into spending mode.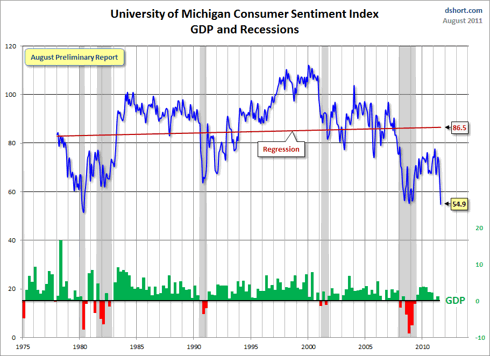 GDP growth has been decreasing; it is now at 1.6% annualized. You can see on the chart above that GDP growth has been falling since early 2010. Take a look at the next chart. If you need more evidence for my call of another US recession, this should do the trick. Every time year-over-year GDP growth falls below 2%, we end up in a recession. It is now 1.6%. Past performance is not indicative of future recessions, but the trend is not in our favor.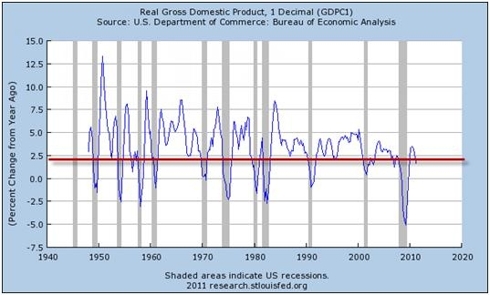 As you can see, this is a chart of United States year-over-year real GDP growth. Every time in the past, as far as the data goes back, that real GDP growth falls below 2% we have a recession. Looking at the global macro picture I would guess that this chart is going to be correct again. For that reason, I believe we're in the midst of a secular bear market. I believe the rally from 2009 to April 2011 was a cyclical bull market in the shadow of a larger bear market. This last bull market was simply the standard four year business cycle. It bottomed in March 2009, but since we're in a larger bear market this cycle will be left translated and the top will occur soon. Also, valuations are just too high. P/Es have not got low enough to justify a generational bottom.
For all of the reasons listed above I believe we ARE in the early contraction phase of the economic cycle. I hope this analysis helps you in your investment selection process. Good luck out there, it's a volatile market and a volatile world.
Disclosure: I have no positions in any stocks mentioned, and no plans to initiate any positions within the next 72 hours.