In recent weeks, Lihua International (NASDAQ:LIWA) has been embroiled in controversy. Several Seeking Alpha contributors have alleged that the company is engaged in unscrupulous activities. Absaroka Capital was the first, with its "Meltdown Alert". The company responded with a conference call (transcript here (.pdf)) that sought to allay investors' concerns. Then Kerrisdale Capital followed up on that, alleging that Lihua took part in related-party transactions.
I am not writing this article to weigh in on Lihua's actions directly. That discussion has already taken place elsewhere. The focus of this article is on the China 360 report (.pdf) released on August 11 that was purported to be an extensive independent third-party report on Lihua that gave it an almost entirely clean bill of health.
As soon as I saw China 360's report, I immediately had flashbacks to China MediaExpress (OTCPK:CCME). In particular, I was reminded of the infamous Global Hunter Report in support of China MediaExpress. One of Global Hunter's former securities analysts, Ping Luo, issued an exhaustive report (available here) that claimed to validate China MediaExpress' advertising contracts, bus count, and financial filings, among other things. Global Hunter was given access to internal non-public information that gave it the ability to authoritatively validate China MediaExpress' claims. The company's supporters used the report as the basis to justify renewed bullishness. A short squeeze ensued and China MediaExpress' shares soared. As you know, the story ended badly, the company was a fraud and its stock was delisted and now fetches less than a dollar a share on the pink sheets.
What's the connection between Global Hunter's China MediaExpress report and China 360's Lihua report? Simply, both are exhaustive reports, issued by firms given access to non public documents, claiming to uphold a China RTO's innocence. Both reports were issued by firms that many market participants perceived as impartial, but that in truth seem to have business-related reasons to be biased. Global Hunter's report was taken by some as gospel truth despite the fact that its disclosure noted:
As with all employees of [Global Hunter Securities], a portion of our analysts' compensation is based on investment banking revenues. Global Hunter Securities, LLC does and seeks to do business with the companies covered in this research report.
In China 360's case, the firm has disclosed little that would indicate any sort of bias, and they claim independence and objectivity. Their press release stated:
China 360° Solutions does not have a position, long or short, in Lihua International and the forensic due diligence service is solely focused on the accuracy of the report [...] Management of China 360° Solutions, LLC has maintained the highest standards of independence and objective analysis for the Lihua International, Inc. report.
But a closer look gives me doubts. First, China 360° does state that it is a co-venture of Grandview Capital Advisors, Inc., Thornhill Capital, LLC and Trilogy Capital Partners, Inc. In its follow-up Lihua article, Kerrisdale displayed evidence that suggests these groups are not disinterested third parties, noting:
[W]e will mention that Thornhill, Grandview and Trilogy have all previously been placement agents, consultants or IR representatives for U.S.-listed Chinese RTOs.
It's logical to wonder if China 360°, a research operation created by these three firms that have benefited from Chinese RTOs, would have an inherent bias toward issuing a positive report on Lihua, a Chinese RTO. But I've discovered a much more compelling reason to suspect bias.
I found that the China 360° report was commissioned by none other than Larry Isen, author of Larry Isen's Emerging China Stocks newsletter. His paid service gives advice to clients regarding Chinese stocks. In his July 9th update (the posting is behind a paywall, but I have provided copies of all quoted non-public postings to Seeking Alpha editors), Isen recommended buying shares of Lihua and said:
LIWA has agreed to let us start our investigation which will involve getting access to non public government filings. This will allow us to confirm they are reporting the same numbers to the Central Government they are reporting to their auditor and the SEC. If the information checks out, I'll be very comfortable accumulating a real position in this stock. We'll know for certain there's no past fraud.
On July 12th, Isen revealed a juicy tidbit, telling subscribers that none other than a senior member of Global Hunter -- the firm which released the ill-fated China MediaExpress report -- was spearheading the China 360° report:
I let the cat out of the bag on LIWA this weekend- letting everyone know the company has agreed to an EmergingChinaStocks.com sponsored investigation to absolutely clear them of any potentially fraudulent activity. This effort was pushed forward with the help of Joe Giamichael of Global Hunter Securities- he's the director of research.
Note also that he said the report was "to absolutely clear them of any potentially fraudulent activity." I must question how independent China 360°'s report could be given that rather bold statement by the report's sponsor. And on July 30th, Isen revealed that he already knew when China 360°'s research was likely to be completed, stating:
On the 10th it is likely the independent report from China 360, which was commissioned by yours truly, should be available for review.
He was off by just one day. On August 11th, on his public blog, Isen encouraged readers to:
Watch LIWA for some action today. I'm expecting the 3rd party report to be released pre open.
It is difficult to accept that this is truly a 3rd party report like Isen stated, given that he had commissioned it, he expected it to "absolutely clear [Lihua] of any potentially fraudulent activity" and that he had pre-knowledge of when it would be released. And yet, on Isen's EmergingChinaStocks.com page that links to the China 360° report, while it does state that the site commissioned the report, it claims that the report is by an independent third-party and that the site had "no involvement in the preparation of the report."
click to enlarge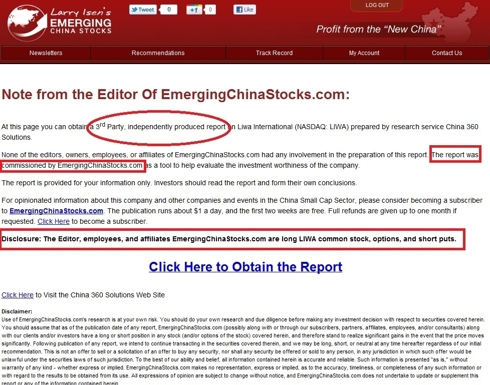 We know that Larry Isen commissioned the report, bought Lihua stock, advised clients to buy Lihua stock, and that he knew when the China 360° report would published. Given this information, let me ask you a question: How likely is it that China 360° would produce a truly independent objective report? Would China 360° really be willing to disappoint a motivated customer who expected the report to "absolutely clear [LIWA] of any potentially fraudulent activity"?
In addition, we know that this report was "pushed forward" by Global Hunter Research. This is the same Global Hunter that produced the infamous China MediaExpress report that sought to confirm that company's financial statements and business practices just weeks before China MediaExpress was definitively exposed as something less than what its SEC filings had claimed.
Absaroka Capital and Kerrisdale Capital have both produced substantial amounts of evidence to support their claims that Lihua International is misleading its investors. The company's defense is in large part an "independent" report commissioned by a China stocks newsletter writer who had written favorably about Lihua stock and who appears to have been quite involved with the report's creation from beginning to end.
As investors, we must choose who we are going to trust. Just as in the China MediaExpress case, we've reached the point where there is little left to add to the debate over Lihua International's legitimacy. Both sides have put forward their arguments. Unless you have the resources to go to China and do your own due diligence, your investment choice is based on which side you trust.
Do you believe Kerrisdale and Absaroka, or do you believe the China 360° report that was commissioned by Larry Isen and that was aided by Global Hunter? While I stayed on the sidelines during the China MediaExpress drama, I have decided to take a position in this standoff. I encourage those taking financial positions in Lihua International to choose their side wisely.
Disclosure: I am short LIWA.
Additional disclosure: I and researchers who assisted me have short positions in or own options on the equity covered in this article. We stand to gain significantly if the equity of the company discussed markedly declines in price. Following publication, we may transact in securities of the company discussed. To the best of my knowledge, all information in this article is accurate, reliable, and has been obtained from public sources. However, I present the information "as is" and I will not necessarily update or supplement this article in the future. This information is not a recommendation or solicitation to buy or sell securities, nor am I a registered investment advisor.