As touch screen tablet devices become main stream, and the war among tablet makers intensifies, the industry will begin to have its first casualties; Hewlett Packard (HPQ) is the first blood in the tablet war. On August 18, HP announced that "it will discontinue operations for webOS devices, specifically the TouchPad and webOS phones." The company reported lower than expected Q2 revenues, and lowered its guidance for Q3.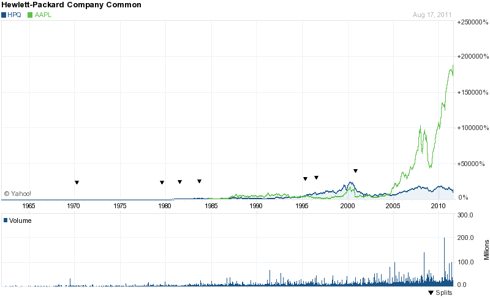 (Click to enlarge) Source: Yahoo Finance
As I have written previously, the HP Touchpad is no match for the Apple (AAPL) iPad 2: It's bulky, it lacks apps, the performance is disappointing, and the software is nothing special.
| | |
| --- | --- |
| Problem | Description |
| It's Bulky | HP's TouchPad is one of the heaviest tablets around, weighing in at 1.65 pounds. Compare this to Apple's iPad 2 which weighs a modest 1.3 pounds, or the Asus Eee Pad Transformer which weighs 1.5 pounds. |
| It Lacks Apps | Apple has a well established App Store with over 100,000 apps for its iPad. HP has a new "App Catalog" with fewer than 300 apps optimized for the TouchPad. |
| The Performance Is Disappointing | For the most part, the TouchPad is quite responsive, but there are some programs and websites the TouchPad has trouble loading. |
| The Software Is Nothing Special | There are many WebOS fanboys out there that will swear by it, but to the rest of us there is nothing so spectacular about the OS that makes it a better buy than Apple's iOS or Google's Android. |
HP is further no match for Apple's marketing machine that has attracted scores of product evangelists that have made it a mission to talk to others about Apple's products. Apple has become so well established in the tablet industry that the iPad has become a household name, almost synonymous with tablet.
HP's failure in the tablet industry may be the first of many. The only question is who will be the next victim of Apple's iPad? I believe that the crosshairs are on RIM's (RIMM) Playbook. It had an underwhelming reception and received lukewarm reviews from most tech sites.
Bottom-Line
Hewlett Packard is Apple's first casualty in the tablet war, but will not be the last. It would be advantageous for investors to stay with Apple and avoid HP and RIM.