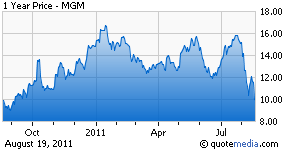 A new Barrons.com article reports that Kirk Kerorian' Tracinda is selling some MGM shares and states: "Kirk Kerkorian's Tracinda Corporation cut its stake in MGM International (NYSE:MGM) by 15.2%, a filing released today shows. On Wednesday, according to the filing, the company agreed to sell 20 million shares, a transaction that is expected to take place on August 23." Read more on that here.
While that news does make for an attention grabbing headline, it looks like much ado about nothing overall and here is why: The article goes on to point out "Tracinda now owns 22.8% of MGM, or 111 million shares." The firm says in the filing that it "continues to believe that there is substantial value in the assets of MGM Resorts and that the Company is a good long-term investment." When you see that Tracinda is keeping the vast majority of the share it owns in MGM, it makes no sense for the stock to sell off as much as it has on this news. Also, it's important to keep in mind that Kerkorian is at a stage in life when most people are selling stocks and doing some estate planning, so this alone could be the primary reason behind the decision. Finally, it's also important to consider that buying what Kerkorian's Tracinda is selling has paid off big in the past. Back in 2008, Tracinda sold million of shares in Ford (NYSE:F) at $2.43 per share and other investors who panicked and sold Ford on this news were able to watch Ford shares climb to about $18 within a couple of years. Read about the Ford stock sale here. It's likely that MGM will bounce back sharply in the coming days once investors realize the Kerkorian/Tracinda sale is just a buying opportunity.
MGM shares have fallen from recent highs around $15 and appear deeply oversold. A big new positive development for MGM is that gas prices have dropped sharply in the past few weeks thanks to a correction in oil. This means consumers will have more money for vacations and shopping, which could help boost results at MGM.
MGM Resorts shares are now trading at $10.15. MGM is a leading casino and resort company, based in Las Vegas. The 50 day moving average is $13.37 and the 200 day moving average is $13.82. Earnings estimates for MGM are for a loss of about 49 cents per share in 2011 and a loss of about 28 cents for 2012.
The data is sourced from Yahoo Finance. The information and data is believed to be accurate, but no guarantees or representations are made. Rougemont is not a registered investment advisor and does not provide specific investment advice. The information contained herein is for informational purposes.
Disclosure: I am long MGM.