EV Energy Partners LP (NASDAQ:EVEP) has provided a regular dividend stream since 2007. The stock is trading at a $63-price range and offers a 4.8% yield. A favorable catalyst, discussed below, raises the prospect for a potentially higher dividend yield in future quarters.
As the below chart shows, the dividend growth has been very impressive. Shareholders have received a total annual rate-of-return of 31.6% since the company's IPO. This return compares in stark contrast wit the SP500's (NYSEARCA:SPY) -.2% total annual rate-of-return over the identical time frame.
(Click charts to enlarge)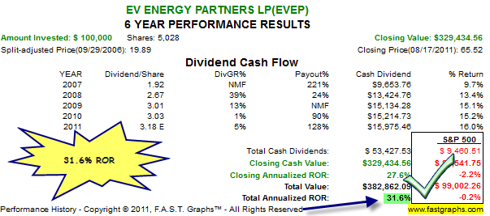 Background
EVEP was established by EnerVest Ltd, which is a widely known manager of oil and gas assets. EV Energy is an upstream MLP. The company's assets are all within the continental U.S. Properties include assets in Barnett Shale, the Appalachian Basin, the Mid Continent area, the San Juan Basin, the Monroe field in Louisiana, the Permian Basin, Central and East Texas and Michigan.
Catalyst: Utica Shale Play in eastern Ohio
EVEP announced, in its 2nd quarter earnings discussion, very favorable points-of-interest about the Utica shale play in eastern Ohio. EnerVest plays a prominent role in the Utica asset discussion. The Utica shale valuations have increased dramatically. EnerVest, and its various non-EVEP partnerships, have key ties to the Utica land ownership base, explicit interaction with all parties involved in asset development, and a working knowledge of Utica land valuations.
The following image, based upon page 10 (pdf) of EVEP's NAPTP MLP Investor Conference presentation, shows EVEP's 2011 organic growth locations, including the Utica Shale Play: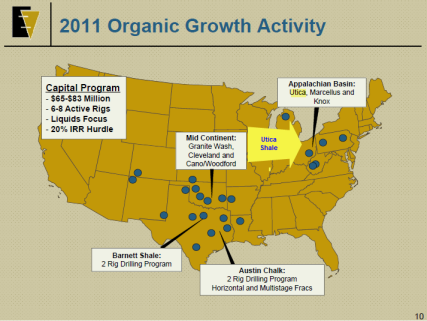 Partnership: Chesapeake Energy Corp (NYSE:CHK) and EV Energy
EnerVest, acting as the operator and General Partner for EVEP, signed long-term joint venture agreements with Chesapeake Energy. The joint venture pertains to the Utica shale play.
Per the August 9th 2nd quarter earnings release (pdf), EVEP management provided the following initial joint-venture information:





Key Utica Shale Play Issues:
CHK, during its 2nd quarter discussion, stated the Utica discovery was a "major liquids-rich discovery".
CHK stated the Utica land asset valuations could range between $12,500 - $16,667 an acre.
Utica well results were not announced. CHK did state well results should provide comparisons equal to or above Eagle Ford Shale properties.
EVEP, via a CHK-joint venture, owns a net 150,000-acres and an overriding royalty interest of 7.5% on 80,000 net acres in the Utica shale region.
The market is pricing EVEP-shares at a valuation based upon the potentially lucrative Utica shale well results. If the test results match expectations, then EVEP management will be in an enviable position to retain, develop, or sell the Utica acreage and royalty rights at a high valuation metric.
Summary
EVEP has an excellent relationship with EnterVest, which serves as co-General Partner. The stock is trading at current levels based upon, in part, the Utica shale position. EVEP is likely to perform well according to how it develops this asset base. The company's key risk remains commodity prices, which have dropped in recent weeks.
EVEP's long-term prospects appear to be exceptional. 6-year returns have been 31.6%. The returns have been outstanding and shareholders have been rewarded handsomely.

| | | | | |
| --- | --- | --- | --- | --- |
| Company | Symbol | Price | Dividend | Yield |
| Enbridge | EEP | $27.20 | $2.13 | 7.8% |
| Enterprise Products | EPD | $40.73 | $2.42 | 5.9% |
| EVEP Energy | EVEP | $62.99 | $3.04 | 4.8% |
| Kinder Morgan, I | KMI | $24.82 | $1.20 | 4.8% |
| Kinder Morgan | KMP | $67.26 | $4.60 | 6.8% |
| Linn Energy | LINE | $36.61 | $2.76 | 7.5% |
| MV Oil | MVO | $40.09 | $4.12 | 10.3% |