Founded in 2007, Chimera Investment Corporation (NYSE:CIM) acquires and manages residential mortgage-backed securities, residential mortgage loans, and real estate securities. Chimera is a real estate investment trust that is externally managed by FIDAC (Fixed Income Discount Advisory Company). FIDAC is a wholly-owned subsidiary of Annaly Capital Management, Inc. (NYSE:NLY).
CIM is a non-agency focused mortgage REIT. As shown in the table below, over 70% of CIM's portfolio is allocated in non-agency RMBS. In addition, the weighted average fair value of CIM's non-agency positions is below its weighted average cost basis (which implies that the portfolio managers aren't making the best purchase decisions).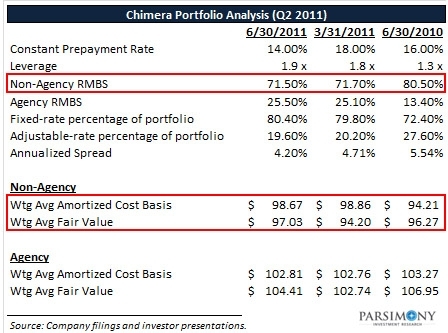 Whereas agency mortgages are guaranteed by government sponsored entities (implying limited credit risk), non-agency securities do not carry a similar implied guarantee. While most investors primarily view agency securities as pure-play interest rate products, non-agency securities have a higher correlation to US economy (and the equity market) due to the higher relative credit risk.
As shown in the chart below, CIM [blue line] has drastically underperformed the S&P [purple line] over the past 6 months. Conversely, agency-focused REITs, like Annaly Capital [yellow line] and American Capital Agency (NASDAQ:AGNC) [green line], have significantly outperformed the market over the past few months.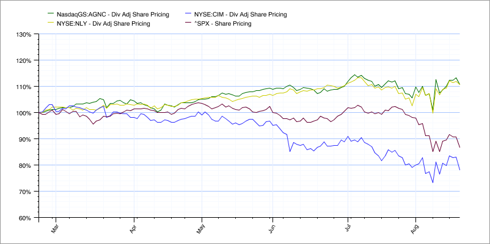 Despite the attractive dividend yield we remain reluctant to invest in CIM as we feel that there are better mortgage REIT investments with stronger risk/reward profiles. For investors looking for non-agency mortgage exposure, we recommend MFA Financial (NYSE:MFA) instead. MFA has a strong management team with a proven ability to manage its portfolio over various interest rate environments.