Antares Pharma (AIS) is a pharmaceutical company that develops, manufactures, and markets needle-free injection systems for the self-administration of parenteral drugs. The company also focuses on making topical gel-based products. There are currently 10 different drugs in Antares drug pipeline; six of which are injectable products and four of which are gel products.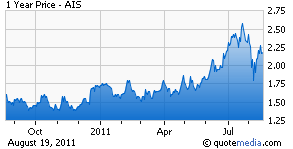 Of these 10 drugs, two are already generating revenue for the company, Elestrin estradiol gel from Azur Pharma and a human growth hormone drug called TEV-TROPIN from Teva Pharmaceuticals (NYSE:TEVA). In addition to Elestrin and TEV-TROPIN, Antares has three other drugs in its pipeline that are waiting for FDA approval (VIBEX Epinephrine, VIBEX 2, and its own gel-based product, Anturol), one drug in Phase III trials (Libigel), another drug in Phase II trials (NestraGel), and finally, three other drugs that are in the early stages of development (Pen 1, Pen 2, and VIBEX MTX).
One of Antares's most promising gel-based products is Biosante Pharmaceutical's (BPAX) Libigel. According to Biosante's most recent 10-Q filing, Biosante describes Libigel as
the most clinically advanced pharmaceutical product in the U.S. in active development for the treatment of hypoactive sexual desire disorder in menopausal women.
Biosante claims that the potential market for female sexual dysfunction (FSD) products such as Libigel is around $2 billion. Libigel has not been approved by the FDA, yet, but Libigel is currently conducting Phase III efficacy and safety trials and should announce results of those trials in December of this year. If Libigel does eventually get approved by the FDA, which is projected by Biosante to be sometime in the middle of 2013, then Antares will play a significant role in commercializing the product. Furthermore, the commercialization of Libigel, if it turns out to be as hyped as Biosante is making it to be, will create a substantial revenue driver for Antares in addition to the nine other drugs in its pipeline.
Another encouraging aspect of Antares's drug development pipeline is its own oxybutynin gel-based product called Anturol. This gel-based product is designed to treat overactive bladders (OAB), which has an annual market of approximately $2.1 billion. Furthermore, there are about 18.3 million prescriptions that are written each year, and of these 18.3 million prescriptions, about one third of them are oxybutynin products. Those oxybutynin products come in three forms: an oral form, a transdermal patch, and a transdermal gel such as Anturol. The active ingredient in transdermal oxybutynin is not metabolized by the liver in the same way as orally administered oxybutynin. Consequently, the side effects such as dry mouth and constipation are reduced significantly. For instance, 71% of patients taking the generic oral form of oxybutynin reported having a dry mouth and 15% of patients also reported constipation as a side effect. However, only 8% of patients taking Gelnique reported having a dry mouth and just 1.3% of patients reported having constipation side effects.
Gelnique was developed by Watson Pharmaceuticals, Inc. (WPI) and is currently the only FDA approved gel-based oxybutynin product to treat OAB. Therefore, due to the fact that WPI recently signed a licensing agreement with Antares to help commercialize Anturol in the U.S. and Canada, Antares should benefit significantly if the FDA approves the drug on its PDUFA date in early December of this year.
Antares, according to the agreement, will receive milestone payments once Anturol is approved and when certain sales milestones have been reached. Not only will the FDA's decision on Anturol provide a substantial catalyst for this stock, but Biosante is also scheduled to announce Phase III efficacy and safety trials for Libigel around this same time.
Finally, the analysts covering Antares are projecting the 2012 EPS to be a positive 13 cents which compared to the 2011 estimates of negative 5 cents would be a 300% EPS growth over the next year. This spectacular growth estimate should be further bolstered as the announcements for Anturol and Libigel come to fruition in December of this year. I am very bullish on Antares and expect to see the stock price grow at a modest pace heading into 2012, especially as the market should begin to price in the aforementioned catalysts.