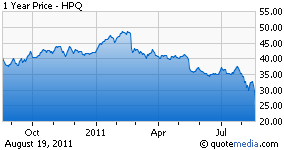 Given the current market woes with the S&P dropping by more than 4% and the VIX closing at 42, one would be foolish to recommend equities at this juncture. After all, none of the problems that precipitated the sell-off are solved, including the sovereign debt crisis in Europe and the future of the Euro currency as well as the chance of a looming global recession.
In addition, investors sent Hewlett Packard (NYSE:HPQ) 10% lower after the tech bellwether reported earnings and detailed its re-organization plans. Trading at around $23 at the open, we ask a simple question: is it time to buy shares of HP? Our answer, a resounding YES because of the following three reasons:
1. Valuation: HP's bottom line for the third quarter of 2011 of $0.93 (GAAP) or $1.10 (non-GAAP) was in line with analysts' expectations.
Full-year FY11 revenue will be approximately $127.2 billion to $127.6 billion, down from its previous estimate of $129 billion to $130 billion.
FY11 GAAP diluted EPS is expected to be in the range of $3.59 to $3.70, down from its previous estimate of at least $4.27, and FY11 non-GAAP diluted EPS is expected to be in the range of $4.82 to $4.86, down from its previous estimate of at least $5.00.
Using the mid-point non-GAAP EPS estimates, HP currently trades at a P/E ratio of 5 and has a dividend yield of 1.9%.
Balance sheet is decent shape with debt to equity ratio of 0.5 and current ratio greater than 1 so HP should have no problem going thru the reorganization phase.
Finally, to put things in perspective, HP made a low in the mid-twenties in March 2009 when the stock placed an intergenerational bottom. Back then, non-GAAP EPS were 33% lower at $3.62.
So based on valuation, HP is extremely cheap.
2. Strategy:
Currently HP operates 5 different divisions:
Services revenue grew 4% year over year with a 13.5% operating margin.
Enterprise Servers, Storage and Networking (ESSN) revenue grew 7% year over year with a 13.0% operating margin. Networking was up 15%, Industry Standard Servers was up 9%, Business Critical Systems was down 9%, and HP Storage was up 8%. 3PAR revenue accelerated, with triple-digit year-over-year growth operationally.
HP Software revenue grew 20% year over year with a 19.4% operating margin. HP Software revenue was driven by strong growth in licenses and services of 29% and 30%, respectively.
Personal Systems Group (PSG) revenue declined 3% year over year with a 5.9% operating margin. PSG remains the PC market leader in terms of units, revenue and profit share. Commercial Client revenue grew 9% and Consumer Client revenue declined 17%.
Imaging and Printing Group (IPG) revenue declined 1% year over year with a 14.7% operating margin. Commercial revenue was down 7% year over year with commercial printer hardware units up 1%. Consumer printer hardware revenue was up 1% year over year on 7% unit growth. IPG continued to drive innovation and momentum with digital presses and web-connected printers.
Financial Services revenue grew 22% year over year with a 9.4% operating margin. Financial Services continued to see its strong performance driven by both double-digit growth in lease volume and a healthy improvement in portfolio assets.
During today's conference call, CEO Apotheker finally provided color on what the reorganization will look like. It will shut down WebOS, buy software company Autonomy, and spin off its PC division.
All of these moves make a lot of business sense as HP is in the process of reinventing itself as a major software player with higher profit margin operations.
3. Management (or lack thereof): In the last year and a half, the following events have precipitated broad sell-offs in the stock:
April-June 2010: announcement of ex-CEO Mark Hurd's improper actions and his ensuing resignation (stock sells off from the mid-fifties to the low forties)
June-Sep 2010: disappointment after the nomination of new CEO Apotheker (stock sells off from the mid-forties to the high thirties)
Sep 2010 - Feb 2011: the stock rebounds from the high thirties to the high forties following the company reorganization plans including the launch of TouchPad tablet operating on Web OS.
Feb 2011 - Present: stock goes onto a free fall to the mid twenties.
Apotheker was never liked or trusted by Wall Street to start with and Business Insider's Matt Rosoff thinks H-P's CEO "has totally lost control" of his company, with proof lying not only in today's announcement leaks but also H-P's dramatic about-face on webOS.
The stock could make a sharp 180-turn to the upside, should the board decides to oust Apotheker and appoints a tech veteran loved by Wall Street. In our opinion, that would complete the company's reorganization.
To sum up, HP should be bought as it is being currently liquidated by money managers. It is extremely cheap based on valuation; its re-organization plan is finally fully laid out; and the board should seriously consider a tech veteran to complete the company's turnaround. Should the company achieve its non-GAAP objective of $5 in 2012, it could easily trade close to $50, a double from current levels.
Disclosure: I am long HPQ. I am short HPQ puts