If you've been trying to discount the odds of a coming recession in the U.S., you can stop now, the recession has already arrived. Note that the consensus of economists are not expecting recession so this only reinforces my view that it is likely here already. Remember the consensus started out with economic growth projections of between 3-4% for 2011, how is that looking? I can waste pages pointing out the abysmal historical record of mainstream economists, but why do that when we can just examine the evidence for ourselves?
Consider the latest Philly Fed manufacturing survey released yesterday which fell to -30.7 in August from 3.2 in July, the lowest level since March 2009 (a reading below 0 indicates contraction). Note that a reading lower than - 28 has never been recorded outside of recessions.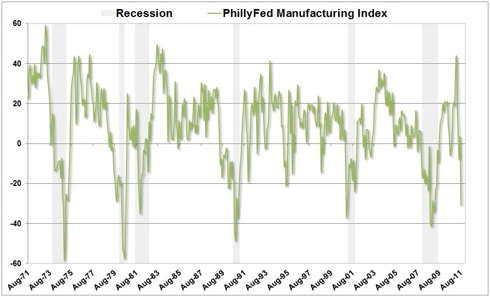 Click to enlarge
(Click to enlarge)
Of course making a recession call based on just one economic indicator would be foolish, but we now have what John Hussman describes as a "syndrome of conditions" that have only been observed immediately prior to or during recessions. The latest Philly Fed reading is just another piece of the deteriorating economic picture.
The NBER is the ultimate arbiter of when recessions begin and end, but you don't want to wait for that type of confirmation to make a move if your portfolio cannot endure a typical bear market decline.
Disclosure: I have no positions in any stocks mentioned, and no plans to initiate any positions within the next 72 hours.