Noted activist investor Bill Ackman recently filed his Q2 13F for his fund Pershing Square. Ackman has always run a very concentrated book, given the nature of his strategy. We show his entire 13F time series below.
[Click all to enlarge]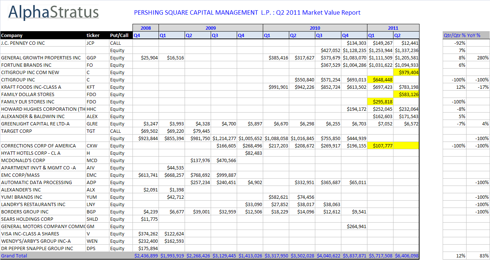 Four things stand out:
Ackman increased his stake in Citigroup (C), which will be a drag on performance this quarter
Virtually no change in number of shares of Kraft (KFT) but an increase in market value from good performance. Remember, however, that last quarter Ackman filed an amended 13F past the deadline which disclosed his initial position in KFT. So we may well see another amended filing this quarter showing an increase in shares. Nelson Peltz became active in this name last quarter too.
Ackman doubled the number of shares of Family Dollar (FDO) which he started accumulating last quarter along with Nelson Peltz.
Sold out of Corrections Corp. of America (CXW), which has long been a staple position for Ackman
Positions as a percentage of reported market value are shown below: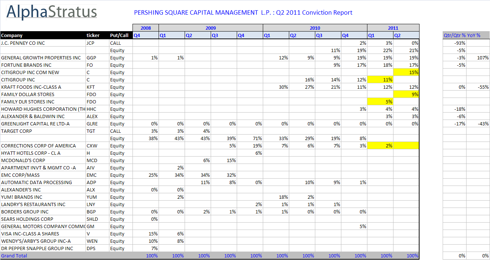 As already mentioned, keep an eye out for amended 13F filings this quarter from Ackman.