First let me tell you the things I don't like about owning Exxon (NYSE:XOM). It's so big, with a market cap of over $339 billion, that its "dilution factor" makes the upside potential on the stock price somewhat limited.
XOM is a huge target for lawsuits. It is so spread out and spread thin that I believe the management has a challenging time watching their "empire", and that means big mistakes can happen.
The law of averages makes XOM prone to once again be the potential future "scapegoat" when environmentalists are looking for someone to hold accountable, and XOM has to spend many millions maintaining its own in-house legal "army" and fighting battles as the "standard-bearer" for the oil and gas industry.
Exxon's quarterly earnings growth (year-over-year) of more than 41% will be hard to sustain going forward. The same can be said for its quarterly revenue growth (yoy) of 36%. It will make it difficult for them to surprise on the upside for the next quarter.
In its defense, it is a monstrously wealthy "cash cow". Its operating cash flow (trailing twelve months) is a staggering $56 billion and its levered free cash flow (ttm) is over $18.5 billion. It should be able to sustain and grow its dividend payout.
If your goal is to own an energy behemoth, you'd be better served with better upside potential and a better dividend yield by owning Chevron (NYSE:CVX), especially if you can buy shares below $93, which gives it a forward PE ratio of less than 7.
Now I realize I'm not comparing "apples-to-apples" when I tell you I'd rather own shares of Devon Energy (NYSE:DVN) than Exxon. If I had enough money just to buy one, I'd buy DVN, and that's what I did today at below $63.50 a share.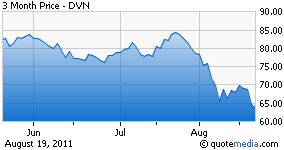 Devon Energy is priced so inexpensively in comparison to its earnings that it is presently trading below 5 times reported earnings. That's a "bargain basement discount" that should not be ignored in my opinion. Its forward PE is around 8.
Based in Oklahoma, Devon has typically been characterized as an international oil and natural gas play. It's undergone a major transformation over the past two years.
Devon divested its Brazilian and Gulf of Mexico operations, and put over $10 billion in its cash cache in the process. Its latest business model is riveted on developing oil-rich shale plays here in the United States.
That strategy is paying off big-time. Its quarterly earnings growth (yoy) is a super-impressive 288%, and although that's a hard rate of growth to sustain, it makes the point that they sure know how to increase their earnings at a remarkable pace.
In the second quarter of 2011, its daily production averaged 660,000 barrels of oil equivalent per day. This was a company historical record, and a 23% increase over the same quarter of 2010.
The company is also about to complete a $3.5-billion share repurchase program, with about $1 billion in share repurchases left to go. It expects to complete this by the end of 2011.
It's actively producing and expanding its presence in the Permian Basin, the Barnett Shale, and the Cana-Woodford Shale plays.
The company has an aggressive exploration program. It's acquired 1.1 million acres targeting new oil and liquid-rich natural gas opportunities in the Tuscaloosa Marine Shale, the Mississippian Lime, the A1 Carbonate, the Utica Shale in Michigan, the Nibrara Shale and the liquids-rich Utica Shale in Ohio.
John Richels, Devon's President and CEO, commented on the company's transformation:
The execution of Devon's strategic repositioning was excellent.

Devon has emerged with a pristine balance sheet, a deep inventory of oil and liquids-rich growth opportunities and a highly competitive cost structure. As demonstrated by our second-quarter results, the repositioned Devon is delivering profitable growth per share.
If you take a look at their web site you can see the level of their company's committment and culture of success, and it speaks to why it is truly "...delivering profitable growth per share".
The leadership of DVN has positioned this sleekly sized energy company (market cap of around $26 billion) to already have achieved the distinction of being one of the world's leading independent oil and gas producers.
That may also mean it could eventually be an attractive takeover target by one of the "behemoths" like Chevron or Royal Dutch Shell (NYSE:RDS.A). Exxon itself could pay cash for it without missing a beat.
Much of Devon's natural gas production is hedged through the end of 2012 at prices well above current market prices. This will help insure its profitability.
And its style of management has set it apart in the energy industry. Devon is the only energy company in 2011 to be placed on all three of these prestigious Fortune magazine lists: the Fortune 500, the World's Most Admired Companies and the 100 Best Places to Work For. Fewer than 20 U.S. companies of any type made all three lists.
The company has plans to drill over 30 exploration and production wells in the basins and shale locations that I mentioned above.
There are so many ways for them to achieve mammoth upside potential from their efforts that it wouldn't surprise me to see DVN above $100 a share before it reaches its stride or is acquired by a smart suitor.
That could easily happen within 12 months, so if a smart investor bought it below $64 a share, when it reaches $100 a share they could realize a close to a 60% total return including dividends.
These emotionally exhausting, extremely volatile stock and commodity markets are setting up some amazing buying opportunities that should be seriously considered.
Devon Energy is one of the most compelling in the energy sector, so take a closer look and see for yourself why I like it so much more than shares of XOM.
By the way, it's a good complementary holding for those who also have shares of Chesapeake Energy (NYSE:CHK). It's a way of riding two "race horses" in the same race, and increasing your odds of being a winner in the "Energy Derby" that lies ahead.
Disclosure: I am long DVN, CVX, RDS.A, CVX.