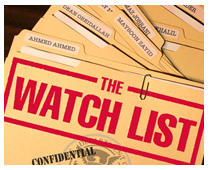 With earnings season coming to a close, we have just two more weeks of major earnings reports. Next week, we continue with a number of large retailers especially highlighted by the teen and luxury retail. These reports tend to not have a major impact on the market, but they can still be important to general market trends as well as moving individual sectors. We take a look at what we see as the five most interesting reports that can both influence the market and make you money: American Eagle Outfitters (NYSE:AEO), Krispy Kreme Doughnuts (NYSE:KKD), Omnivision (NASDAQ:OVTI), Tiffany's (NYSE:TIF), and Williams-Sonoma (NYSE:WSM).

American Eagle Outfitters (AEO) -

AE has been a definite laggard in teen retail, taking a backseat to Buckle (NYSE:BKE), Aeropostale (NYSE:ARO) and Abercrombie & Fitch (NYSE:ANF). The company is looking at declining EPS once again this quarter from 0.13 to 0.11, and it is looking at negative growth in sales. A lot of this seems baked into the numbers as the stock has declined over 20% since its last earnings report. The company now sits with 14 P/E and 10.4 future P/E. Is there any hope for some recovery? ANF performed well, but ARO and BKE both disappointed in their latest quarter. The company tends to meet expectations, and the real key is their guidance. Given that the leaders in the sector are not able to guide well, we do not have high expectations for AEO. Short interest is 8%, which while is higher is not as high as we would expect. We would venture that another rough week may be in store for AEO, and the downtrend may continue.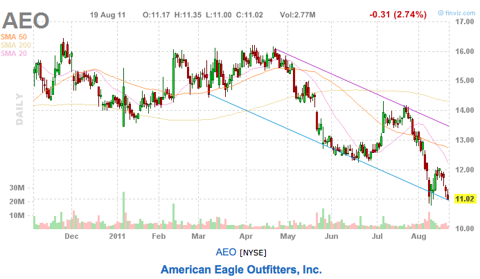 Click to enlarge
Krispy Kreme Doughnuts (KKD) -

Out of the five, KKD is our favorite for a trade. The company, which makes the scrumptious donuts right in front of your eyes, has done quite well since coming out of bankruptcy. it had an amazing last quarter, and that point attracts us. Traders love to buy up things that can make significant gaps and return money quickly. We should see some investors/traders returning to the stock before the earnings report as expectations are good. The company is expecting to improve EPS 100% from 0.03 to 0.06, and it is expecting a 5% pop in sales. Also, KKD has seen a massive pullback as of late and has found good support at the $7 line. We believe KKD can get some good support going into Thursday's report as long as the market gives us a bit of cooperation.
Click to enlarge
Omninvision (OVTI) -

OVTI is one of the only major technology firms to report next week. It is slated for a large growth in EPS from 0.39 to 0.72, nearing on 100%. That is coupled with strong organic revenue growth at above 40%. Semiconductors have had a pretty good earnings season, and like most stocks, OVTI has seen a pretty drastic pullback to a strong rallying point at $23 that is not a double bottom. The stock should hold $23 with these earnings in the near future. The company makes chips for cameras on smart phones, and that is a growing industry ... not shrinking. OTVI is high-growth trading at a future P/E ratio of just under 8. That does not make sense to us, and we expect another positive report from OVTI this quarter. The company has shown good moves into earnings or good moves out of earnings over the past year, and we expect a rally on OVTI.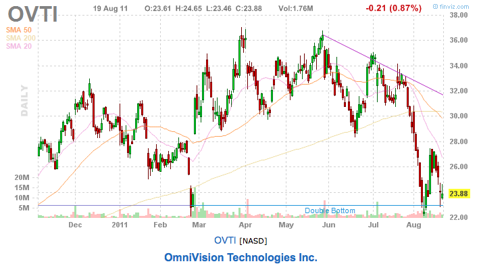 Click to enlarge
Tiffany's (TIF) and Williams-Sonoma (WSM) -
Two major luxury retailers are reporting this week in jewelry and home goods, respectively. Both companies have seen drastic pullbacks from their highs, but we have seen pretty strong reports from luxury retailers in Polo Ralph Lauren (NYSE:RL), Coach (NYSE:COH) and Nordstrom (NYSE:JWN). Coach is most similar to TIF for us because of its exposure to Japan. The Japanese crisis was expected to kill Coach and it did not. The company just got caught in the middle of a terrible market decline that overlooked its strong earnings. TIF should surprise some people on Friday, and we believe it may be a nice play into earnings with a hold in earnings. WSM is harder to gauge as the company has continued to see its extensive beats decline each quarter over the past year. Expectations are for slight growth from 0.31 to 0.36 on EPS with 6% revenue growth. The company has come down a lot, but we do not see much excitement for expensive home goods in this market. We would be rather cautious here.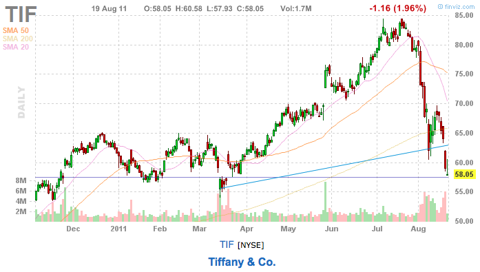 Click to enlarge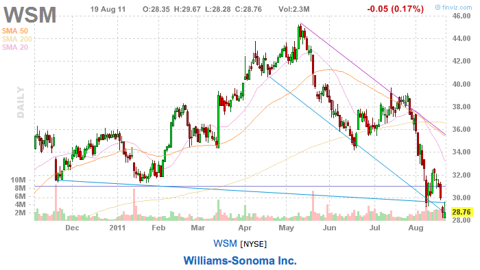 Click to enlarge
Disclosure: I have no positions in any stocks mentioned, but may initiate a long position in OVTI, TIF, KKD over the next 72 hours.