Endesa Chile (NYSE:EOC) falls in our newest category of favorite dividend stocks: Emerging market utilities with big dividends. Endesa Chile owns 29 power plants (including hydro-electric, thermal and wind powered) which distribute power to Colombia, Argentina, Peru and Brazil. Additionally the company accounts for 37.4% of the total generation capacity of Chile, making it one of the largest players in the local market.
The company operates in a favorite sector among dividend investors (because of the stable payouts) but has big upside not usually found in utility companies because of its exposure to the Latin American economies. The recent Wall St. panic has turned a lot of good dividend paying stocks into great ones. This stock went from being a good value at $55 to being a great value at $49. Investors can now pick this up at 5.2% yield: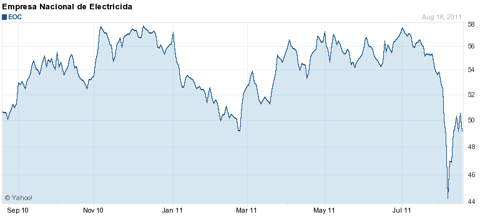 Click to enlarge
The current PE ratio stands at about 12, which is in-line with its peers, but the real value here is in their future growth in delivering electricity to more households that will require increasingly more power as their economies expand. That exposure to growing Latin American economies as well as the usual advantages that utility companies enjoy (regulated monopolies, fixed pricing) make this a great long-term dividend play.
A recent Barron's article noted:
"They are in some of the fastest-growing areas of the world, and in some places they have a monopoly situation," says Paul Dietrich, CEO of Foxhall Capital Management, which owns Endesa Chile shares. "They are making cash hand over fist."
The demand for electricity is expected to rise sharply in Chile as the economy progresses and industrialization continues to take hold. This means poor households that had little in the way of electronic appliances become wealthier and are able to buy microwaves, refrigerators, vacuum cleaners, etc. All this means more electricity demand.
Another HUGE reason we love foreign dividend paying stocks is the embedded currency appreciation. We fully expect the USD to continue its decline, particularly against the currencies of resource-rich, growing economies. For that reason, we love the idea of owning a piece of a growing business that pays dividends in an appreciating currency.
Disclosure: I am long EOC.