Twenty dividend increases in 19 years: That reliable growth has produced a compound return of 1656.6 percent for investors in Aqua America (NYSE: WTR) since mid-1991.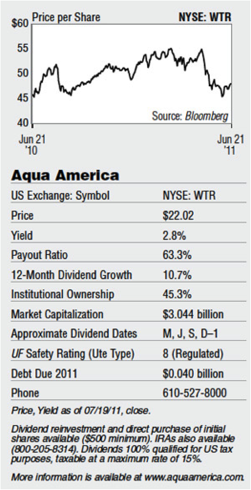 Better, the company's financial health and ability to grow are the best in its now 125-year history. That means potential for equally powerful returns over the next two decades.
Under CEO Nick DeBenedictis, Aqua's strategy has been to grow by acquiring the 40,000-plus small US water systems that increasingly lack resources to meet safe drinking water standards. Such deals typically enjoy strong support of state regulators and can be done cheaply.
Aqua's low cost of capital and superior scale mean it can make needed upgrades at a low cost, even before rate increases to pay for the investment.
The larger Aqua has become, the more easily it's been able to do these deals and to turn the increased sales into higher earnings. An asset swap with American Water Works (NYSE: AWK) last month will further boost economies of scale by concentrating Aqua's presence in Ohio while allowing American to bulk up in New York.
This follows a deal concluded in June, in which Aqua gained properties in Texas while dishing off territory in Missouri.
Aqua is now focused on a dozen states serving water to almost 3 million residents. That, however, is still a tiny sliver of the overall US market, leaving massive opportunities for future expansion and building wealth for shareholders.
Management's confident a steady stream of rate hikes coupled with its $327 million capital program this year--funded entirely by cash from operations--will keep profits growing at their 10-year compound annual growth rate of 10 percent plus.
So am I, which is why Aqua America remains a top pick in my Utility Forecaster Growth Portfolio.
Disclosure: I am long WTR.