Last quarter we reported on one of the hot new hedge funds, JAT Capital, and its gutsy bets. Ever since Chris Schumway decided to wind down his hedge fund, money has been steadily flowing into hedge fund JAT Capital led by ex-Schumway analyst John Thaler. Last quarter, JAT saw huge inflows as the total value of reported long positions went from $1.5BN to almost $2.6BN. JAT is known for running very low net exposure, so there is a relatively large short book of positions that aren't being reported. That said, however, there is a ton of good information to be mined from the fund's long positions on the most recent 13F. Below we highlight the top 20.

Because so much additional capital is reported on the long book this quarter, we show the long positions as a percentage of total reported long value below: (Click to enlarge)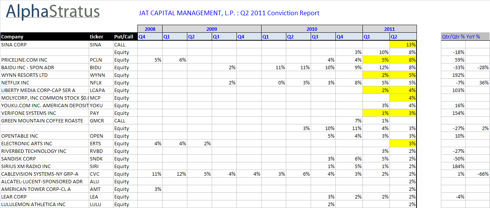 As a percentage of reported longs, JAT has dramatically increased exposure to Sina Corp (NASDAQ:SINA), Priceline (NASDAQ:PCLN), Wynn Resorts (NASDAQ:WYNN) and Liberty Media (LCAPA) - all of which are relatively new positions. Molycorp (MCP) was added this quarter at about a 4% position. None of these positions has been an exceptionally good or poor performer since the June 30th report date. And given JAT's short book and tendency to trade around positions, this could provide a great opportunity to add to its P&L.

Because of the fund's nature to rotate names in and out of its long book, it's interesting to look at the same report above, but sorted based on last quarter: (Click to enlarge)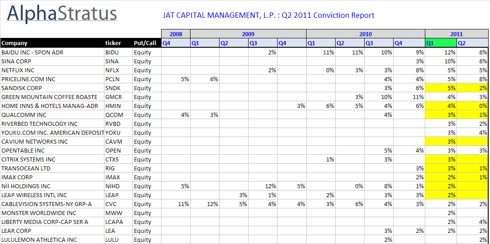 The top names last quarter Sina Corp. and Baidu (NASDAQ:BIDU), have come down slightly but Sandisk (SNDK), Home Inns & Hotels (NASDAQ:HMIN) and Qualcomm (NASDAQ:QCOM) were all relatively sizable positions that were reduced dramatically or removed entirely.

So far this year, John Thaler has seemed to do extrodinarily well in his fund. Yet with this massive influx in capital, it will be interesting to see if the hot streak continues.

Disclosure: I have no positions in any stocks mentioned, and no plans to initiate any positions within the next 72 hours.