The CPI report released on August 18th came out with an upside surprise, posting at .5% increase verses expectations of .2%. Seeking Alpha contributor Cullen Roche sees not much to be concerned about with an article stating, "Stagflation? Don't Worry, The Commodities Plummet Will Surface in August CPI". The article opens with the following paragraph:
The July CPI report is likely to cause a bit of consternation for those worried about inflation. But let's remember that the recent plunge in commodities did not begin until after the July reporting period. So it's important to keep this data in perspective. For instance, the rise in gasoline in July accounted for almost half of the CPI's gains this month. With a 10% decline in gasoline prices in August so far we can be almost certain to see disinflation in the upcoming data.
This reasoning would seem to be fine if it was not for analyzing the energy markets and expectations of businesses. Below is a graph of the weekly price of West Texas Intermediate (WTI) oil vs. Brent (European) oil since 2000 until last week. One can see the change over the last year, as WTI went from a typical premium to a discount. Since 2000, the two oil markets traded in a narrow spread, with arbitrage and the costs of transportation setting the range limits. Now, the supply of the North Sea oil fields and loss of Libyan oil production has caused a more than passing discount in WTI vs. Brent.
Click to enlarge: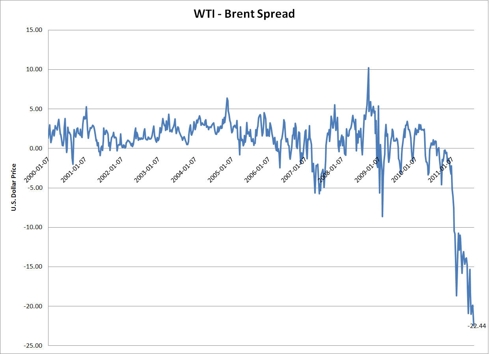 Source

The reason for this analysis is to show that creating inflation forecasts, while using just the price of WTI oil, is possibly invalid since there has been a "regime switch" in one of the major contributors to the consumer price index.

One can look at the data and see over the past year that the amount of gasoline in storage, in the U.S., has fallen
Total

Gasoline

Stocks

08

/

13

/

2010

223

,

344

,

000

08

/

12

/

2011

210

,

081

,

000

Change

-

13

,

263

,

000

%

Change

-

5.9

%

This reduction in supply occurred when there was an 86 cent increase in the price of U.S. gasoline, as shown in the weekly retail gas report. (Click to enlarge)





This represents a 29.5% increase in the price of gas from a year ago.This occurred while the quantity of gas demanded has fallen from a four week average of 9.451 mm barrels a day last year to 9.163 mm barrels a day this year (source). (Click to enlarge)





Because of the increase in price and a reduction in the quantity demanded along with a decrease in supply, one can surmise that the supply curve has shifted to the left, while there has been movement along the demand curve.
Rising Prices + Lower Output & Quantity Demanded = Stagflation
An investor has to now be aware of the effect that higher energy prices will have in Europe. According to economic theory, ceterus paribus, supplies should be moving towards Europe as long as the difference in price is larger than the transportation costs. Any inflation forecasting models that previously just used the WTI oil price should be considered suspect, until brent crude oil is no longer at a substantial premium to WTI. This is to say that model risk for forecasting inflation has increased. Econometricians beware and starting digging into how model this new phenomenon.

At the end of September last year, retail gas prices were near $2.70 a gallon, as reported by the energy department. Even if gasoline drops another 10% into September, that is 36 cents, from $3.60 to $3.24, this would still represent an increase of 20% from last year.

Also, released the same day as CPI was the Philly Fed's Business Outlook Survery; which printed at -30.7 vs. expectations of 1.0. The interesting thing about inflation that I took away from the report was the reported increase in prices.
Notice, the increase in prices paid in August vs. July. Some might point out that prices received fell; which does not show inflation (and is not good for business margins). However, look at the 6 month expectations, the prices paid is up, a very large amount, at 34.6; and the prices received is also up, double digits, at 16.5. It appears that the businesses surveyed have increasing inflation expectations and are planning to pass that increase onto their customers. This comes in spite of just 1.4 growth in the index of the 6 month expectations of general business activity.

No/Slight Growth + Raising Prices = Stagflation

Disclosure: I have no positions in any stocks mentioned, and no plans to initiate any positions within the next 72 hours.