Rarely is there such an opportunity to purchase top tier, solid and stable, dividend growth stocks as there is now. My Seeking Alpha article titled "Constructing the Core of Your Dividend Growth Portfolio" gives additional insight into dividend growth investing. Three stand out above the rest as being immediate values. These are Abbott Labs (NYSE:ABT), Intel Corporation (NASDAQ:INTC) and Procter & Gamble (NYSE:PG).
What are the common attributes of these three companies:
They each have a sustainable competitive advantage. This is what Warren Buffett often refers to as an economic moat. They are entrenched in the marketplace, market leaders in their fields. These companies keep this position by tremendous investments in research and development and by the building of brand names. All three are experts in marketing and distribution.
They are large firms with world-wide marketing reach and operations.
They sell at healthy margins and have excellent returns on equity.
These firms do not have problems with debt. Cash flows are ample to cover loan repayments. Intel has virtually no debt.
SYMBOL

MARKET

CAP

SALES REVENUE

GROSS MARGIN

CASH FLOW

FCF

ROE

78B

37B

66.3%

8,079

2,615

19.5%

109B

48B

73.7%

17,538

3,413

25.1%

169B

83B

54.1%

14,398

3,682

17.8%
SYMBOL

TOTAL

DEBT

SHORT TERM DEBT

LONG TERM DEBT

D/E

RATIO

CURRENT RATIO

18B

5.59B

13B

69%

1.5

2.16B

0.07B

2.09B

4%

2.2

32B

9.98B

22B

48%

0.8
Of utmost importance to the dividend growth investor is the relatively high dividend yield that these firms generate, and the annual rate at which the dividends are increased. The percentage of free cash flow that is required to pay these dividends, the payout ratio, is an indicator of the sustainability of the dividend. If, for example, a company were to pay out 90% of its free cash flow to maintain the dividend it would mean that they are not retaining much of their cash to reinvest in the future of the business; possibly because of a dwindling cash flow.
Another measure that many U.S. investors watch is the number of consecutive years of dividend growth. Growth of annual dividends provides a hedge against inflation while adding consistency and predictability to stockholders' income.
Procter & Gamble and Abbott Labs have the designation "Dividend Aristocrats". They are part of a group of only 42 companies, which are S&P 500 members, and have a record of 25 consecutive years of increasing dividends.

Aside from the short length of Intel's dividend growth record, other measures show the vestiges of its heritage. While Intel's beta decreased in the past two years, it remains higher than many of the dividend growth stalwarts which are in the consumer non-durable, healthcare, telecom, utility and some industries within the finance sector such as insurance and REITs.

Below is a 5 year graph of the low-beta Abbott and Procter & Gamble. Note how little fluctuation there is in their prices, the green and red lines, compared to the S&P 500, in blue.
click on images to enlarge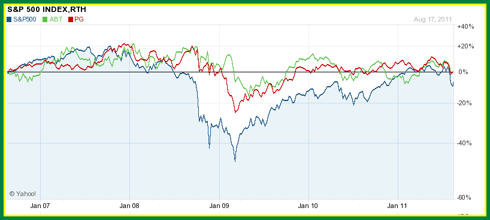 Click to enlarge
Higher beta, which implies higher risk, also may provide higher rewards, as it does in Intel's case below.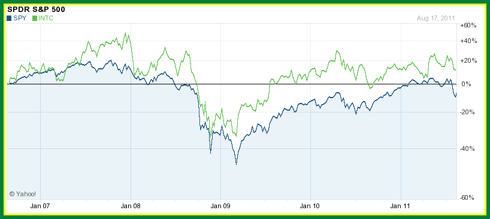 Click to enlarge
These firms are "on sale" because the market is currently undervaluing them. That is, they are selling at a considerable discount to their real worth. When this happens, it is usually time to "buy low". Not only might that give you the opportunity to "sell high" at some future date, it locks in your cost so that your "yield on cost" is fixed at today's yield as long as you own the shares.
For example, if Abbotts share price should rise from $50 to $65, someone purchasing it at $65 at today's dividend would only get a yield of 2.9% from their investment. You, on the other hand, will always get paid 3.8% on the cost of your investment.
Value
There are many ways to determine the value of a company. Possibly the value of a company is best estimated as the sum of its future earnings. Using a discounted cash flow model I plugged in historical facts along with some assumptions on the future, assumptions based on historical averages. I believe a look at the P/E's and Forward P/E's compared to the historical P/E's indicates that the stocks are undervalued also.
I have a high degree of confidence in the value presented for ABT and PG and a moderate degree of confidence in the value calculated for INTC. These numbers are useful in quantifying predictions, something economists and investors want to do, in order to make decisions. However, the numbers are only a reflection of the real value of a company which is in its sustainable competitive advantage and its culture.

A Sustainable Competitive Advantage
Procter & Gamble
Procter & Gamble's genius is its brands. PG invents, innovates, manages, advertises and distributes over 50 brands which each have sales of over $1 billion, in 180 countries worldwide. One of the oldest brands is Ivory Soap which was first formulated by James N. Gamble in 1879. After years of experimentation, he developed a pure white soap that meets his definition of clean. Ivory Soap is 99 44/100 percent pure and it floats.
Some additional familiar names are: Tide, Febreze and Downy; Bounty, Charmin, Pampers, Head and Shoulders, Pantene, Herbal Essence, Dawn, Crest, Oral B, Braun, Fusion and Gillette. PG was an early innovator in market surveys, and is in close touch with its customers.
PG has learned how to leverage its R&D dollars. "Modern corporations of all kinds are more committed to innovation than they may have been 10 years ago," says Mark Blaxill in Bloomberg Businessweek, co-author of "The Invisible Edge: Taking Your Strategy to the Next Level Using Intellectual Property".
Procter & Gamble's connect and develop program is a prime example of this, he says. The program allows the consumer goods manufacturer to access intellectual property developed externally for use within PG and to share its own know-how with other companies. More than half of PG's product initiatives entail significant collaboration with outside innovators.
"We're definitely seeing more of that. Large companies are looking at themselves as the hub of a network and allowing themselves to leverage a network of R&D spending, not just their own," says Blaxill. "You don't have to be completely vertically integrated from bench to shelf. You can purchase the right to innovate at different stages."
PG's brands touch 4.5 billion of the people on the planet.
Intel
A new company spawned in 1968 in the Silicon Valley of California, Intel has come to be the unquestioned leader in the innovation and manufacturing of integrated circuits for computing and communications. In 2010 over 1 million PC's were sold each day worldwide, many of them with the little sticker that says "Intel Inside". Intel also dominates the computer chip industry in many other applications including flash memory products primarily used in portable memory storage devices, digital camera memory cards, and solid-state drives. Intel products include hardware, middleware and software that manage various enterprise, consumer, embedded, and handheld devices.
Intel is a company that is in transition. It is moving from being a computer chip company to a complete computing company. That includes software and middleware products that enhance applications trom the enterprise level to personal hand held devices. It is moving from being a Silicon Valley integrated circuit builder to being a major worldwide manufacturer and marketer.
In the year 2000 41% of its business was in the Americas and 26% in the Asia-Pacific region. Intel has followed the growth of manufacturing in Asia and now its revenue breakdown by region is now 10% Japan, 13% Europe, 20% the Americas and 57% Asia Pacific.
In this rapidly changing field, Intel spent $6.6 billion in 2010 on research and development, which along with excellent management and an innovative culture sustains its competitive advantage.Intel is probably between one year and two years ahead of any competitor in silicon technology process manufacturing, the heart of its business. R&D keeps the advantage alive.
Abbott Labs
Abbott Labs earned and sustains a competitive advantage with a wide range of patented drugs and a pipeline of new drugs and other products. Autoimmune agent Humira, HIV/AIDS drug Kaletra, and cardiovascular treatments Tricor and Trilipix lead the group with more than $8 billion in annual sales (27% of total sales). Humira, continues to be used in new treatments and grew 19% in 2010. The underpinnings of the new drugs pipeline is the company's research and development efforts.
Abbott runs top-tier diagnostic and nutritional segments that generate over 25% of total sales. This breadth of product helps smooth the cash flow, and no doubt the beta of the stock as blockbuster drugs come under patent protection and then after a few years yield its revenue streams to generics. In addition to the above, the vascular line has a growing presence in the stent area.
Abbott is known and respected worldwide by customers for its top quality products, by employees who consistently rate it among the best places to work, by the many communities it operates in as it is a great neighbor and by its owners, the shareholders which share in the profits.
For Further information
Does the position of part owner in one or more of these companies interest you? Annual reports are very useful in helping you determine that. I believe that shares of these companies are on sale.
Most data from this article is from the Seeking Alpha Portfolio resource. Other data is from Yahoo Finance and Morningstar.
Disclosure: I am long ABT, INTC, PG.
Disclaimer: The above article contains projections based on assumptions, which may or may not be correct. No recommendations are made for specific investment. The purpose of the article is educational; to create awareness of possible opportunities, and how they may be evaluated. Do your own due diligence concerning any investments. Not all investments are suitable for all individuals. Consult a qualified financial advisor.