Buying a downward trending stock is often called "catching a falling knife". Both actions present great danger. However, in the stock market, greater risk comes with the promise of greater reward. Better yet, if the falling knife is purchased near book value, your risk is mitigated, while your potential reward remains intact.
In the midst of the recent correction, many stocks have fallen further than their underlying assets should allow. Though the market may continue lower, these falling knives offer great reward at limited risk right now: Openwave (OPWV) and Alvarion (NASDAQ:
ALVR
).
When attempting to catch a falling stock, investors must be extra sensitive to the company's net tangible asset value, as well as its revenue/expense model (a.k.a. operating model). A company's operating model tells us how expenses (and therefore profits) rise and fall at different revenue levels. Key determinants of operating profits include gross profits (revenue minus the cost of good sold), R&D expenses, Sales & Marketing expenses, and General & Administrative expenses.
Some of these expenses will move up and down with revenue (for example, sales people generally get a percent of every sale they make). Other expenses can be reduced independent of revenues (i.e. R&D investments). Being aware of a company's flexibility to increase or decrease expenditures is critical to understanding how well it might be able to weather an economic storm.
Perhaps the most famous falling knife in recent memory was Apple (NASDAQ:
AAPL
) [
click to enlarge images
]: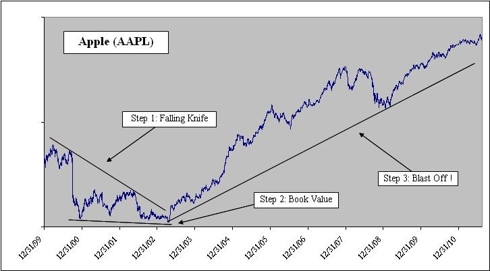 When the Internet bubble burst, AAPL was hit faster and harder than most of its NASDAQ peers. At one point, at the end of 2000, its shares plummeted 50% in the span of just 3 1/2 months. Indeed, the stock was a falling knife (see Step 1 above).
At that point, a funny thing happened. Apple's shares started to outperform the NASDAQ...by a wide margin. Over the next two years, the NASDAQ was decimated, falling from 3,000 to 1,100. Over that span, AAPL barely budged. Why? Because its valuation was cushioned by its book value (see Step 2), along with its ability to produce profits. Its shares couldn't reasonably go lower, barring a catastrophe.
Meanwhile, the company maintained its innovative culture, as evidenced by its R&D spending which increased throughout the recession (from $314M in 1999 to $446M in 2002). In other words, investors were risking very little, but were in line for a huge potential reward if/when the company's R&D investments paid off.
The rest is history.
Apple's story provides an important lesson for investors – minimizing risk, while maintaining the potential for great reward, can pay off big.
This is the foundation of my investment strategy. As such, I get excited when the market corrects as it has lately. While the market may continue falling, many stocks have plunged to low-risk levels, reminiscent of AAPL's initial decline in 2000. Will one of them emerge as the next AAPL?
Who knows? After all, who knew that Apple -- a dog from 1987 to 2004 -- would rise to become the most valuable company on Earth? If you adhered to my principles of risk and reward, you didn't have to. It would just be another stock in your portfolio of low risk "dogs" (and a 61-bagger from trough to peak).
With that introduction, the first dog -- I mean, falling knife -- I'll present today is Openwave (OPWV):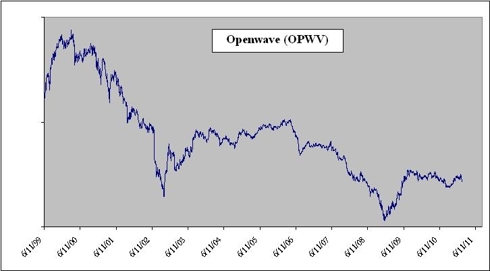 Openwave provides software which is used by carriers to deliver mobile and broadband services. Its customers include Comcast (NASDAQ:
CMCSA
), Deutsche Telekom (
OTCQX:DTEGY
), Sprint (NYSE:
S
), T-Mobile, Time Warner (NYSE:
TWX
), Verizon (NYSE:
VZ
), Virgin Mobile and Vodafone (NASDAQ:
VOD
). However, though it sits at the heart of the mobile revolution, it wouldn't be a stretch to say that this company is hated by investors. Over the past 10-years, its stock has fallen from $600 to 50 cents, as it has struggled to launch next-generation offering. So many portfolio managers have lost money on this stock that much of Wall Street wouldn't touch it if they held the patent for air.
Perfect.
When it comes to finding low-risk, high-reward investment, there's no room for psychology or sentiment. Business is business. If there's value to be unlocked, it will likely be unlocked one way or the other (i.e. execution, acquisition, or pure luck). Let's zoom in: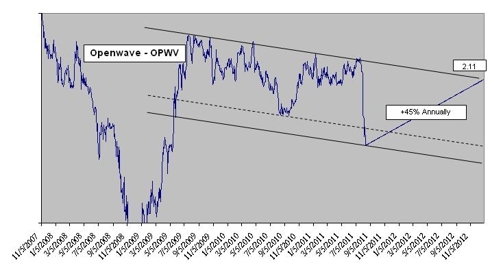 As you can see, the shares have recently hit the bottom of a downtrend it established in 2009. Technically, this limits an investor's risk. However, fundamentals ultimately create the technicals, so we should start there.
Looking at OPWV's assets, my proprietary calculations value its adjusted net tangible assets at $65M. The company also has tax credits that could be worth $35M in the right hands. Last, but not least, Openwave's investment in R&D has yielded a vast patent portfolio, the value of which must be considered in the wake of Google's (NASDAQ:
GOOG
) monster acquisition of Motorola Mobility (NYSE:
MMI
). Adding it all up, we derive a number significantly above $100M.
Meanwhile, the company's market cap recently bottomed out at just over $100M. Thus, as was the case with AAPL, there's a cushion under OPWV's shares to limit investors' risk.
On the operational side, OPWV has consistently disappointed analysts. That being said, the company has still booked $150M in revenue over the past year. It also generates $40M in recurring and highly-profitable maintenance revenue from its base of large customers. Looking at its finances, the company has invested most of those maintenance profits on innovation. It has spent $130M on R&D over the past 3-years. Openwave's efforts have contributed to a modern set of products (which have yet to take off, ala Apple's iPod in 2001).
Most importantly, it has taken critical steps to cut costs and regain profitability. Once complete, investors can feel confident that its assets won't be frittered away. In the meantime, the company continues to invest in R&D while it tries to figure out how to penetrate the market with its new offerings. Ultimately, a larger company with better execution may take over the company for its products, customer base, maintenance stream, assets, patents, and tax credits.
As shown in the chart above, the risk appears low at this level, confirming what the fundamentals tell us. The potential reward is a near double to $2+ per share…and that's without breaking out. If it does break out, the shares could be poised to triple.
Next up is Alvarion (
ALVR
):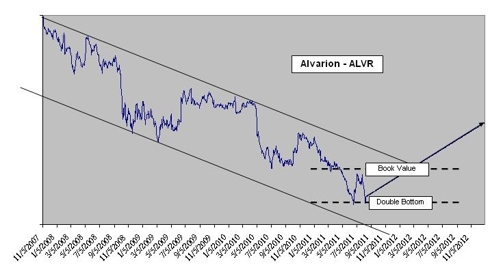 Alvarion sells equipment that enables carriers to deliver broadband Internet connectivity. Like Openwave, Alvarion has been a dog – I mean, falling knife -- for as long as it's been public. There are very few investors who have had a positive experience with this name (aside from the shorts). As a result, ALVR sits in the doghouse alongside OPWV.
That being said, the timing finally appears right for a profitable investment (on the long side, this time).
I calculate ALVR's net assets to be worth well over $100M, including $70M in cash. On the operational side, Alvarion generates $200M in annual sales and sees revenue growth coming in 2012 as the demand for bandwidth continues skyward. The company recently regained profitability and has stated its commitment to fiscal discipline. Like AAPL and OPWV, ALVR has continued to innovate throughout its decade-long fall. The company has spent over $125M on R&D over the past 3-years, giving the company plenty of leading-edge technology.
Despite all this, its market cap is just $77M. That's right. The company is profitable and selling for close to cash. Even if the company literally burned the cash, ALVR is currently selling for nearly 50 cents on the dollar of its recent investments in R&D…and less than 50 cents for each dollar of revenue!
Clearly, the risk here is low relative to the potential reward. Its entire market cap is cushioned on multiple fronts. At the same time, the top trend line of its chart has now gone below its book value. With continued profitability, it's only a matter of time before ALVR breaks out of its downward-facing channel. When it does, investors who only look at the technicals will be in for a rough ride.
Similarly, if anything arises to spur a move toward 1x revenue plus cash, investors will profit greatly. Indeed, amid the backdrop of its relatively low risk-profile, shares of ALVR could be poised to triple.

Disclosure: I am long AAPL, ALVR, OPWV.